Do you wonder what racquet and strings Tsitsipas uses? This post deals with Stefanos Tsitsipas racquet specs.
Stefanos Tsitsipas Racquet
Stefanos Tsitsipas is arguably one of the most exciting players on tour. He takes every opportunity to attack the net and plays an aggressive brand of tennis. He capped off an impressive 2019 with winning the ATP Tour finals and you can't help wonder when his first Grand Slam title will come.
Tsitsipas has been using the Wilson Blade 98 18×20 for most of his tennis career. He is currently endorsing the latest V7 version, but most tennis nerds believe that it is the 2013 BLX version with a paint job.
Stefanos Tsitsipas Racquet Specs
The below specs of Tsitsipas racquet come from fellow tennis nerd, Miha Flisek and his website Impacting Tennis.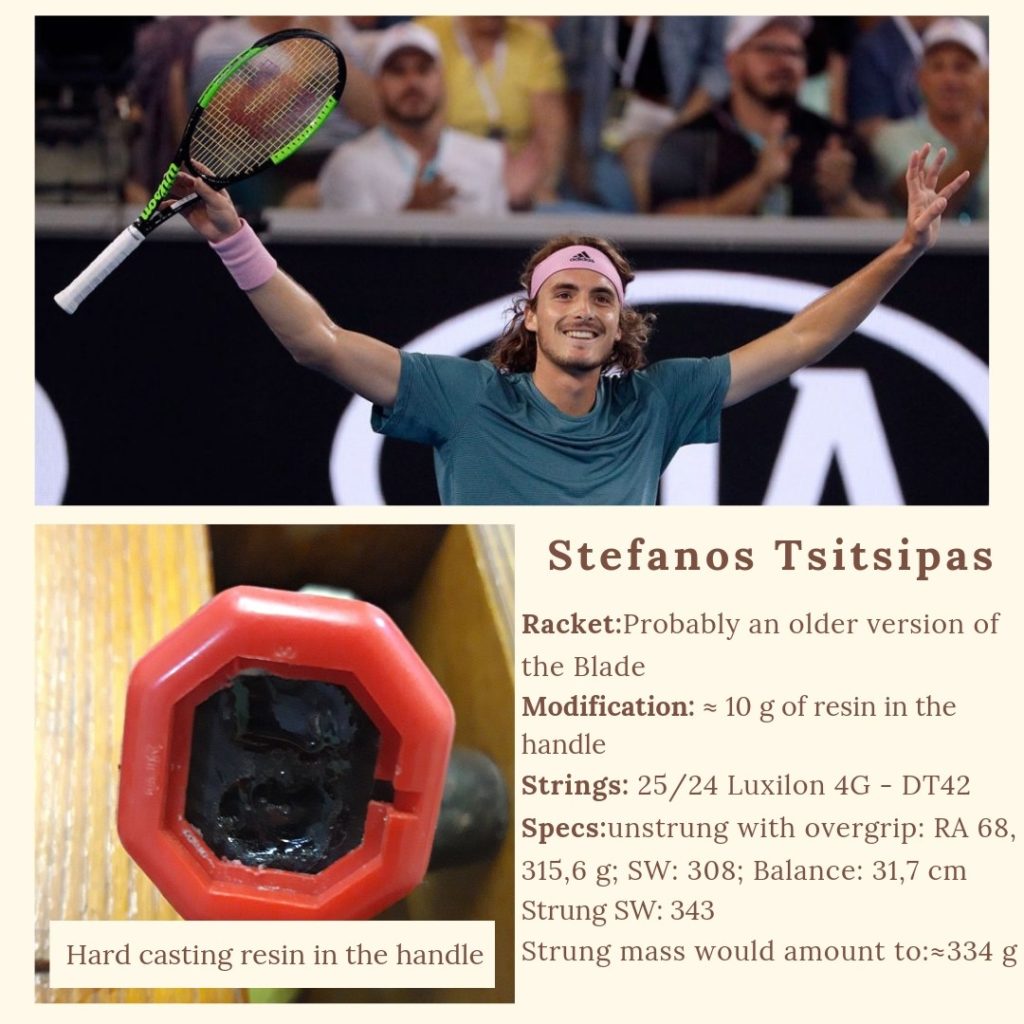 343 is not a massive swing weight for a pro player, but not meek either. Tsitipas has a very natural and almost classic technique on his forehand that his father Apostolos describes as being close to Del Potro's in the video below.
Why the Blade 98?
Why is the Blade 98 a solid choice for Stefanos Tsitsipas? Well, he is an aggressive player with a more classical technique. The Blade 98 is a mix of a traditional frame but packs a bit more power than most classic racquets. The extra pop of Tsitsipas racquet (65 RA strung) will make his shots a bit more dangerous and the tight pattern will make sure he can paint the lines if needed. The racquet will also be stable and controlled on volleys, which suits his attacking play.
I wouldn't recommend using the very stiff string Luxilon 4G
at 25/25 kg (55/53 lbs) in a Blade 98 for most recreational players, but pros value control over comfort. When you have close to perfect technique and manage to hit the sweet spot over and over, a stiff string bed like that won't bother you as much as it would for most intermediate players.
That is why it is rarely a good idea to imitate the pros. You need to find what racquet setup works for you. If you need help, we offer a racquet recommendation service here.
What do you think of Stefanos' chances of winning a Grand Slam in 2020?