It's always interesting to know what racquets the ATP professionals use. What is for example American talent Taylor Fritz racquet? Tennisnerd will hopefully provide some more insight.
Taylor Fritz is one of the rising young stars on the ATP tour and is at time of writing ranked at 73 in the world. Taylor Fritz is sponsored by HEAD tennis and he is endorsing the HEAD Graphene Touch Radical MP
. Taylor Fritz racquet is really the Head IG Radical MP
with the pro stock code TGT260.3.
Talking about Taylor Fritz racquet compared to the one he endorses, I would say that the IG Radical series is more flexible and control-oriented while the Graphene Touch Radical is stiffer and more powerful. This is the direction where tennis racquets are going and have been going for quite some time. But if you want a more flexible frame you can still find the Head IG Radical MP on Amazon.
Taylor Fritz Racquet – Remarkably light?
You can actually buy Taylor Fritz racquet, with this I mean his actual racquet, on eBay. One seller has listed three items, matched at 299 grams unstrung with some lead tape under the grommets in the hoop. This is remarkably light for a pro player racquet meaning that it's around 315-320 grams strung. Very few players on the ATP tour uses a racquet this light, but if you have a fast swing speed and are good at hitting the centre of the racquet – it's possible I guess. Also, the balance of the racquets are unknown, could potentially be quite head heavy since the original HEAD IG Radical MP racquets were about 3 pts HL unstrung and with some lead in the head they will be close to even balance.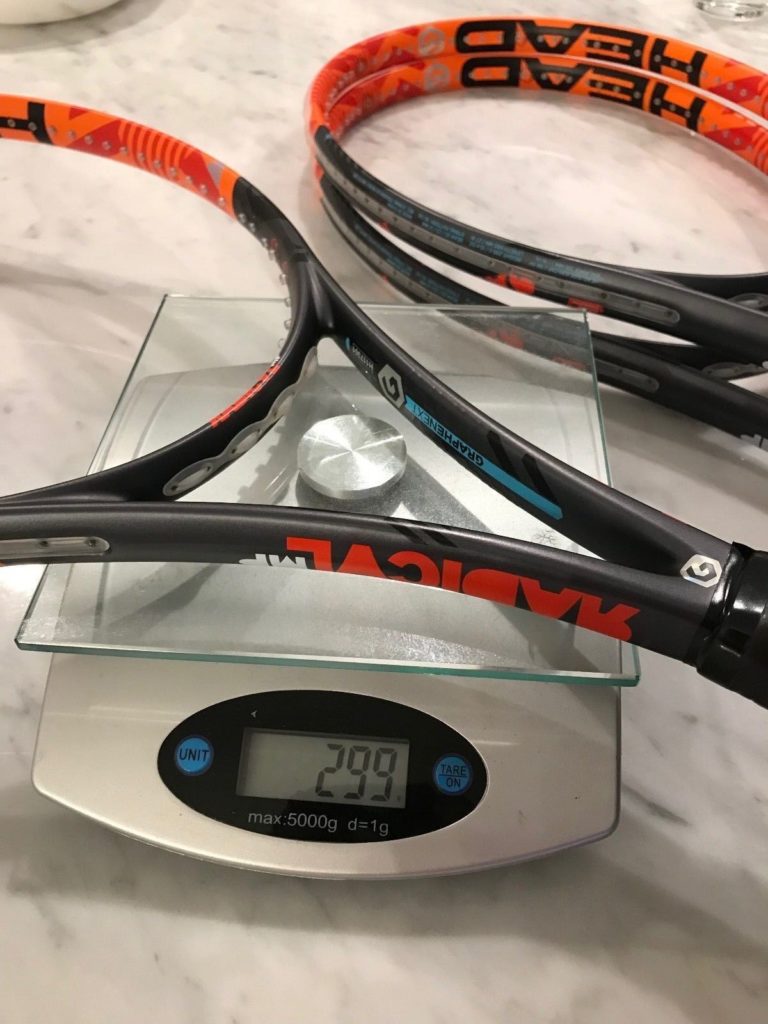 Taylor Fritz Racquet – Strings and things
Taylor Fritz strings his racquet with the spin friendly and crisp string Solinco Tour Bite. He uses grip size four and from what I've seen he doesn't use an overgrip. There is a story going around the forums that at the Sacramento Challenger in 2016, he gave the stringer two frames and was unaware that one was 16×19, and one 18×20. He had been playing both and didn't notice a difference. This means that not all ATP pro players are gear heads, although many are.
The most well-known gear junkie/tennis nerd on tour is Fernando Verdasco, who seems to tweak his setup constantly and play with a slightly different configuration in every tournament he enters.
Taylor Fritz Racquet – And his future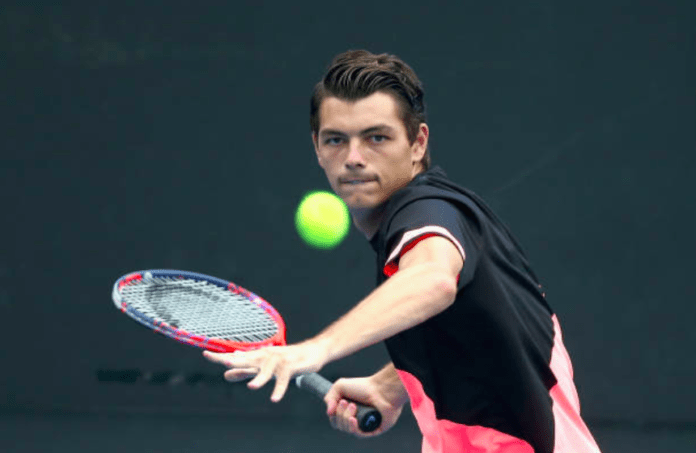 Taylor Fritz might not care so much about his equipment, but he sure can play some excellent tennis. At 20 years old he has a potentially very bright future ahead of him. He managed to reach the round of 16 in this year's (2018) Indian Wells with a fine win against above-mentioned Verdasco. He has also shown that he is a fierce competitor with his deciding tie-break record of 11-1 on Challenger Tour level and above.
"I think it speaks to my strengths on court, which is just being clutch and playing my best tennis in the big moments. When it comes down to it like that, I don't get too nervous," Fritz said. "It's probably the stat that I'm most proud about in my tennis career, is my third-set tie-break records. It shows that I'm clutch."
If you're interested in what racquets the ATP pro's actually use…read this.
***
Do you like Tennisnerd? Don't miss a word or video by stalking us on social media. Every like and follow is appreciated!

YouTube
Instagram
Twitter
Facebook Page
Amazon Influencer
Buy tennis gear
EU
Racquet Depot
Pro Direct Tennis

USA
Tennis Express
Do It Tennis
Amazon.com
Racquet buying guides
Here is a great racquet buying guide to get you started.
What tennis racquet should I buy?
Top tennis racquets to buy right now
The Gear of the Year 2017
The Gear of the Year 2016
Tennis racquets for juniors
Tennis racquets for kids
Popular posts
What the ATP pros play
Questions about pro stock tennis racquets
Is a pro stock racquet better than a retail one?
Do professional players change racquets?
Racquet Commitment Issues