The other day I got some messages on my Facebook page from racquet collector West Loh around Nick Kyrgios' and Jordan Thompson's racquet specs.
The conversation led to him sending some great pics of his impressive racquet collection, which I felt I had to post here. Tennis racquets are a beautiful thing and I know there are a lot of collectors out there with impressive racquet collections. Please send your pics over here and I'll post them on Tennisnerd for all racquet and tennis lovers out there to see. Would also be interesting to hear about your most treasured racquets, both in terms of playability and value (could be sentimental of course).
I've been moving around too much to amass a collection and since I'm very often play-testing new gear, I haven't bothered to build a collection myself. If I had 500 frames at home I wouldn't know which one to bring to the court! But it would be nice for some living room air swinging…
I do however own the bible for racquet collectors – it's called The Book of Tennis Rackets and is written by racquet maker and collector Siegfried Kuebler. It has a two supplements as well. The Book of Tennis Rackets cover tennis racquet history in meticulous depth from the 16th century until 1990. It would be interesting to also have coverage of the amazing transformation of tennis racquets that have occurred after 1990, but maybe that's for someone else to write.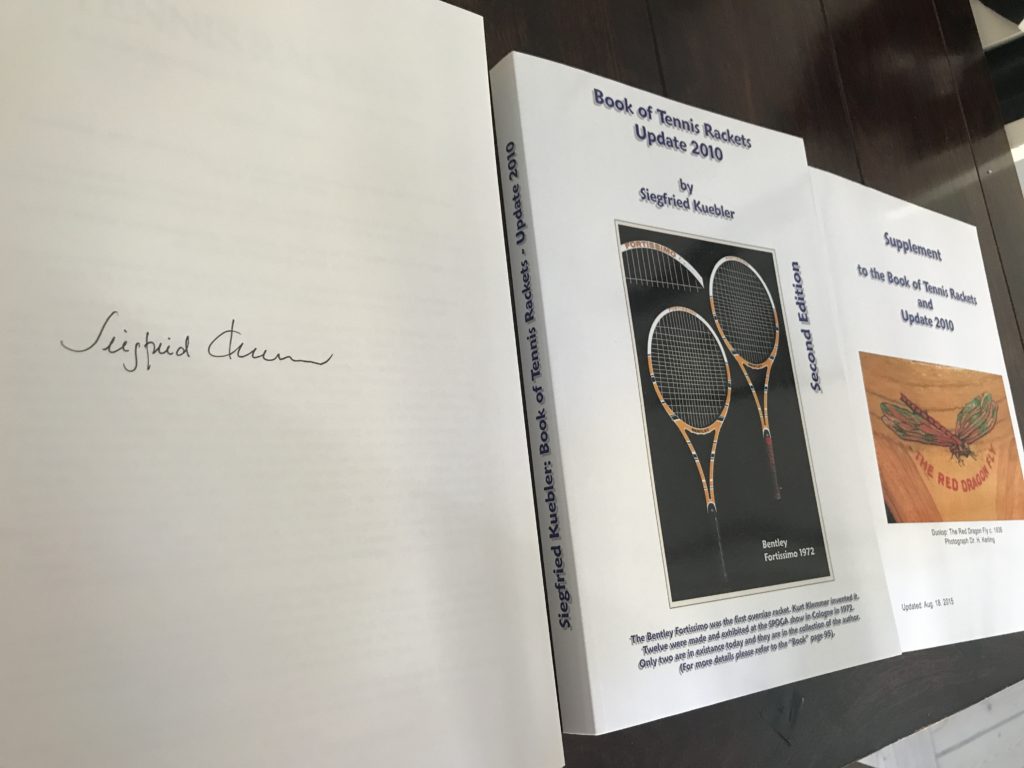 Since I'm not collecting racquets myself and with my "travelling lifestyle" would probably never do on any scale (but who knows, right?), I'd be willing to sell this book to someone who is a keen collector and interested in it. Just let me know in the comments. My copy of The Book of Tennis Rackets is signed by its author, Siegfried Kuebler.
Before we move into the pics from West Loh's impressive collection, I'd urge you to pitch on on your racquet history. How many racquets do you have? What is your most treasured item and why?
West Loh's Racquet Collection
Don't hesitate to get back to me about your racquet collections!