My friend and fellow tennis nerd and play-tester, Henrik Wallensten, alerted me about a new model called ProKennex Ki 10 305…
What is so interesting about the ProKennex Ki 10 305? Mainly that the specs should appeal to many players looking for power, but arm comfort. ProKennex offer a unique technology that actually works to counter harmful vibrations.
On paper it kind of sounds like a comfort-oriented Pure Drive, with a bit more weight on it (305g compared to 300g).
Let's look at the specs of the ProKennex Ki 10 305:
Racquet Preview ProKennex Ki 10 305
Specifications
These are not the specs of the current model, but the previous edition. The new specs will likely be similar. ProKennex racquets often have relatively high swing weights, so that might be an issue for some players. I think a 320-325 strung swing weight will be a more balanced approach that will appeal to a larger group of players.
Head Size: 100 in² / 645.16 cm²
Length: 27in / 68.58cm
Strung Weight:11.4oz / 323g
Balance: 13in / 33.02cm / 4 pts HL
Swingweight: 332
Stiffness: 69
Beam Width: 24mm / 25mm / 17mm
Composition: SpiralTech Carbon
Power Level: Low-Medium
Stroke Style: Medium-Full
Swing Speed: Medium-Fast
Racquet Colors:White
Grip Type: ProKennex Synthetic
String Pattern:
16 Mains / 19 Crosses
Mains skip: 7T,9T,7H,9H
Technology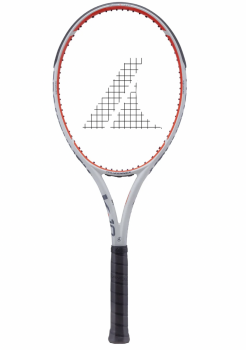 ProKennex is all about arm comfort and the Ki 10 305 has their famous Kinetic tech and SpiralTech Carbon:
SpiralTech Carbon: This technology combines materials used in the aerospace industry to ensure even greater shock absorption, while increasing the rigidity of the model for more power.
*Kinetic: Jetron balls are placed at the 3 o'clock and 9 o'clock positions on the racquet and in the shaft to absorb maximum vibration and protect your arm from impact. This will also increase the forgiveness of off-center hits.
*This racquet contains 10 grams of Kinetic beads to help absorb vibrations.
These technologies work to save your arm, but the downside is that they can mute the response and make you feel disconnected from the ball at times.
Player type
The Prokennex Ki 10 is suited towards intermedaite to advanced players wanting a comfortable racquet to keep them from arm problems while offering stability and power.
The only thing to consider is that if the swing weight remains high on the newer model, it might require good technique to get the racquet moving.
Where to buy
I haven't found the newer version of the ProKennex Ki 10 305 at Tennis Warehouse, but it's available from Tennis Warehouse Europe. I aim to review it if I can get a hold of a demo so stay tuned to the this website or the Tennisnerd YouTube channel.