If you want more power, consider a plus racquet. I prefer more control but was positively surprised during the Babolat Pure Aero Plus review.
Babolat Pure Aero Plus Review (2019 version)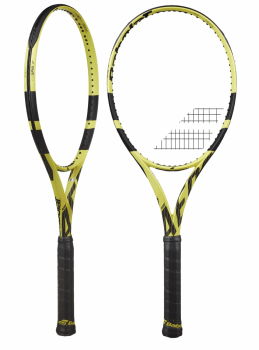 This Babolat Pure Aero Plus review deals with the 2019 version, as the 2023 edition will not be out until…2023 🙂 I have reviewed the standard Babolat Pure Aero 2023 here, where I talk about its denser string pattern, offering more control on flatter strokes. The 2019 edition is more spin-friendly, with a higher launch angle and more string movement. If you add the extra 0.5 inches to it in the Plus version, you get even more power and stability. Controlling that power requires either lots of spin or excellent timing, ideally both.
But if you can, this racquet provides spin and power in spades. Most importantly, it's a lot of fun to play with! That's the biggest takeaway from this review. I had a surprising amount of fun going for my shots with the Babolat Pure Aero Plus.
I bought this racquet on sale from Tennis Warehouse Europe, but it is also available at Tennis Warehouse and Tennis Only.
Specifications
Head Size:
100 in² / 645 cm²
Length:
27,5in / 69,9cm
Strung Weight:
320g / 11,3oz
Unstrung Weight:
300g/10,6oz
Balance:
32,99cm / 6 pts HL
Unstrung Balance:
32cm/9 pts HL
Swingweight:
330
Stiffness:
68
Beam Width:
23mm / 26mm / 23mm
Composition:
Graphite
Racket Colours:
Yellow/Black
Grip Type:
Babolat Syntec Pro
String Pattern:
16 Mains / 19 Crosses
Mains skip: 7T,9T,7H,9H
Tension:
22-26kg / 50-59lb
How does it play?
Like mentioned above, this racquet offers plenty of power and spin, but a maneuverable swing weight for a 27.5 inch racquet. Most players that tried this frame with me did not notice the extra length of the racquet, which is exactly what you want when you try plus frames. There are similar things to be noticed with the Yonex VCORE 98 Plus for example.
I strung the Babolat Pure Aero Plus with Tecnifibre Black Code 1.25 at 53 lbs or 24 kg. It played with excellent control and surprising feel for this type of racquet. If you have a sensitive elbow, I would consider a softer string setup or a lower tension. My arm did feel some fatigue after playing with this racquet for 2.5 hours, but that could also be general muscle tiredness from tennis. Still, at 68 RA strung stiffness, some caution is wise, especially if you have a history of arm issues.
Otherwise, this frame is a joy to hit. Big on serves, excellent stability, you can dominate your opponents from the back of the court. It's not the easiest to swing or control, but if you can, you will be rewarded generously.
A must try if you're curious about longer frames and want more power on groundstrokes and, especially, the serve.
Have you tried longer racquets? Please comment below.