When I created my video about Pete Sampras racquet, I stumbled upon his current racquet of choice, the Babolat Pure Storm Tour GT from 2011. Here is my classic racquet review.
The Babolat Pure Storm line is discontinued these days. Much to the dismay of fans of control-oriented and plush player frames. This racquet is somewhat of a rarity in the Babolat heritage of frames. The brand is usually relying more on power and spin from thicker, stiffer beams and open string patterns. The Pure Storm Tour GT is far from a Pure Drive or a Pure Aero. In its playability and feel, it is more like a Prestige.
When it comes to flex, some people love it and some people hate it. It is another testament to how personal a tennis racquet experience can be. Many players love the crisper feel from the string bed, while others long for the days of slightly heavier racquets with smaller sweet spots. I wouldn't call the Pure Storm Tour GT a throwback, but since Babolat decided to discontinue it, maybe they would.
Babolat Pure Storm Tour GT – Strung Specs
Head size: 98 sq inches
Beamwidth: 21 mm
String pattern: 16×20
Strings: Luxilon Alu Power 1.15 at 24 kg / 53 lbs
Weight: 356g
Balance: 31.3 cm
Swing weight: 338
I managed to find a used Babolat Pure Storm Tour GT on the cheap and strung it up with Luxilon Alu Power 1.15 gauge at 24 kg or 53 lbs. It is pretty stable in stock form, but images of Pete Sampras playing with the same racquet with plenty of lead at 3 and 9 made me instantly want to try something similar. So I added around 5-6 grams of lead tape at 3 and 9 and the racquet instantly played a lot more stable.
How does it play?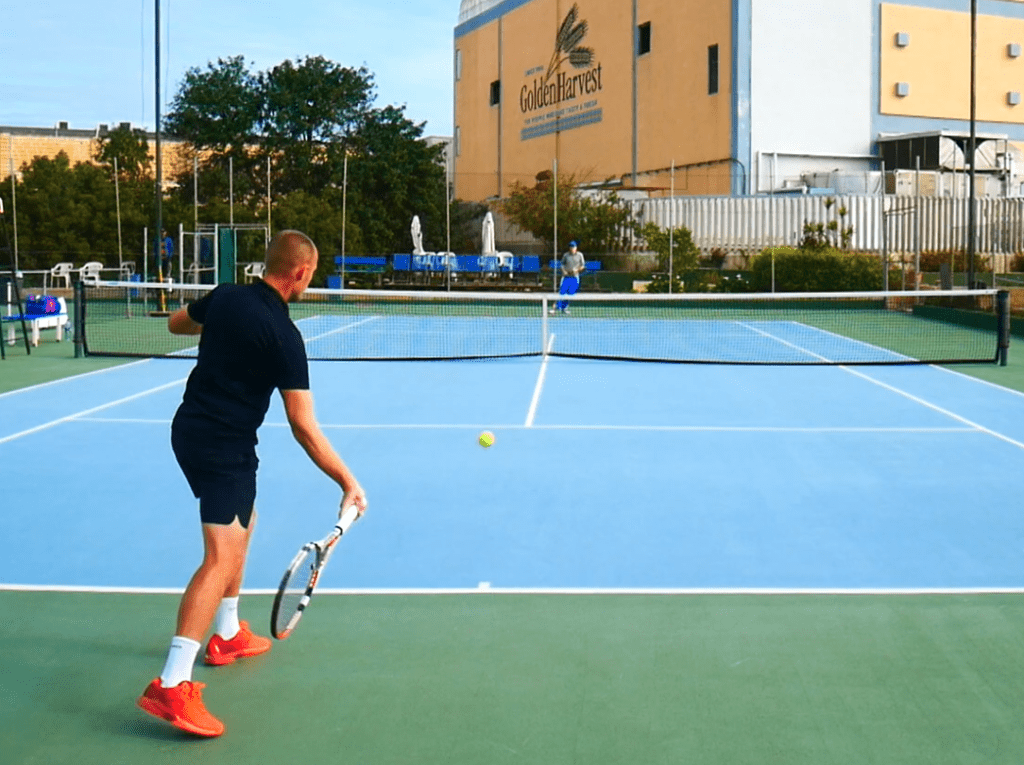 This racquet is plush and has a small but sweet, sweet spot. In stock form, it is a bit more whippy, but I prefer the stability of the added lead tape. It plows through the ball nicely and the 16×20 string pattern offers a controlled, yet spin-friendly stringbed. This is really an excellent frame for advanced players with good strokes and footwork who value feel over power.
It is not an easy racquet to use by any means. You need to prepare properly and swing your racquet with good mechanics. But if you do, you are rewarded with precision and plow-through. I could simply see why a player like Sampras chooses this stick. It is buttery on volleys and great on both the one-handed backhand and the flat forehand.
Summary
This is a racquet that is easy to overlook, but it does most things really well. It is simply a joy to play with and deserves its title as a "classic racquet".
Why did Babolat discontinue it? I don't know. They went from Pure Control, to Pure Storm and then back to Pure Control before they stopped producing these types of frames. Sadly, there is nothing like this in their current line-up. Since other racquet brands keep creating more control-oriented frames with plush and arm-friendly characteristics, I am not sure why they persist with only higher stiffness ratings.
Yes, the game is becoming more spin and power-focused, but there are still a place for these more "old-school" racquets. And this can still be used effectively today with its 98 sq inch head size and 16×20 pattern. Just a perfect spec for the player who prioritizes control and feel, ahead of power and spin.
Video review to come! How you tried this one and do you like it?