Most tennis nerds have seen the Saber. A much-talked-about sweet spot training tool. Now there is the Functional Tennis Saber Lite.
Functional Tennis Saber Lite
The Functional Tennis Saber Lite is a lighter version of the Saber. For the standard version, check out my Functional Tennis Saber Review. There is also a video review on my YouTube channel.
The Saber Lite is made for kids and juniors who want to work on their game using a sweet spot tool. And compare to many other sweet spot tools, for example, the wooden spoon or Tennis Pointer, this one can be used properly for points play and is not as unforgiving despite its 37 sq inch head size.
You can purchase the Functional Tennis Saber Lite on the official website.
Specifications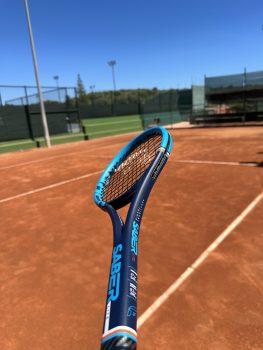 Mid
– Weight 300 grams unstrung (312g strung)
– Grip size 2 (4 1/4)
Lite
– Weight 265 grams unstrung (277g strung)
– Grip size 1 (4 1/8)
Mid & Lite
String Pattern 12×12
Swing Weight 270
Beam size 22mm straight beam
Comes Strung – Yes
Material – Mixed composites of Carbon Fibre and Fibre Glass
How does it play?
Well, it plays just like a normal racquet! But obviously, with added difficulty. Unclean strokes and sloppy technique gets punished immediately. But if you prepare properly and focus, you will have a lot of fun using the Functional Tennis Saber. And they sell a combo set if a coach or parent wants to train with their kids.
I have had a lot of fun with both Sabers. The Lite one lacks a little mass for me, but I can play with it fine against players that don't hit so hard (for example, my father), while the regular offers a bit more stability and plow-through.
I warm up with my regular racquet for a bit, and then I spend ten minutes or so training with the Saber. Once I return to my regular racquet, it feels huge and easy to use (and it's a Prestige).
Just a brilliant tool. I would love to play a match against a similar-level player only using Sabers!
Recommended!