The HEAD iPrestige MP, also known as the PT57E, is a true classic. It has the same mold as the "holy grail", big brother PT57A, but a stiffer feel.
I had the opportunity to play a bit with Ernests Gulbis old PT57E racquets and felt like I had to create this post and video. PT57E is the pro stock code for the HEAD iPrestige MP that came out in 2001. The racquet has the same mold as the legendary Head Pro Tour 630 (PT57A), but with a stiffer layup. You still feel the racquet "flex" on impact, but you get a bit more power than the PT57A.
The head size is listed at 98 sq inches but is actually 95 since HEAD used to measure the outside of the frame. Coupled with the tight 18×20 string pattern, this means that this is a very control-oriented racquet for advanced players. It is a bit lighter to swing than the Head Pro Tour 630 and power comes easier, but it still has a relatively small sweet spot compared to today's frames. The PT57E is today used by Pablo Cuevas and Florian Mayer to name two.
HEAD iPrestige MP Specs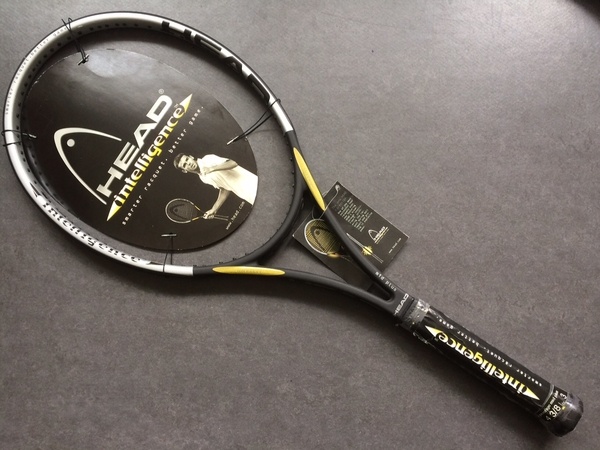 Head size: 95 sq. in. / 613 sq. cm.
Length: 27 in. / 68.6 cm
Strung weight: 12.1 oz. / 343 gr
Balance: 6pts HL (32 cm)
Swing weight: 324
Stiffness: 63
Beamwidth: 21mm
Composition: Graphite Composite w/Piezzo Electric Fibers in the shaft
String pattern: 18 Mains / 20 Crosses
The PT57E I use in the video is significantly heavier: 350g strung, 32.6 cm balance, 350 SW. Paired with a thicker grip than what I am used to, it was quite difficult to use, but when you contact the ball properly, it feels great.
PT57E and other pro stocks
Each pro stock HEAD racquet has a code. You can find out more about HEAD pro stock codes here. The PT57 mold was used for the Head Pro Tour 630 / 280 (PT57A), the iPrestige (PT57E) and the HEAD Radical Tour (PT57B). There was also a PT57 mold with a cross-bar called PT57F.
Pro stock frames from HEAD are quite rare and costly to buy. So if you want to try the classic HEAD feel, it is cheaper to get a used retail version. But I really recommend you do give it a try, although they are not the easiest frames to use, they are very rewarding when you play well.
You can find more about pro stock racquets here and buy pro stocks at either prostocktennis.com or Stringforum.