The Prince Twistpower X100 was a positive experience for me, so I was quite excited about the Prince Twistpower Tour racquets.
The Prince Twistpower Tour racquets are sadly not easy to get a hold of in Europe. I will do my best to push Tennis Warehouse Europe to stock them, because I think they are excellent racquets deserving of a larger audience. But for some Prince racquets won't sell as well in Europe as they do in US and Asia.
You can buy the Prince Twistpower Tour racquets from my affiliate Tennis Warehouse. Any purchase using my links, sends a small commission to Tennisnerd. It doesn't matter whether you buy shoes or racquets.
Tech
The Twistpower is a highly visible technology since the shaft of the frame is twisted. It's supposed to help it "bend optimally on impact". I'm not entirely sure of this claim, but the racquets play nice. It's sometimes hard to tell why though.
The Twistpower Tour racquets also come with Triple Tube technology, which is foam infusion in key locations of the racquet. Several other brands use various forms of foam filling inside the racquet to improve stability and comfort (Tecnifibre, Angell are two good examples). And it works well here too, with the racquet being more arm-friendly than the stiffness suggests.
Specs
Prince Twistpower Tour X100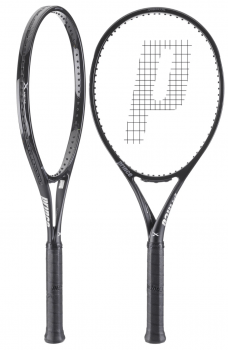 The Prince Twistpower Tour X100 has typical tweener specs, similar to other power racquets, but with better comfort. I would compare it to a more powerful HEAD Boom MP.
Head Size: 100 in / 645.16 cm
Length: 27in / 68.58cm
Strung Weight:11.2oz / 318g
Balance: 13in / 33.02cm / 4 pts HL
Swingweight: 324
Stiffness: 66
Beam Width: 24.5mm / 24.5mm / 20mm
Composition: Graphite
String Pattern: 16 Mains / 18 Crosses
Mains skip: 8T,8H
Prince Twistpower Tour X97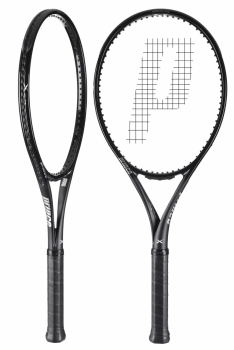 The Prince Twistpower Tour X97 is more like a Pure Strike or a Pro Staff. I think it lands kind of in the middle in power level. The 16×19 string pattern offers a significant "launch" on the ball, where you get some free height over the net at the cost of some directional control. It has a lower swing weight than the other two racquets and despite the unstrung static weight of 310 grams, can be described as "whippy" and fast to swing. Not far off a Tecnifibre Tempo 298 IGA, but with a bit better stability.
Head Size: 97 in / 625.81 cm
Length: 27in / 68.58cm
Strung Weight:11.6oz / 329g
Balance: 12.59in / 31.98cm / 7 pts HL
Swingweight: 321
Stiffness: 66
Beam Width: 23mm / 23mm / 19mm
Composition: Graphite
String Pattern: 16 Mains / 19 Crosses
Mains skip: 8T,8H
How do they play?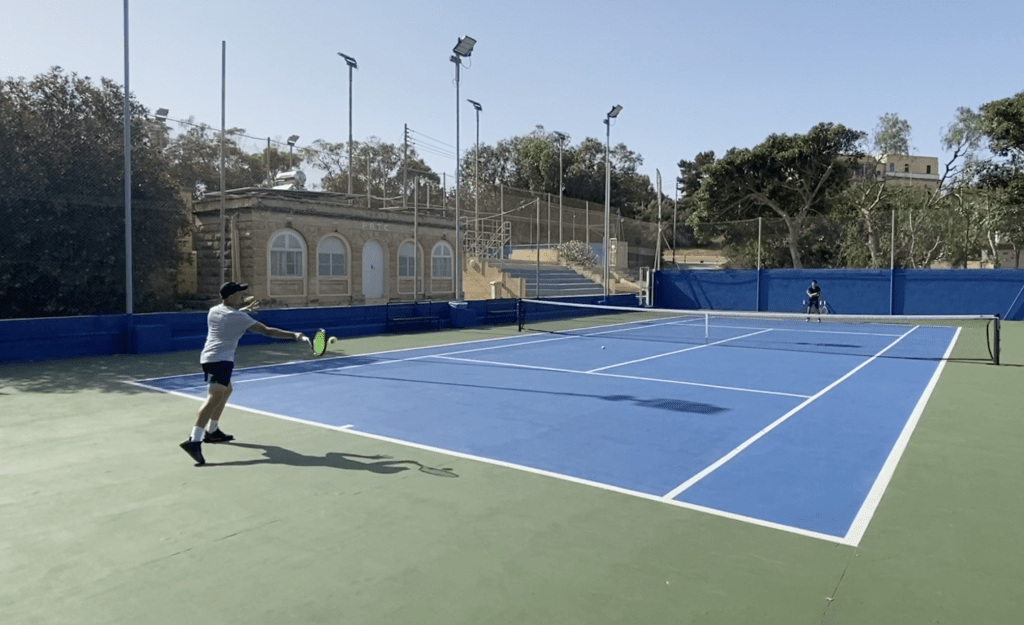 These racquets are fast and powerful for their respective category. The X100 is a power frame with easy depth and spin for baseliners ranging from NTRP 3.5 to 5.0. The power level makes it a bit difficult to control on flatter shots, so you definitely need to add a decent amount of top spin on your shots to increase control or hit with bigger margins.
The X97 is more precise, yet with a livelier string bed than many 97 sq inch racquet. I would say it's easier to use and more powerful than the Wilson Pro Staff, but lack some precision compared to a racquet like that. I think it slots into the category of modern (generally means more powerful and spin-friendly) control racquets like the Tecnifibre Tempo 298 IGA, Babolat Pure Aero VS and HEAD Extreme Tour.
I found the serve on the 97 exceptionally good as the racquet moves fast through the air.
Comparing the 97 and the 100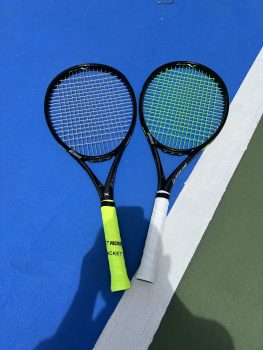 I was a fan of the Prince Twistpower X100 when they released it and I thought I would like the X100 Tour more than the smaller head size. But the 97 had enough power for me and allowed me to manoeuvre the racquet head faster and play more on the rise, which is what I like.
Semi-advanced attacking players will enjoy the 97, while intermediate players will find more free power and spin from the X100.
Compared to other racquets
Compared to the Tour 98, the 97 is faster (lower swing weight) and gives you a bit of a boost in power/spin, while the 98 is more stable. But racquets offer good comfort. Like I wrote above, the Twistpower Tour X97 plays in the same category like a Pure Aero VS or IGA 298. It feels like an arm-friendly frame for the kind of power/spin you get, but some players might find it to be a little dampened in feel due to the foam-filling. I did not struggle with the feel of the frame however.
The 100 is better on the arm than most power racquets and hangs out in the category of the HEAD Boom MP. A somewhat lively and comfortable string bed providing the player with ample power and spin to dominate from the back of the court.
Compared to X100
The Tour version feels heavier but also more stable and powerful. The foam-filling and extra weight bumps up the swing weight but also makes the racquet more comfortable. The 290 gram X100 is easier to use however, as some might find the Tour 100 slow.
Summary
I find it a shame that the Twistpower Tours are not easily available in Europe. They are very good racquets offering power and spin in a comfortable package. They compete well with bigger brands today and should be taken seriously when you demo a racquet.
I ended up preferring the X97 for the faster feel that allowed me to generate good power on serves and react fast to incoming shots. Since the swing weight is 320, I might personally want a little more weight to get it closer to 330, but it plays fine in stock form.
The X100 Tour is a nice frame, especially judged on comfort, but I'm not sure if I prefer the faster feel of the X100. It did feel a bit slower for me to generate top spin with and with these powerful racquets, that is what I need. But I think the comfort is better in the Tour version thanks to the higher weight and foam-filling.
Overall, another two interesting frames to consider from Prince tennis.