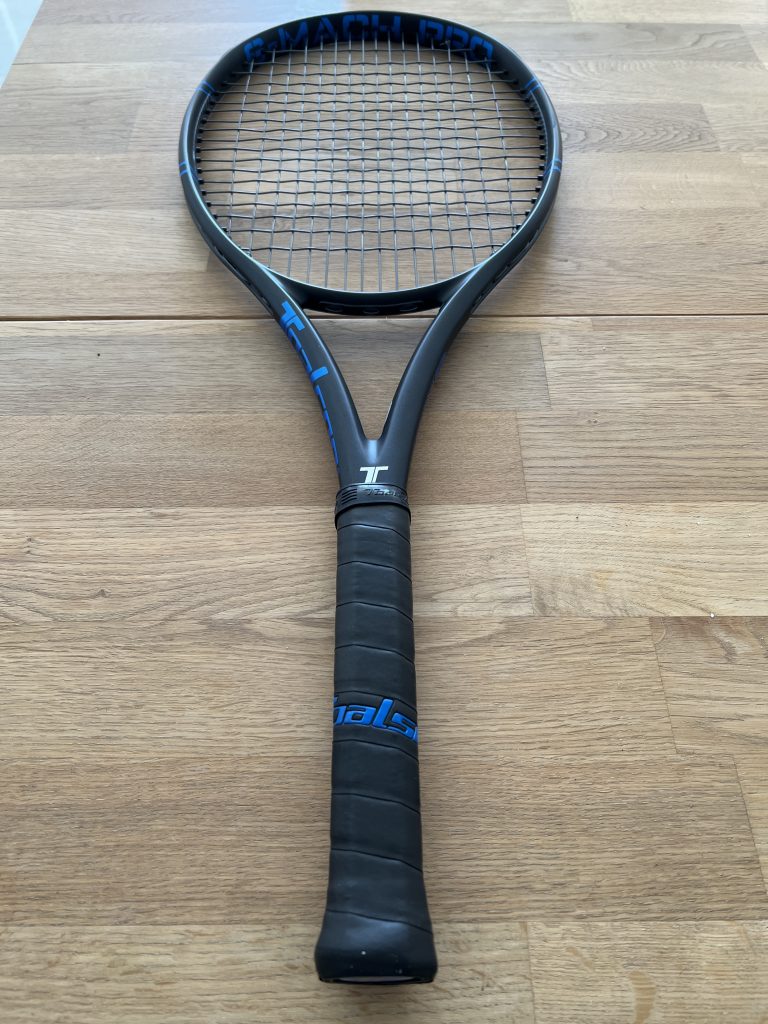 I had two Toalson racquets to review, the Forty Love and the S-Mach 97 310. The Toalson S-Mach Pro 97 is the most powerful.
I don't know the stiffness rating of the Toalson S-Mach Pro 97 310, but it's a stiffer frame for sure with ample power. The feeling on impact is not quite as nice as the buttery plushness of the Forty Love. Here you have a response similar to a Wilson Pro Staff, stiff but precise.
Tech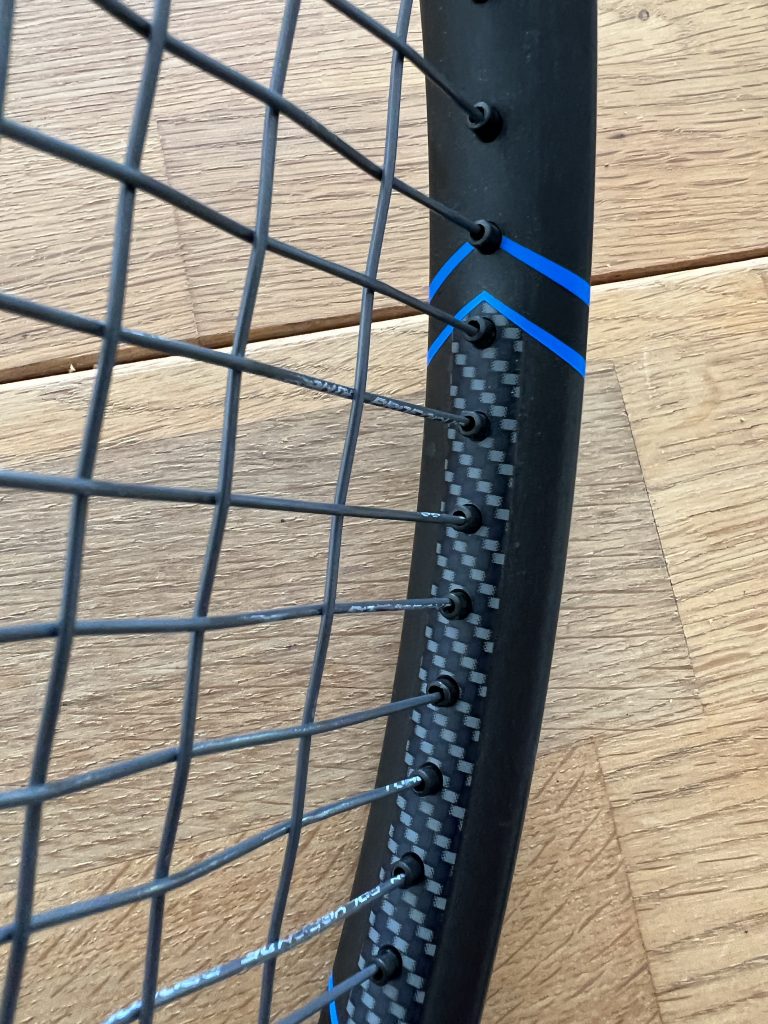 The racquet is filled with super elastic rubber in the handle to reduce vibrations to your arm. The shape of the throat is called Hex Torque Frame, with the idea of preventing twisting even on off-center shots. It also comes with Flex Counter Parts at 3 and 9 positions, which is supposed to minimize face surface deformation when hitting the ball.
These are all pretty standard technologies that make sense. A filled handle is common these days to counter vibrations, extra weight at 3 and 9 increases the twist weight and stability of the frame and a more aerodynamic frame design is supposed to help the racquet move more naturally on the vertical plane, preventing twisting.
Unstrung Specs
Head size: 97 sq inches
Length: 27 inches
Weight: 310g or 10.9 oz (QC allows for +- 5g)
Balance: 32 cm (6 pts HL)
String Pattern: 16×19
Strung specs
I strung it up with the Toalson PolyGrande ProFocus 1.25 poly string at 51 lbs or 23 kg, added an overgrip and got the following strung specs.
Weight: 335g
Balance: 32.3 cm (5 pts HL)
Swing weight: 327
The specs suit more advanced players and the sweet spot on this racquet isn't huge, so you need to have good footwork and timing to be effective with it.
How does it play?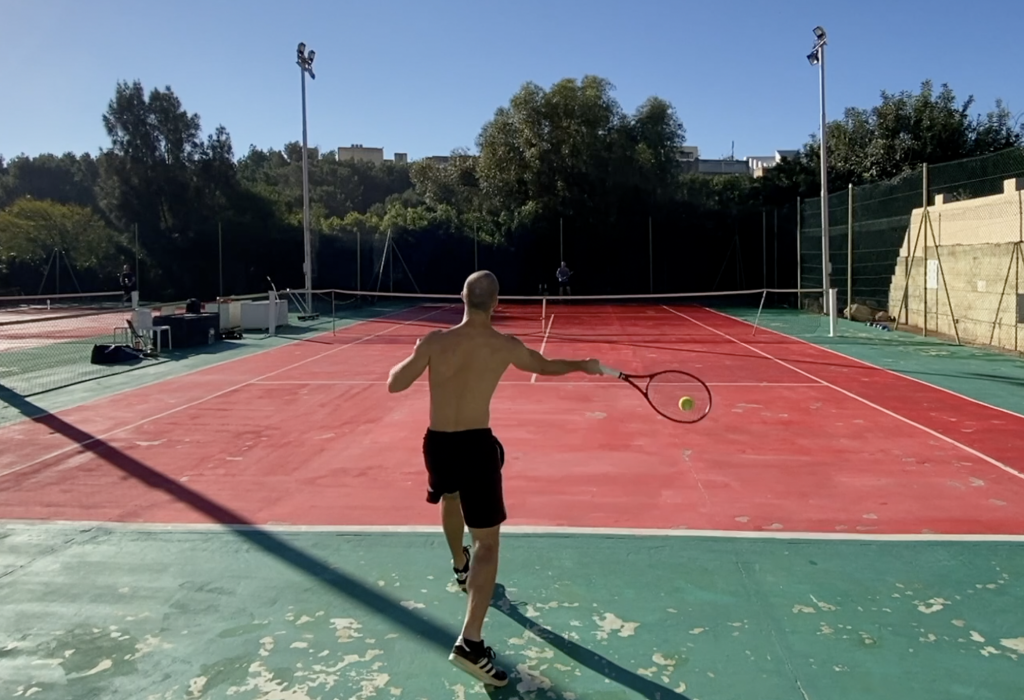 As usual, I wasn't alone in testing this frame. Both Matthew and Sziij are skilled players rated 5.5-6.0 NTRP having (on a scale of 7). They both found good power from the frame but felt like it lacked a little bit of feel. One player described it like a Yonex VCORE 98 and another like Pure Aero VS. It's powerful, but it's not as easy to use as some 100 sq inch racquets where you have more forgiveness from the string bed.
Thanks to its above-average weight, the racquet offers excellent stability. I found the racquet to be a bit difficult to control at times. The string bed was a bit lively for my liking when you're hitting the ball with a flatter trajectory, and I found some balls to sail on me a bit. Players who naturally add more topspin, like my hitting partners, didn't see quite the same issue with control, but they weren't in love with the frame either.
It's a good choice for advanced, attacking players looking for power, but nothing outstanding.
Summary
The Toalson S-Mach 97 310 is not a bad racquet by any means, but it didn't convince anywhere either. It's hard to find any significant faults, but we all felt like the racquet was a bit "hollow" on impact. Compared to the excellent feel and response from the Forty-Love, this racquet is for a different demographic. They're both quality frames, but I'd pick the Forty-Love every day of the week despite offering less power.
The S-Mach 97 310 is a decent modern frame with a good amount of power and spin potential for its head size, but with all the racquets offered in the marketplace right, nothing stands out about it in terms of feel and playability.