I've had a first hit with the Wilson Ultra Tour and want to give you my initial impression about this much talked about racquet. Full review to come.
The test racquet I have is strung with Luxilon Alu Power
. It's not my string of choice, but it works alright in the Wilson Ultra Tour. For the next couple of session I might string it up with a more spin-friendly string since the trajectory of the 18×20 is rather low. Compared to the Angell TC 97 Custom 18×20 I'm playing with at the moment, I really feel like I get less spin with the Wilson Ultra Tour
, but a string pattern comparison to come in the full review.
The Wilson Ultra Tour is a light racquet for a commercial tour model and in my opinion it cannot be used effectively without customization. You simply won't get enough power on your shots. I don't know why Wilson didn't add a leather grip on it, but I would definitely recommend that along with some lead tape at 3 and 9 and/or 12′ o clock to pack more punch into the racquet.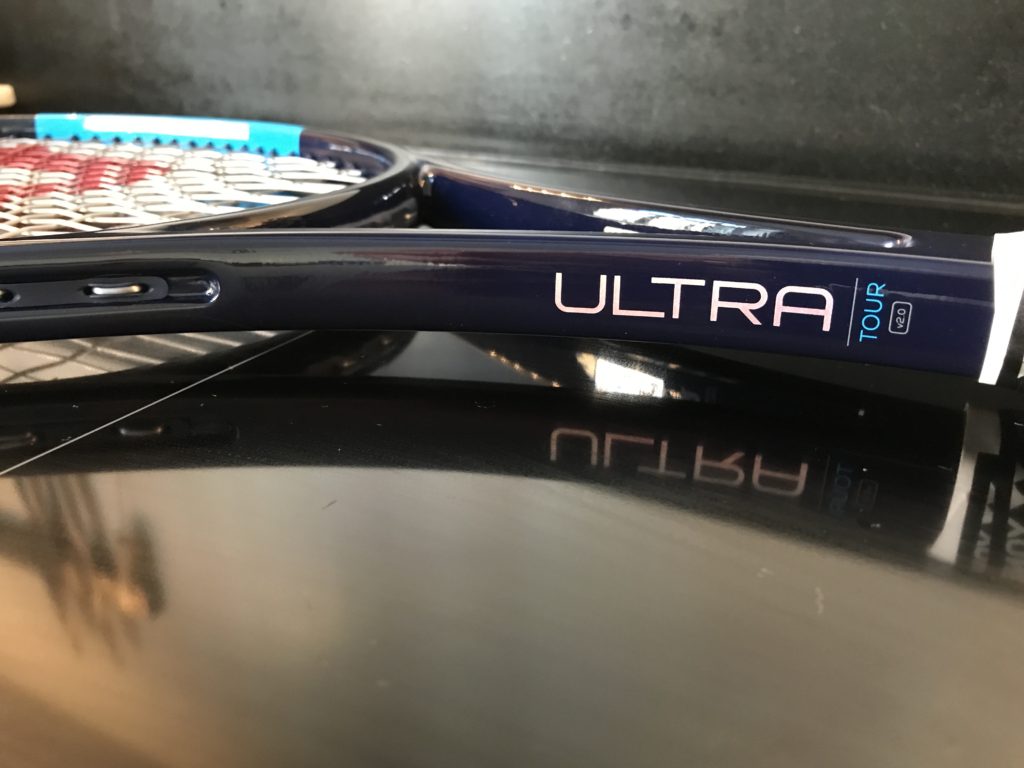 As a control and touch-and-feel racquet, it really shines. Despite feeling a little bit too low-powered even when I added lead at 3 and 9, it made me feeling creative. Usually I really on my forehand and aggressive tennis, but the Wilson Ultra Tour made me want to slice and dice and drop-shot, move into the net and play funky tennis. And that's a lot of fun!
Here are some rallies from a practice set I played with the Wilson Ultra Tour. We're both testing new racquets with demo strings so quality of rallies is not that high, but hopefully I can bring some higher quality tennis clips soon.
Comfort is not an issue with the Wilson Ultra Tour. In parallell I'm also play-testing and review the Wilson Ultra 100 CV and it will be interesting to see how Countervail works there to dampen the high RA rating of 71 strung. The Wilson Ultra Tour however needs no Countervail, it is a plush, low-powered racquet with a really nice and clean feel. I would say it feels very similar to a good old HEAD iPrestige in how it plays.
I will need to lug more hours with it to give a more full-on review. But let's look at some pros and cons of the Wilson Ultra Tour:
+ PROS
Great platform racquet for customization
Control and feel
Great comfort
Looks (yeah, highly subjective, but the racquet looks great)
– CONS
Lack of power – you need to provide your own
Without customization it falls flat
Not a spin frame
Would I take a customized Wilson Ultra Tour into a tournament? Without doubt. I need to find my ideal spec and string for it, but once that's done it is a pro stock level racquet for sure.
Is it better than the Angell TC 97 Custom? I would say they are very close in how they play and it's too soon to pick a winner at the moment. I will make a in-depth comparison later on.
Are you interested in the Wilson Ultra Tour? What do you think about it? Please comment below.
If you want to get a Wilson Ultra Tour or other tennis supplies, check out the online shops below.
Europe
Racquet Depot
Pro Direct Tennis
USA/CANADA
Tennis Express
Do It Tennis
Amazon