Serena Williams was recently seen testing a new blacked-out racquet and Wilson sold 24 of them. But what is Serena Williams prototype racquet?
Serena Williams was using a blacked-out racquet during the Australian Open. We had no idea what it as at the time, but then Wilson decided to sell what can only be named as a Serena Williams Prototype racquet. They sold 24 of them and thanks to tennis nerd @8toro on Instagram, we got the specifications of the racquet.
The specs seem to be pretty close to her current model, but the mold looks different. Will she make the switch or keep testing new frames? Will she go back to her old racquet? Time will tell.
Serena Williams Prototype Specifications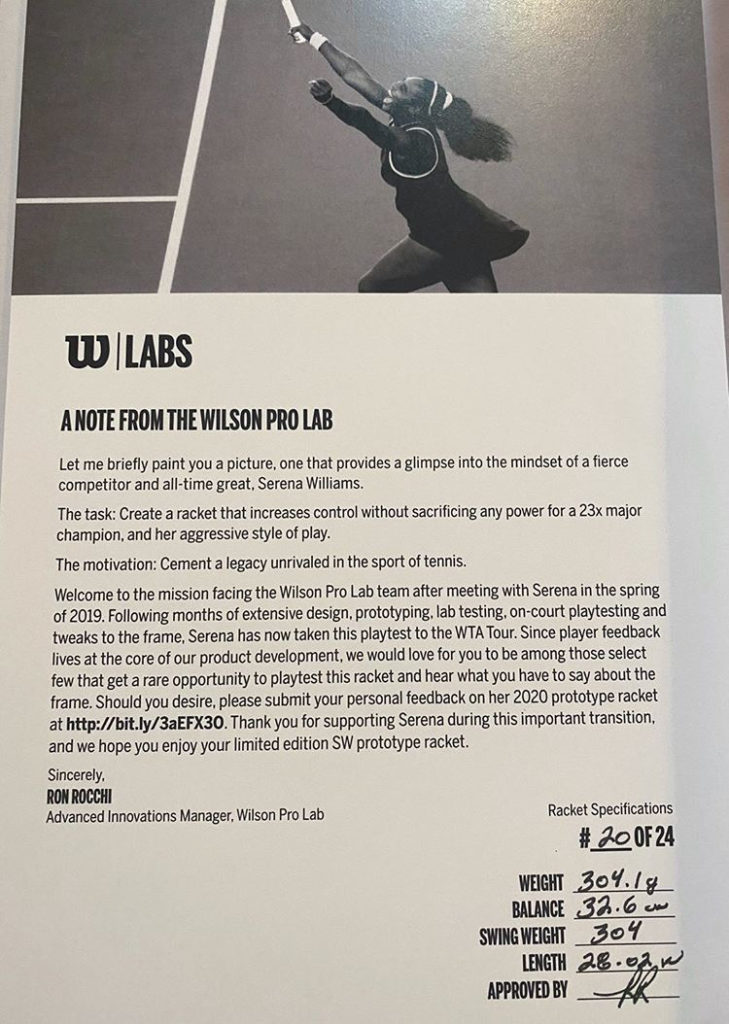 Since the racquet is blacked-out, it is not that easy to see the details of the racquet mold, but here are the unstrung specs:
Weight: 304g
Length: 28 inches
Balance: 32,6 cm
Swing weight: 304
When you add strings and an overgrip the specs will be something like: 326g, 33,4 cm balance, and 334 SW.
These are pretty heavy specs on the WTA Tour, but Serena is very strong and her playing style is based on overpowering her opponents. She is currently chasing her 24th grand slam title, but the competition in the women's game gets tougher all the time and we cannot be sure she will ever get there.
But the greatest players in the sport usually find a way to get there. It will interesting to see how she approaches the rest of the season together with her coach Patrick Mouratouglo. Will she keep playing with this racquet? Will she add something new to her game? Keen to hear what you think she can do to get to that record-breaking slam number. Her best chance should be in Wimbledon a few months from now.