The Powerstab 300 was a well-received racquet with players looking for easy power. So what is new with this Tecnifibre Tflash CES 300?
The Tecnifibre Tflash 300 CES is a racquet for players who like to get some power and spin for free. That is evident just by looking at the racquet and the thickness of the beam, which is slightly thicker in this CES update. And with a stiffness rating of 72, we are definitely in Pure Drive territory.
Tecnifibre Tflash 300 CES Racquet Review – Specs and Tech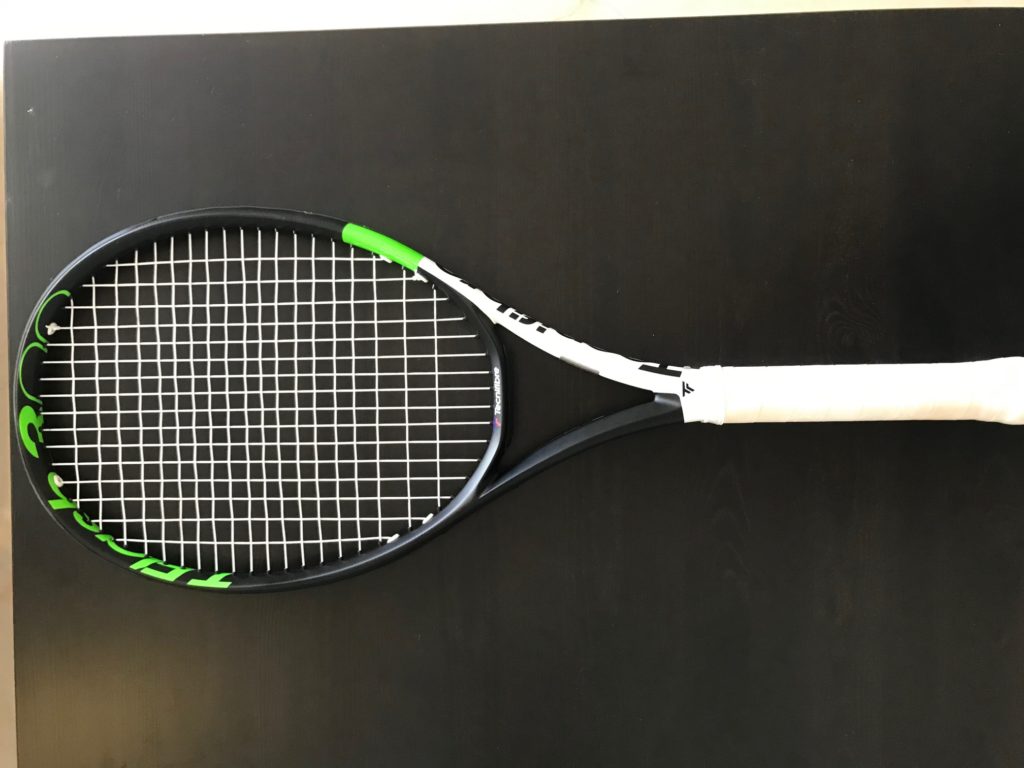 With a racquet this stiff, you need some good dampening technology. The CES 300 comes with an HD Fuse Grip, which is basically silicone around the handle to filter out some of the harsh vibrations. The racquet also has a bridge design to extend the mains and create more string movement and comfort. Is it enough? Well, it sure feels quite comfortable for such a high stiffness rating.
One thing I really like about this racquet is the progressive string pattern. This means that the center of the racquet is tighter and it gets more open towards the sides. The benefits are that you get more control from the string bed, but also a bit less shock on off-center shots.
Tecnifibre Tflash CES 300 Unstrung specs
Head size: 100 sq in / 645 sq cm
Length: 27 in / 68.6 cm
Weight: 300 grams / 10.58 ounces – mine was 318 grams with strings
Balance: 9 pts HL (around 6 pts HL strung or 32 cm)
Beamwidth: 25/26/26 mm
String pattern: 16×19
Stiffness rating: 75 RA (drops down to 71-72 strung)
Swing weight: 285 (or around 320 strung)
These are specs for players looking for power and who can harness it by generating plenty of spin.
Tecnifibre Tflash 300 CES Racquet Review – My Setup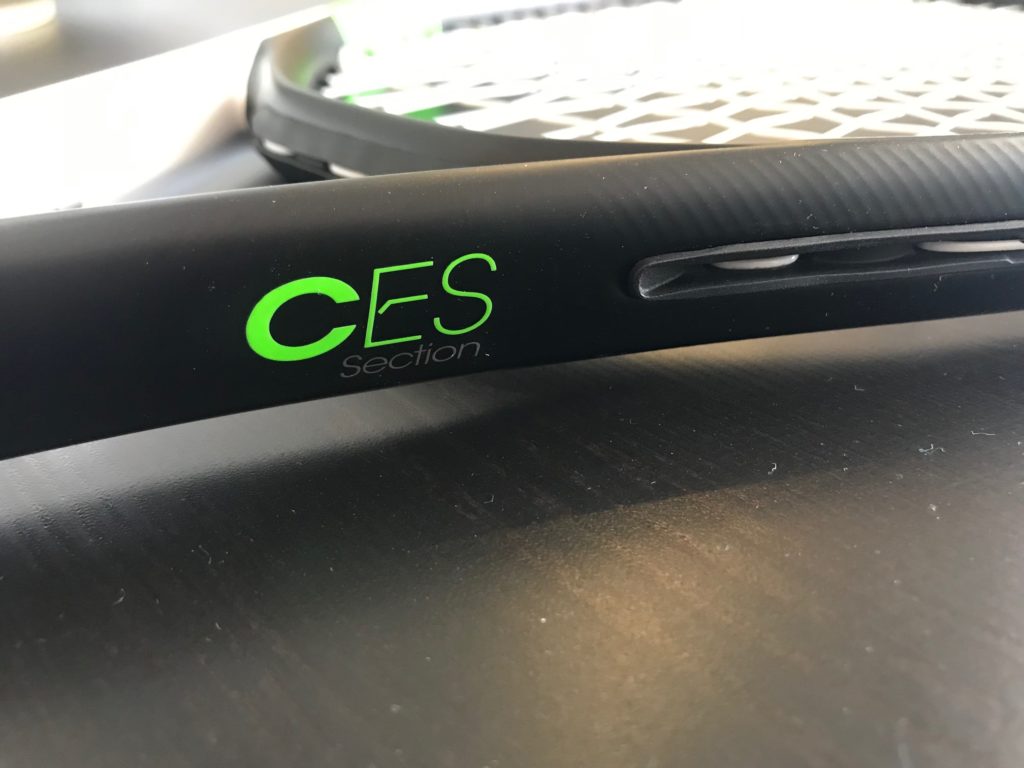 Strings – String low
I strung this racquet up with Tecnifibre Ice Code 1.25
(read the Tennisnerd review) at two tensions (with two different racquets of course 🙂 ), one at 23 kg (51 lbs) and one at 25 kg (55 lbs) and took it out for a play-test. I would recommend to go somewhere in the middle with a softer poly string.
Customization – Not really needed
I did not feel the need to customize this racquet in any way. It felt stable and easy to manuever.
Skill Level – Intermediate (3.0+ NTRP) and upwards
This racquet is very easy to use. I had three players play-test this racquet alongside myself and Mauro who likes to play defensive and run down balls at the baseline said it was one of the best racquets he has tried. Henrik who writes a lot of reviews on Tennisnerd, really enjoyed the effortless power. He also really appreciated that the launch angle was more controlled thanks to the progressive string pattern.
Tecnifibre Tflash 300 CES Racquet Review – How does it play?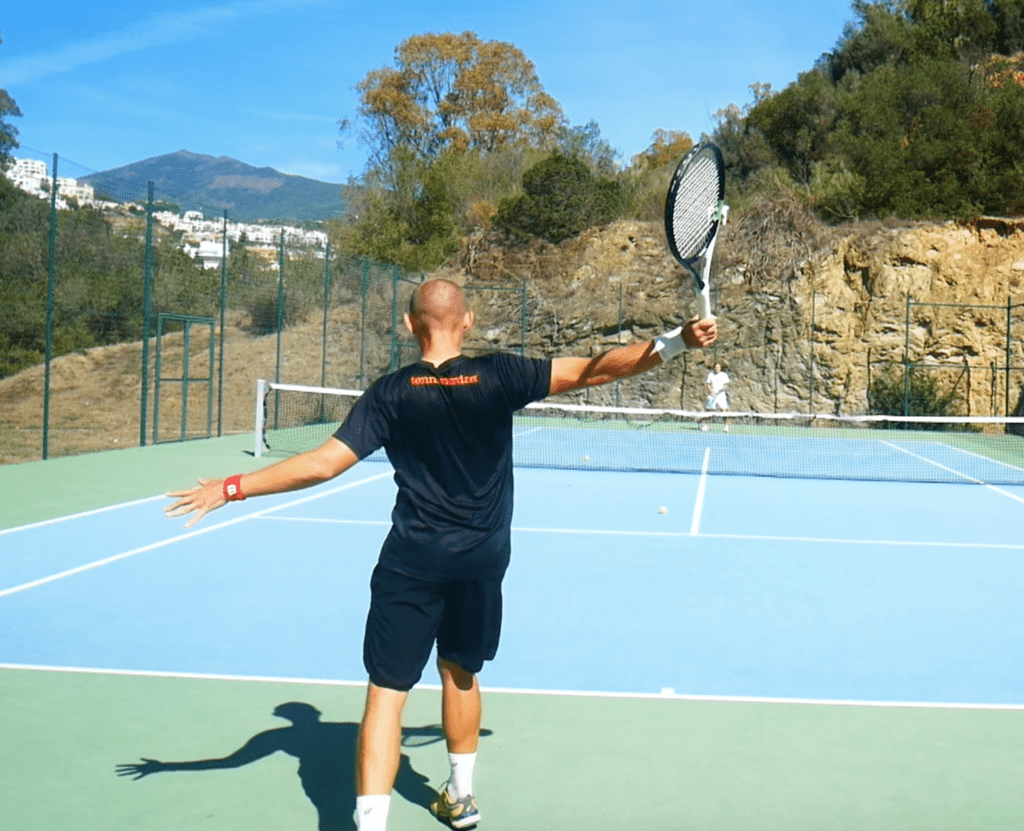 Playing Style – Baseliners who hit with spin
The Tflash CES works well for baseliners who can hit with spin. It does not offer loads of touch but is easy to generate power and take control of rallies with.
Comfort – Above average
The dampening works well and I did not encounter any problems with wrist or elbow pain. But it is a stiff racquet so if you have any arm concerns, I would look at other options.
Strengths – Power, spin, large sweet spot
The Tflash CES 300 is a racquet that will give you good power and spin. It is fairly easy to use with a large sweet spot. I also find it relatively head-light for this type of racquet, which makes it manoeuverable.
Weaknesses – Not great on feel, high stiffness will be a problem for some
Like most "tweener"-style racquets, this is not for players who rely on feel and touch to in their game. This is all about hitting aggressively from the back of the court. The dampening works well, but if you have elbow or wrist issues, I would still avoid this frame.
Comparisons
This racquet plays very similarly to its predecessor. Not sure which one I would prefer, but this one feels a bit more stable to me. Other racquets that play close are the Babolat Pure Drive, the HEAD Extreme MP and Wilson Ultra 100 CV. This one does offer a slightly lower launch angle than those racquets.
Tecnifibre Tflash CES 300 Racquet Review – Summary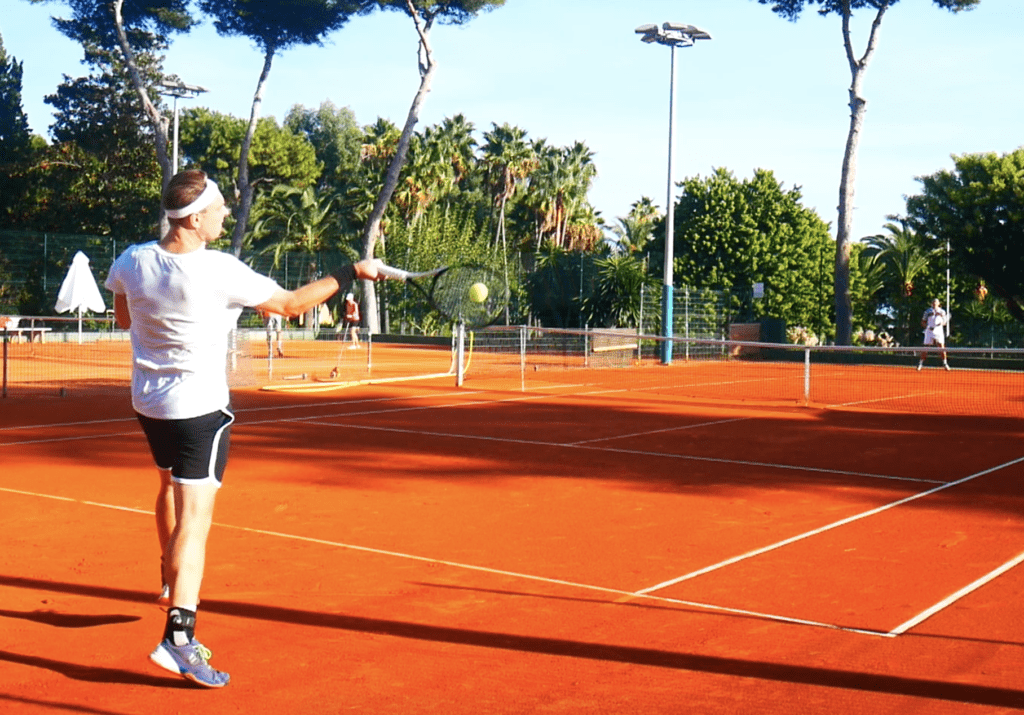 This a solid tweener frame with a lot of things to like about it. The progressive string pattern and dampening are two things that I enjoy about this racquet. Two of my fellow play-testers were also very happy using this stick and both asked if it was for sale, which is a great sig for any frame. I did not feel as connected to the ball as I would from for example the Tecnifibre TF40, so it is not exactly made for my aggressive slice-and-dice game. But for players who want a bit of extra power from the back of the court or just play with a lot of spin, this racquet could be a nice fit.
Tecnifibre Tflash 300 CES Video Review
What do you think of the Tflash 300 CES
? Is this a racquet that could suit your game?
PS. If you are interested in buying the Tecnifibre Tflash CES 300. Check out one of our affiliates below. DS.
If you buy a racquet from our friends at All Things Tennis, you will get 5% off and a free string upgrade if you use the code: TENNISNERD at checkout.