Tennis product companies create new products in cycles and we can expect new batches of gear coming out ahead of each Grand Slam, especially when it comes to apparel but also paint jobs on current racquet models and sometimes entirely new racquet lines. This post deals with what's been happening of late in the ever-expanding tennis gear category. I will create a post per brand to cover the most recent updates to their line of tennis gear and apparel. First off is Wilson.
Wilson
Wilson has a new line of racquets out with FST – Fast Speed Technology. A pretty silly name in my mind, but it's supposed to do just what it says, adapt the racquets for a faster swing speed. The flagship model is the FST Burn 95 which is endorsed by Kei Nishikori and costs a whopping $249 in stores. The Burn 95 has received good reviews however and is supposed to play a lot softer than it's arm-exploding 71 RA. My guess is that it could be similar to the Wilson Six-One 95 Classic which had a measured RA of 72, but never felt as stiff as that during play.
Another feature of the FST series is the extended handles, called the X2 Ergo handle, which is tailor made for two-handed backhands. The Wilson Labs are supposed to have created an ergonomic handle shape for the top hand of the modern two-handed backhand. It's an interesting approach and I'm curious to know whether it actually feels better for that shot.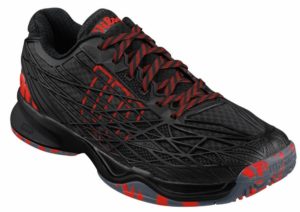 If anyone has tried this line of racquets, please comment below to tell me what you think about them.
Besides the FST series, Wilson has also released a light and flexible tennis shoe called KAOS. The design might be an acquired taste with it's rubber criss-cross pattern, but the reviews are pretty good.
Dimitrov and Pro Staff 97S
In September last year Wilson re-signed Grigor Dimitrov as one of their brand ambassadors and gave him is own signature model – the Pro Staff 97S. It looks really sharp!
Specs should be interesting for people looking for a mix between classical and modern.
Strung Specifications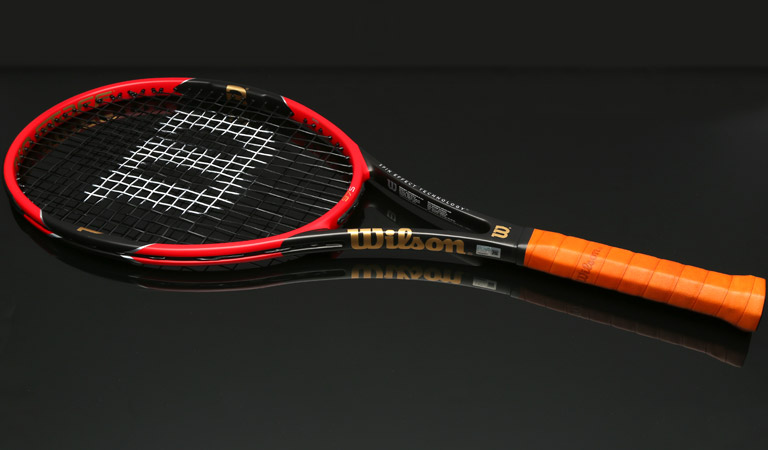 Head Size:97 sq. in. / 625.81 sq. cm.
Length:27in / 68.58cm
Strung Weight:11.5oz / 326.02g
Balance:13.5in / 34.29cm / 0 pts EB
Swingweight:336
Stiffness:65
Beam Width:19.5mm / 19.5mm / 19.5mm /
Composition:Braided Graphite/Kevlar
Power Level:Low-Medium
Stroke Style:Full
Swing Speed:Fast
Racquet Colors:Red/Black
Grip Type:Wilson Leather
String Pattern:18 Mains / 17 Crosses
Mains skip: 8T,10T,8H,10H
One Piece
No Shared Holes
String Tension:50-60 pounds
I'm curious about this racquet, because I really liked the Wilson Blade 98 (2015) 18×20 but would have preferred a more open string pattern.
Since the balance is quite even, I would make sure to add weight in the handle to get it more headlight and bump the weight up to my preferred 345 grams.
Despite how nice the racquet is, Dimitrov hasn't had a great start to the season. The Bulgarian once hailed as baby Federer (a dangerous nickname if you consider Gasquets career underwhelming compared to his talent), is still struggling on tour after numerous coach and racquet changes and yesterday he lost in straight sets against Simon in the first round of Monte Carlo Masters.
Dimitrov is now ranked 26 in the world, with his career peak coming at #8 in 2014. Let's see if he can find the way back inside the top ten. Despite his obvious talent, my feeling is it won't be easy.