The new Wilson Pro Staff 97 V13 Review is here. This racquet review deals with the Pro Staff 97 and the RF97 Autograph.
I have received the new Pro Staffs a while ago and I know a lot of you have been looking forward to this Wilson Pro Staff 97 V13 Review. I will start by telling you two key things. The RF97 Autograph V13 is just cosmetically different from the previous version, while the Pro Staff 97 V13 has a different layup and a tighter string pattern. I think the new PS 97 V13 is a subtle, but a significant improvement over the all-black non CV version I reviewed recently and a major improvement in feel over the Pro Staff 97 CV edition
.
Cosmetics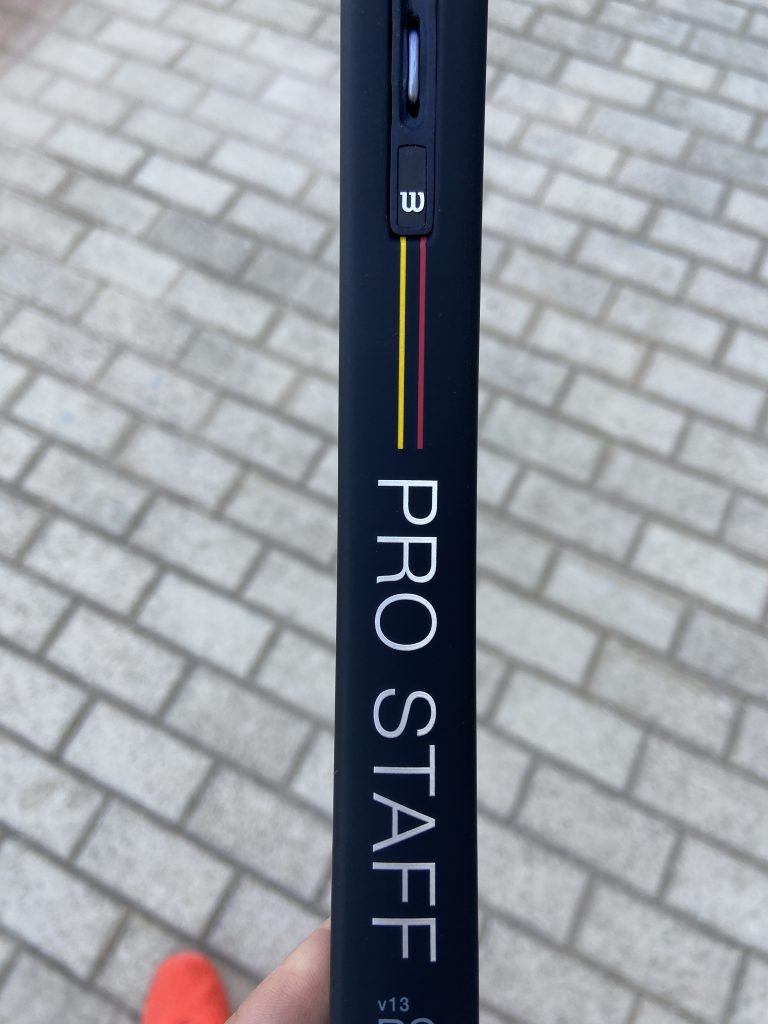 For this edition of the Pro Staff, Wilson wanted to give a nod back to the legendary Pro Staff original line with the all-black design with the red and yellow stripes. I'm a big fan of classic racquets and thought this was a great idea, but I would have liked them to go a bit further. Now, the red and yellow is only on the side of the throat, and at 12 o'clock. At the top of the frame, there is also an exposed carbon fiber weave that I'm sure car enthusiasts will approve of.
The black color is matte and I would personally have liked to see a shiny look that the pros get, but I guess I will have to wait for that one.
I'm not saying the design is bad, on the contrary, just a bit understated. The RF97A on the other hand looks the same, but the lines are white and grey instead of red and yellow.
You can check out the new Wilson Pro Staff 97 V13 here, the Wilson Pro Staff 97L V13 here, and the Wilson Pro Staff RF97 V13 here.
If you want to buy the Wilson Pro Staff 97 V13, please consider doing so with one of our affiliates: Tennis Warehouse Europe,    Tennis Only (AUS) or Tennis Warehouse (US).
Specs and Tech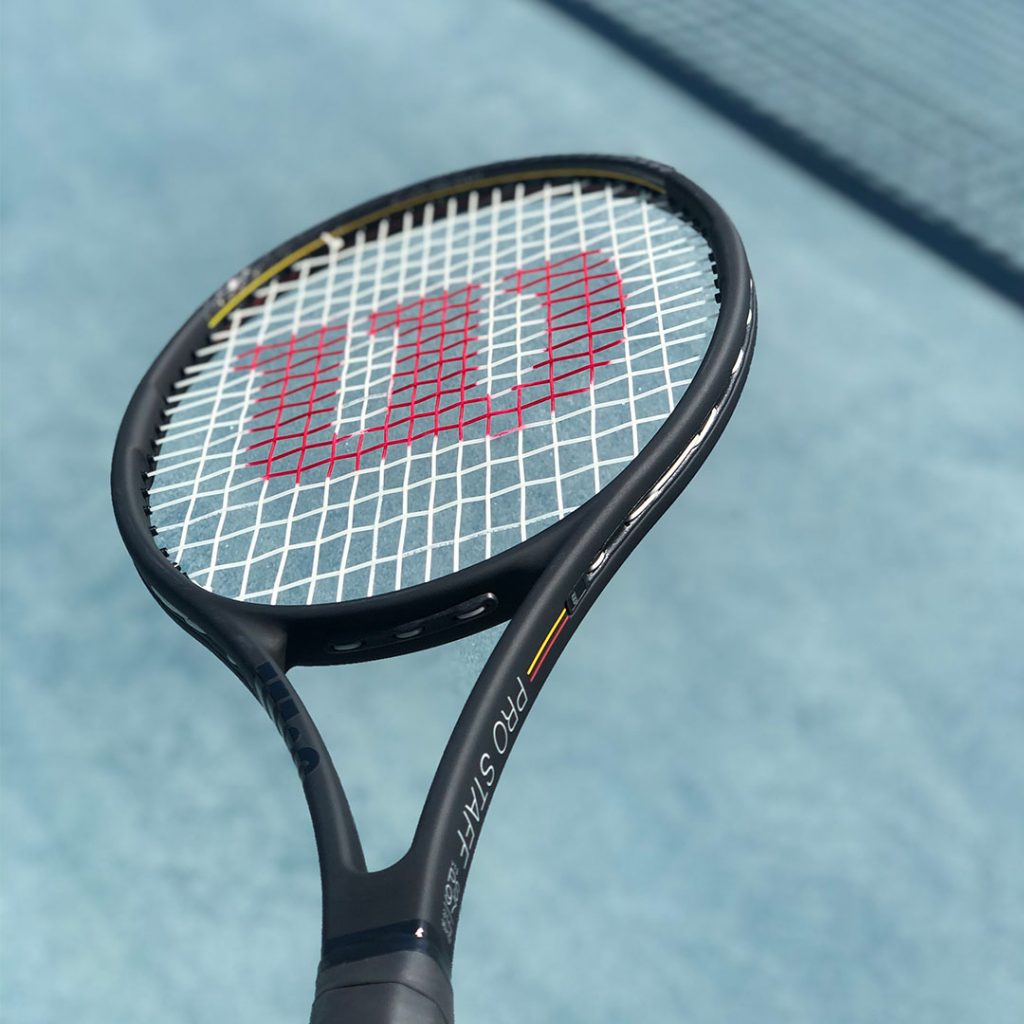 Like I wrote above, the tech is unchanged for the Pro Staff RF97A. But when it comes to the Pro Staff 97 V13, there are some important improvements. There is a new Braid 45 construction that increases precision by adjusting the angle of the double braided fibers for enhanced feel and stability. It also has a denser string bed that improves control and a new more comfortable end cap (similar to other Wilson lines).
I like that they didn't introduce feel flex and made it into a noodle. The Pro Staff should be stiff or crisp, but the new layup has made it more comfortable in my opinion. I did feel an improvement in this area over the predecessor.
I strung it up with Luxilon Alu Power Rough 1.30 gauge at 53 lbs or 24 kg and hit the courts.
The strung specs of the Pro Staff 97 v13 were:
97 sq inches, 16×19 string pattern, 21.5 mm beam, 331g, 32 cm balance (7 pts HL), 329.5 SW
I played it with an overgrip which made it 337g, 31.8 balance. This spec is spot on for my game.
The RF97 Autograph was another story. I strung that up with Luxilon Alu Power 1.30 at 54 lbs or 24.5 kg, added an overgrip, and got:
97 sq inches, 16×19 string pattern, 21.5 mm beam, 365g, 31.5 cm, 341.5 SW
These specs are pretty heavy, even for the Autograph version. Federer is reported to use exactly these specs, give or take one gram, so I definitely need to be on my A-game to even try to play well with this racquet.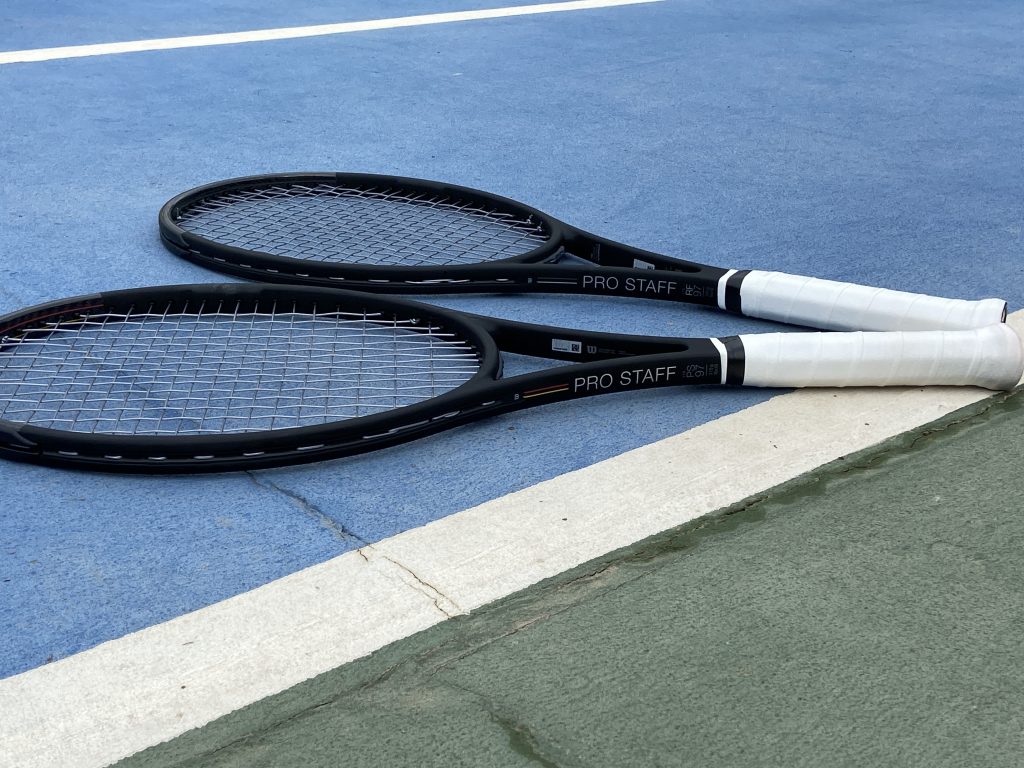 How does it play? Pro Staff 97 V13
When I started the play-test, I had no idea about any possible tech or spec changes. It looked and felt the same on the first couple of hits. But after a couple of hours, I started to notice a subtle difference in how the PS97 behaved. I felt I had a better connection to the tennis ball. This racquet really started to shine as soon as the tension of the string bed dropped a bit. I got really nice pocketing, excellent control and power when I needed it. The sometimes unpredictable string bed of the previous edition is gone. I felt completely in command of my shots here.
Still, it's not an easy racquet to use. The sweet spot is pretty small by today's standard and you need to have good technique and footwork to swing this racquet effectively. But I think advanced level players will really appreciate this update. They haven't done a whole lot to it, it seems, but the changes make a huge difference to how the racquet plays in the long run. I also noticed improved comfort, despite the lack of dampening tech.
I felt so confident with this frame that I brought it into two Open level tournament matches and felt right at home. So the Wilson Pro Staff 97 V13 goes on my MRR-list. This means Match-Ready-Racquet list and includes racquets that I trust a hundred percent and could play a tournament with.
How does it play? Pro Staff RF97 V13

The RF97A is Roger Federer's racquet of choice and he is one of the few players that can play his best tennis with it. I know a lot of players the world over love the stability, plow-through, and control this racquet provides. And I love it on days when I'm moving and playing well. However, it is far too demanding and punishing for my game to use on a daily basis.
I like that Wilson did not try to change this frame with any technology updates. This the racquet Roger uses and it remains that way. But if you already have an RF97A and you're happy with that, there is no real reason to buy this one unless you love the cosmetics.
I have reviewed this racquet in various paint jobs over the years and always come to the same conclusion. A great frame for an attacking, advanced level player who appreciates heft and stability. You need to have superior footwork and technical abilities to swing this racquet efficiently. For this reason, I much prefer the playability of the Pro Staff 97 V13. But I can see why a player of Roger's qualities, likes this one.
Summary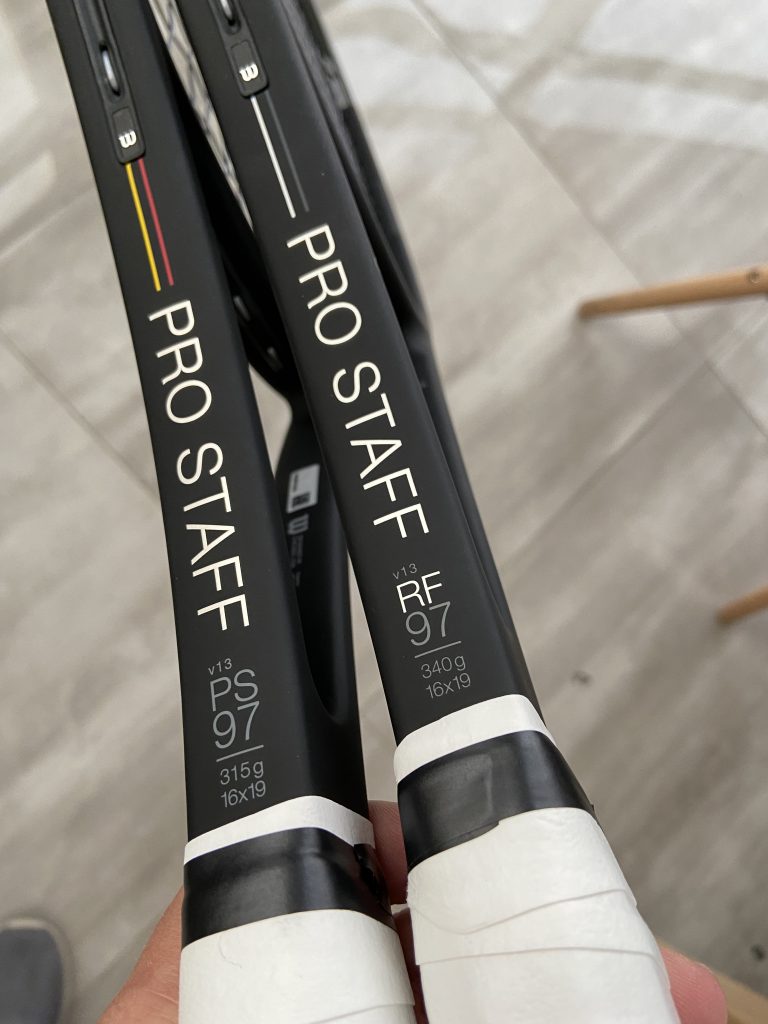 Sadly, I did not get a demo of a Wilson Pro Staff 97L V13 to review. But I would assume that the braid 45 construction and the string mapping helps that racquet as much as it did with the heavier Pro Staff 97.
It would have been interesting to play a Pro Staff RF97A with these new technologies, but at least it remains true to what Roger actually plays with. In the end, it will be too heavy and demanding for 90% of the tennis-playing population. But for some, it's just nice to have one on the wall or take it out from time to time, to feel what racquet one of the greatest of all time swings on the court.
As a classic racquet nostalgic, I did like the nod to the Pro Staffs of old that Wilson did with the V13, but I think they could have done a bit more. I would also have enjoyed a glossy paint job instead of a matte, but design tweaks are, as you know, highly personal. Overall, I was very happy with the update to the Pro Staff 97 V13 and I will keep it in my bag for match play. I don't have one racquet model I use for tournaments anymore, but a list (an MRR-list!) of a couple of different models, that I'm comfortable with. This one has just gotten a spot on the list and that's no small feat considering how many racquets I test in a year.
What do you think of the new Wilson Pro Staff V13?