Wilson is busy at the time of their home slam: the new Ultra series is about to be released, but that's not enough – they have also revealed Wilson Custom Tennis Racquets.
Wilson Custom is a way for you to get your Wilson racquet to look the way you want. Wilson posted an image of Grigor Dimitrov in Monte Carlo in april and mentioned they were working on something, but it wasn't an entirely new racquet (read this article to find out what Dimitrov uses on court) but instead a custom design of his Wilson Pro Staff 97S
 (really a 93S).
We wrote about a new design on Dimitrov's racquet here and now it's finally revealed as the marketing vehicle for the Wilson Custom Racquet program. Dimitrov's personalized design is not everyone's cup of tea, but at least it shows that there's quite a few options on how you can customize your racquet with Wilson.

The first choice is which Wilson racquet you want to customize: the Wilson Burn, the Wilson Pro Staff or the Wilson Blade (click name for my review of the latest Countervail version of the racquet). There are more racquet models to come, but once you've selected one, the options are quite decent. I was just surprised not to be able to selected a leather grip.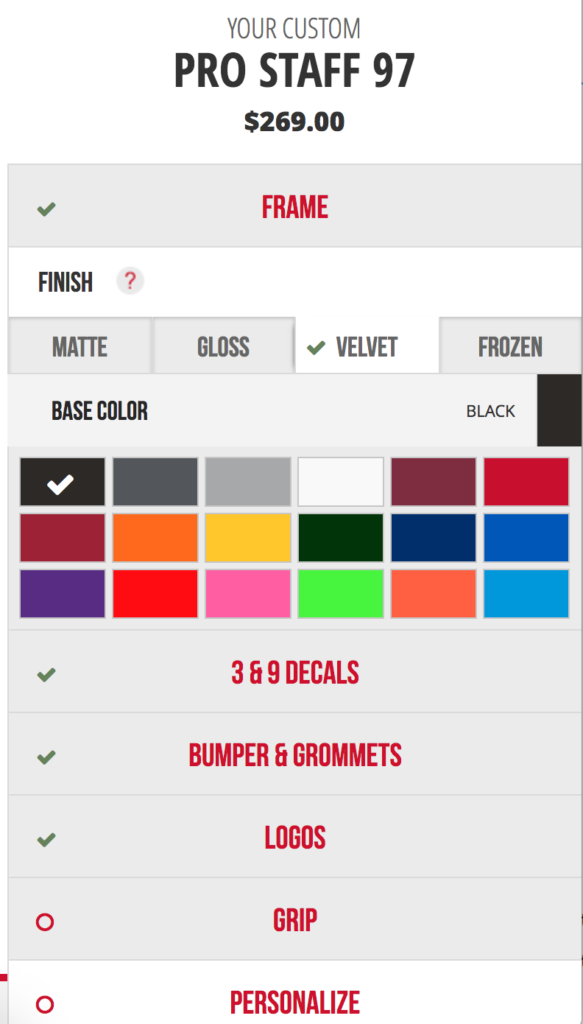 It's important to be clear about one thing here – this is design customization, not changing weight and balance and length like in HEAD Custom Select or like with Angell tennis racquets. But maybe that kind of customization is deemed too expensive or niche for Wilson? No matter what, the design customization offered through Wilson Custom is welcome and nice way to get a more personalized frame.
What about prices then? Well, there's a difference in price depending on the racquet model you choose. The Wilson Pro Staff Roger Federer Autograph
doesn't allow you to edit colours but just get your personalized writing on the racquet (up to 11 characters) so you're "stuck" with the matte black option there. The price of adding your name to the Pro Staff Roger Federer Autograph is $299 so that extra letter writing is 50 bucks compared to just buying the racquet from the store.
Other models are slightly cheaper. A Wilson Pro Staff 97
or Wilson Blade 98 CV
costs $269 and the Wilson Burn CV
costs $249 (Amazon links). So the difference from the retail price is around $50 for all of these models. If you're buying multiple racquets for competitive play it will add up, but if it's just for a racquet you want to try or you just want something original in your racquet bag, it's not too bad.
Will you buy a racquet from Wilson Custom Rackets? What colours are you going for and what do you think of Wilson's initiative? Please comment below.