Time for another classic racquet review. It's one of my personal favorites, the Wilson Six One 95 nCode (18×20).
The Wilson Six One 95 nCode was a bestseller when it came out in 2004 and is today still used by several pros and many high-level club players. Kyle Edmund and Dan Evans are two pros that both still use the nCode edition. And as you might know, there are many other variations of the Six One 95 that are very popular on the pro tour. Names like Del Potro, Kohlschreiber, Lajovic, Moutet, and Bautista-Agut surely ring a bell!
This racquet is made for the aggressive player who wants to attack the ball with a flat shot. It's heavy, has a pretty beefy swing weight (337 is the average of all my 4 nCodes) but head-light which makes it somewhat maneuverable despite the weight.
The nCode Six One 95 was released in two string patterns, 16×18 and 18×20. They are both good, but for the video review, I tested the 18×20. It offers a bit more control, while the 16×18 is more lively and spin-focused.
Wilson nCode Six One 95 Specs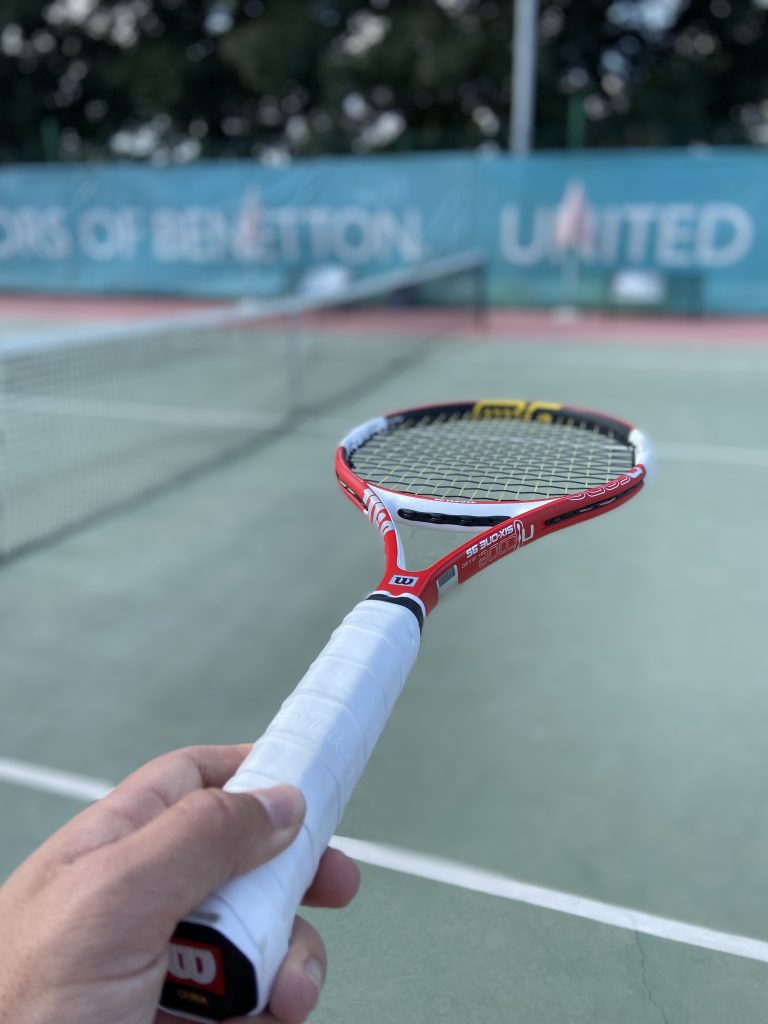 Headsize: 95 sq inches
Length: 27 inches
Beam: 22 mm
Pattern: 18×20 or 16×18
Weight: 332g unstrung
Balance: 12 pts HL unstrung
I strung up my Wilson Six One 95 nCode with Pacific synthetic gut 1.28 at 25 kg / 55 lbs in the mains and String Project Armor 1.25 at 24 kg / 53 lbs in the crosses. I really believe the Six One 95 series play best with a hybrid setup. Luckily, the nCode is fairly comfortable for a Six One 95 so you can use a poly without a huge risk of arm issues, but I still prefer a slightly softer setup.
Let's look at some pros and cons.
Pros and Cons
+ Stable
+ Hits a heavy ball
+ Control
– Heavy to swing
– Smallish sweet spot
– Not huge on spin
I really enjoy playing with the Six One 95 nCode. It also has a special place in my bag as my first real player racquet. Still, it's not forgiving and easy to use and after about one hour of hitting, I usually get a bit tired. It's a lot to swing and the small sweet spot requires good footwork. Which is usually more difficult for us happy amateurs when the match drags on.
But if you haven't tried a Six One 95 – you must! And the nCode is one of the best. Wilson has actually recently re-released the Six One 95 in a great-looking Pro Labs version.
Do you like the Six One 95?