Like with many ATP players, Richard Gasquet doesn't play with the racquet most people think he plays
with. He uses a Head LiquidMetal Instinct Tour XL (pro stock code PT161A, he allegedly uses a version with the ridges) under a Head Graphene XT Extreme Pro
paint job. His specs according to tennis forums are around 361g strung, 381 swingweight and a balance of 32.4 cm strung and Luxilon Big Banger original. He's also famous for flaring the buttcap of his racquet so he can have a comfortable grip despite gripping the racquet very low on the handle (see the picture).
Gasquet's favorite shot is the one-handed backhand and along with Stan Wawrinka and Dominik Thiem, he has one of the most deadly, if not the deadliest, backhands in the game.
Yesterday he managed his best Roland Garros result ever when he qualified for the quarter-finals after an impressive win over Kei Nishikori.
Before we look at the original specs of the racquets, I must say that both racquets are very good sticks. The Head Extreme series have been solid performers in the 100 inch range for a long time and I've played a lot with both Microgel and IG version and they're both very good racquets. But NOT Richard Gasquet's racquet! 🙂
The original specs over Head LiquidMetal Instinct Tour XL: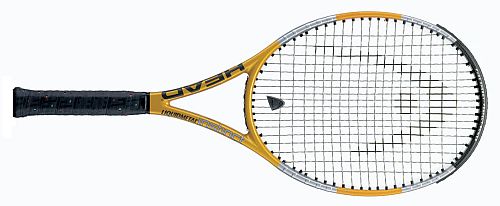 | | |
| --- | --- |
| Head Size: | 100 sq. in. / 645 sq. cm. |
| Length: | 27.50 inches / 69.85 cm |
| Strung Weight: | 11.80 oz / 335 g |
| Balance: | 10pts HL |
| Swing Weight: | 336 |
| | |
| --- | --- |
| Beam Width: | 25.0mm |
| Tip/Shaft: | 23.0mm / 21.0mm |
| Composition: | LiquidMetal Titanium / Graphite and Piezzo Electric Fibers |
| Power Level: | Low-Medium |
| Stiffness: | 63 |
| | |
| --- | --- |
| String Pattern: | 18 Mains/19 Crosses |
| Main Skip: | 8T,10T,8H,10H |
| String Tension: | 52-62 |
Head Graphene XT Extreme Pro Tennis Racquet
| | |
| --- | --- |
| Head Size: | 100 sq. in. / 645 sq. cm. |
| Length: | 27.00 inches / 68.58 cm |
| Strung Weight: | 11.80 oz / 335 g |
| Balance: | 7pts HL |
| Swing Weight: | 325 |
| | |
| --- | --- |
| Beam Width: | 26.0mm |
| Tip/Shaft: | 24.0mm / 23.0mm |
| Composition: | Graphene XT |
| Power Level: | Low-Medium |
| Stiffness: | 68 |
| | |
| --- | --- |
| String Pattern: | 16 Mains/19 Crosses |
| Main Skip: | 8T, 8H |
| String Tension: | 48-57 |