This can be confusing to some consumers, but why is there a Nike Vapor Pro 2 and a Vapor 11? Find out more in this Nike Vapor 11 Review.
Nike Vapor 11 Review
For this Nike Vapor 11 Review, I tried the clay court version on the Spanish clay. Before we dive into the review, I want to thank my friends at Tennis Warehouse Europe for sending these for test (at the time of writing these shoes are on sale over there).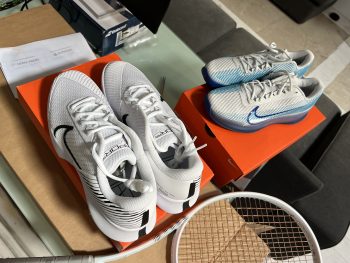 First of all, how are these different to the Vapor Pro 2? Well, these seem more stable and heavy to me, while the Vapor Pro 2 is faster but offers a little less in terms of stability and cushioning.
Fit
| | |
| --- | --- |
| Length: | True |
| Width: | Medium |
| Arch: | Slightly Low |
| Break-in: | Slight |
| Surface: | Hard (all court) |
| Weight: | 15.5 ounces (size 10.5) |
Components
Upper: Breathable and durable mesh upper material provides support, durability, and ventilation. The inner layer for extra support where needed, and the outer provides a thin overlay to help with durability—half inner sleeve for easy on and off.
Midsole: Zoom Air unit for comfort and added spring into your step—molded sidewall to enhance lateral support and stability.
Outsole: A data-informed outsole supplies a nice blend of grip and give and is built to withstand the force of sliding. Thicker tread in high-wear zones for added durability.
Color: See below for color options.
Options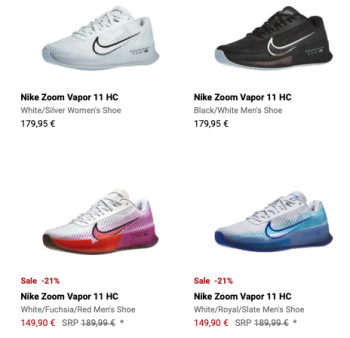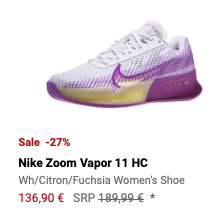 The lineage of the Nike Vapor carries on, and is back better than ever with the Nike Zoom Vapor 11! This evolution of the Vapor blends the perfect balance of feeling low and connected to the court, while also providing a significant amount of cushioning underfoot, to help provide the comfort for those long grinding matches. Compared to the Vapor Pro 2, this Vapor 11 feels a bit more stable due to the molded sidewall, allowing for more aggressive cuts and push-offs. A forefoot Zoom Air unit helps to spring you forward, while a breathable upper helps to keep you cool for the long matches. A data-informed outsole supplies a nice blend of grip and give, and is built to withstand the force of sliding.
How do they play?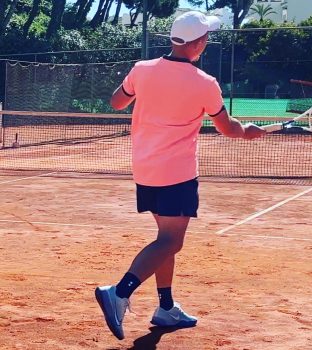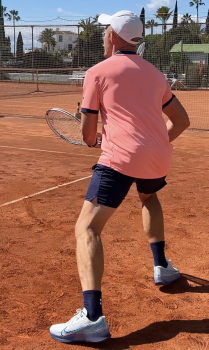 First of all, they feel very solid. My semi-arched foot felt happy straight away. You feel locked in, in a similar way to the Pro 2, but the overall package feels sturdier. I feel like these react less well to aggressive movers (Alcaraz-style) that move fast and slide around but work better for the average player. I think most higher-level players will prefer the Vapor Pro 2.
However, these seem more durable. There are lots of foam and reinforcements, and I think most players will break the Vapor Pro 2 faster than the 11.
These are quite similar to the Vapor Pro 2 in several ways but seem sturdier with more foam and better durability. These also make them more expensive, which is a bit peculiar considering that when you use the word "Pro", you most often relate it to a higher price point/performance.
Summary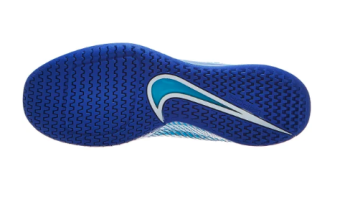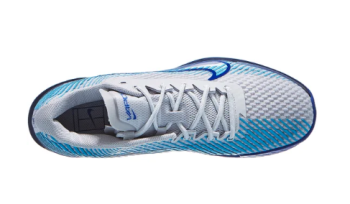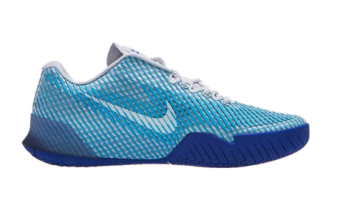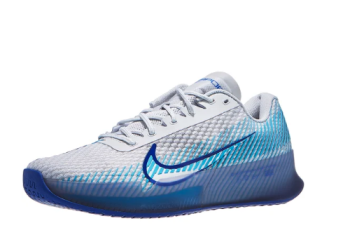 Ultimately, I am unsure which shoes I like the most, the speedier, more low-to-the-ground feel of the Vapor Pro 2, or the sturdier, more stable, and comfort-oriented Vapor 11. In the end, the Vapor Pro 2 ended up not working so well for me, and I did have some stiffness in my legs after using them. I am not exactly sure why, it could be that I have the wrong foot type for the Vapor Pro 2 or that they lack some form of cushioning. This has not happened for me with the Vapor 11, so I consider them a better alternative overall for most players.
Stability and durability are both excellent on the Vapor 11, but you sometimes feel like the shoes lack a bit of bounce and spring to them. If you move side to side and even slide on clay, the shoes perform very well, but I am not sure I would go for these on a hard court as they don't seem to absorb shock under the foot well.
Overall, these shoes are good; I will keep using them on the red dirt. I think they do most things well, but nothing exceptional. If they had a bit more bounce and cushioning to them, I think they would be excellent, but they fall just short of that.
The Vapor 11 is a solid shoe release from Nike and I think many players will find a lot to like. But I lacked a bit of wow factor and speed on the court.