Looking for a new shoe? Henric Wallensten test a lot of tennis shoes every year. This is his Asics Court FF 2 Tennis Shoe Review.
At 196 cm and 100 kilos, I'm a big guy! The size 46.5 shoes I wear have to take a real beating on the court when I try to reach for my opponent's shots. Each year I get the chance to try 15-20 different shoes from most brands thanks to my role as a freelance equipment reporter for the Swedish Tennis Magazine. This year was no exception, but at the time for the test, the new Asics Court FF 2 had not yet been released. Now I have got it though and here is my Asics Court FF 2 tennis shoe review.
Last year I tried the first edition of the Court FF. A very sleek shoe with a tight fit. Too tight for me it turned out. It´s worth pointing out though that I have a little bit higher arc then average and a high upper part of my foot. I also have a wider than average width and I use the Magnificent Aircast A60 ankle braces on both feet. This creates a pretty unique demand on the shoes I use and a tighter fitting shoe like the previous Court FF is simply too tight for me.
Asics Court FF 2 Tennis Shoe Review – An update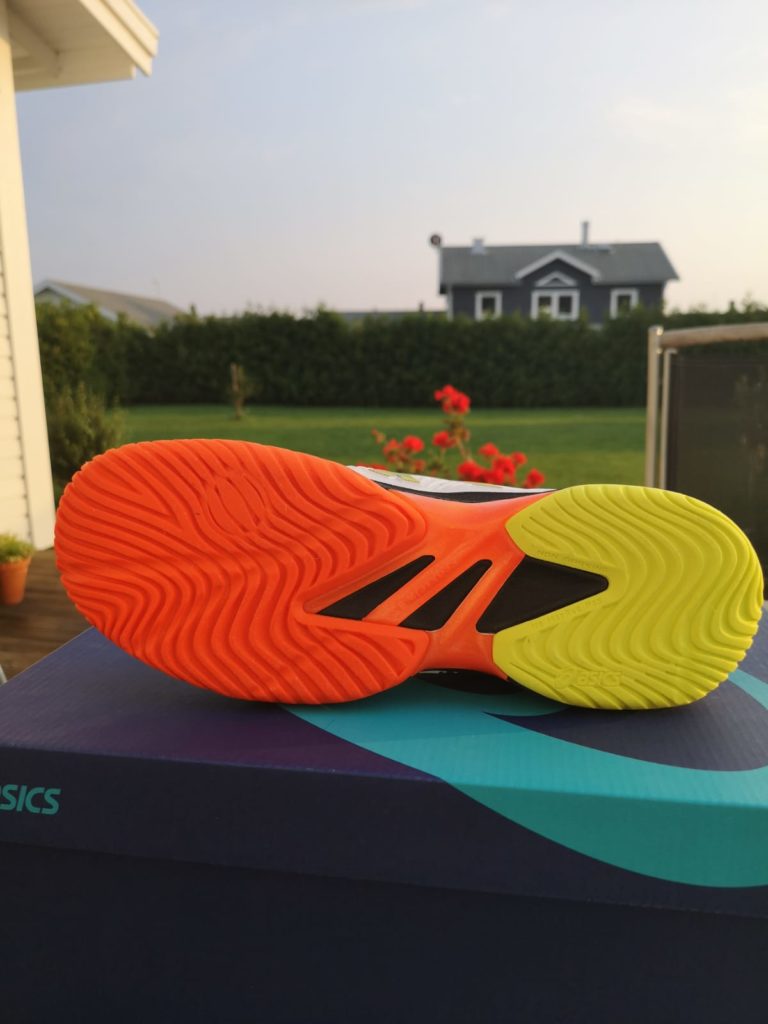 The new Court FF 2 still has the same sock type opening of the shoe. For my feet, it's a tough time to get my feet into the shoes so I now have a shoehorn in my tennis bag and that makes it so much easier. When the Asics Court FF2 is on my feet, I straight away feel that this version has more room and is not as low as the Court FF. The back of the heel is a bit higher and hugs the foot better.
Out on court, the shoes were ready to go straight away. No need to break them in. I know some other testers suggest they need some break-in, but I guess it has to do with the weight of the player. I took them straight out of the box and used them on a practice on hardcourt. No problems whatsoever.
Design and wear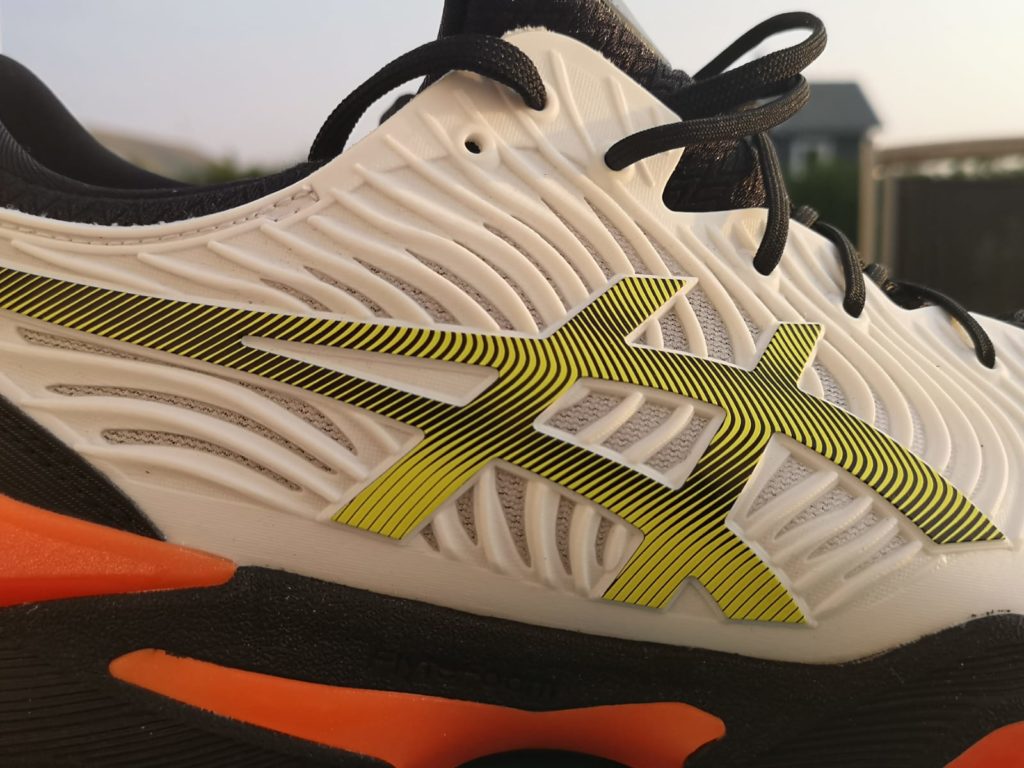 The outsole of the shoes has a new pattern that looks like waves. I have not seen this type of pattern in the past. According to Asics, this new pattern has been designed to help players like Novak, that moves like from another planet, to get a better grip on the court but also some give when sliding for that extra reach. Sliding on hardcourt…if I would try that I would end up in the hospital with double fractures.
I have now used this shoe about ten practice sessions and there are no visible signs of wear so far. I never wear out the shoes on the upper part of the shoes, but I know some other players here in Sweden that had some issues with cracks in the material, but they got a new pair straight away without any problems from Asics. Good service! Wear of the shoes is so extremely individual. Us tennis players have some strange habits and wear can occur in the strangest places on the shoes.
If you are into sock-type shoes…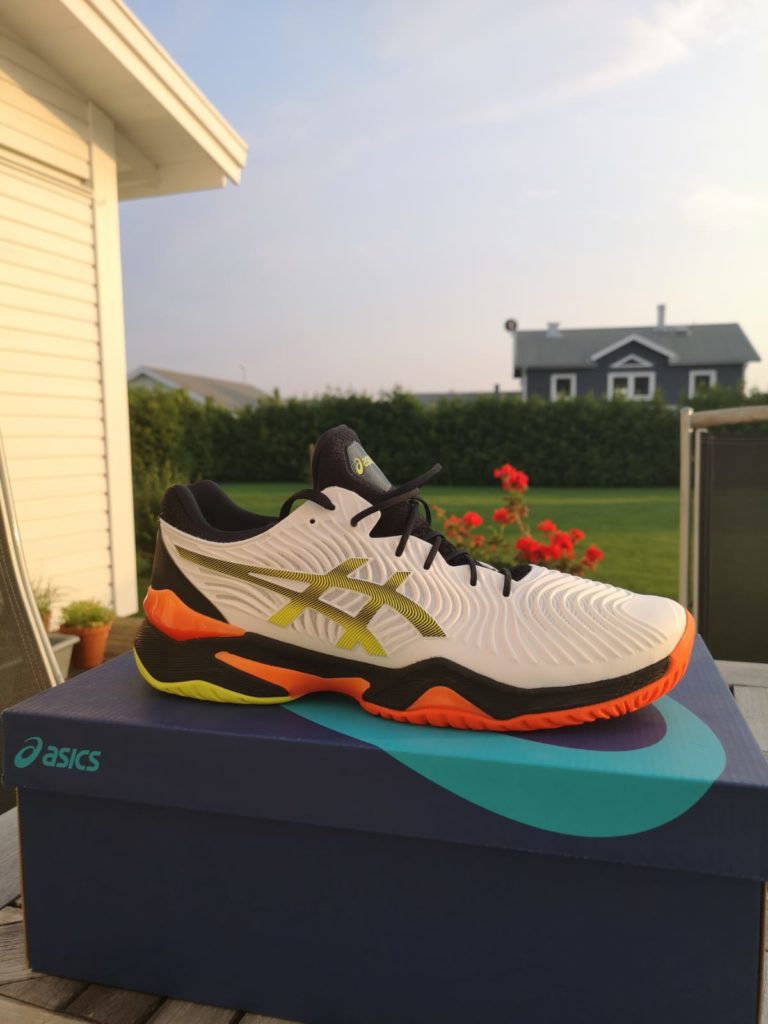 For me, the Gel Resolution 7
is still the absolute best shoe on the market. For my body and foot, the combination of fit, support and cushioning are unbeatable. I prefer the traditional type of shoe with a normal tongue. The sock-type shoes tend to be too tight for me and I feel trapped and get to much pressure on the upper part. The Court FF 2
is borderline for me though. If I was to use a sock-type shoe, the Court FF 2 would be the one. The combination of cushioning and support in a pretty light package is spot on. It is almost comparable with Gel Res 7 in each and every category and it would have been very interesting to try the Court FF 2 with a normal tongue.
For now, the Gel Resolution 7 is still the champion for me, but for most other players with more normal feet and demands I presume 9 out of 10 would choose the Court FF 2. I mean, just look at the design of this shoe. Have you ever seen anything better looking? As André (or actually Canon told him to) once said: Image is everything…
What do you think of the Asics Court FF 2 tennis shoes?