This Lacoste AG-LT 23 Review is done on hard courts with the hard court version of the shoe. Overall, an excellent tennis shoe.
Lacoste AG-LT 23 Review
Firstly, thanks to Tennis Warehouse Europe for the test shoes. I did this Lacoste AG-LT 23 Review over a couple of weeks playing on different types of hard courts. The Lacoste AG-LT 23 is supposed to be Lacoste's premium shoe for support and stability and it does deliver on those two areas.
It is difficult to say whether this is the exact shoe used by Daniil Medvedev as pros often use custom shoes made for their foot and usage needs. But it is endorsed by Daniil and has his name and logo on the shoe.
A little bit about me, I have a semi-narrow foot and a knee that is bothering me from time to time when playing on hard courts. For me personally, cushioning and dampening are two key areas, but I judge all shoes objectively, based on the player it might suit or not suit. I don't slide on hard courts, but I did notice that the outsole offers a lot of grip, probably too much for hard court sliders.
Before we get into the first impressions, here is a reminder of the different parts of a shoe.
First impressions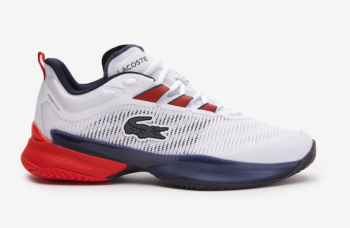 Purely visually, the shoe is stylish. This is not a shocker since it is from Lacoste, but I do like the look of it. They look like they took some inspiration from Adidas Barricades, but then made it their own.
Stepping into the shoe is easy and feels comfortable straight from the get-go. These are shoes I could walk around in outside the tennis court.
One of the things you notice on the court is the heel part. The outsole is quite thick and noticeable. Also, when you run and walk in it. It does feel a tiny bit strange and does take some getting used to, as there is a springiness in the heel that I haven't quite felt with other shoes before. Generally, I like a little bounce and cushioning in my shoes, but I feel that these could be slightly more balanced in that respect.
Let's look at some specifications of the Lacoste AG-LT 23.  You can purchase a pair at Tennis Warehouse.
Specifications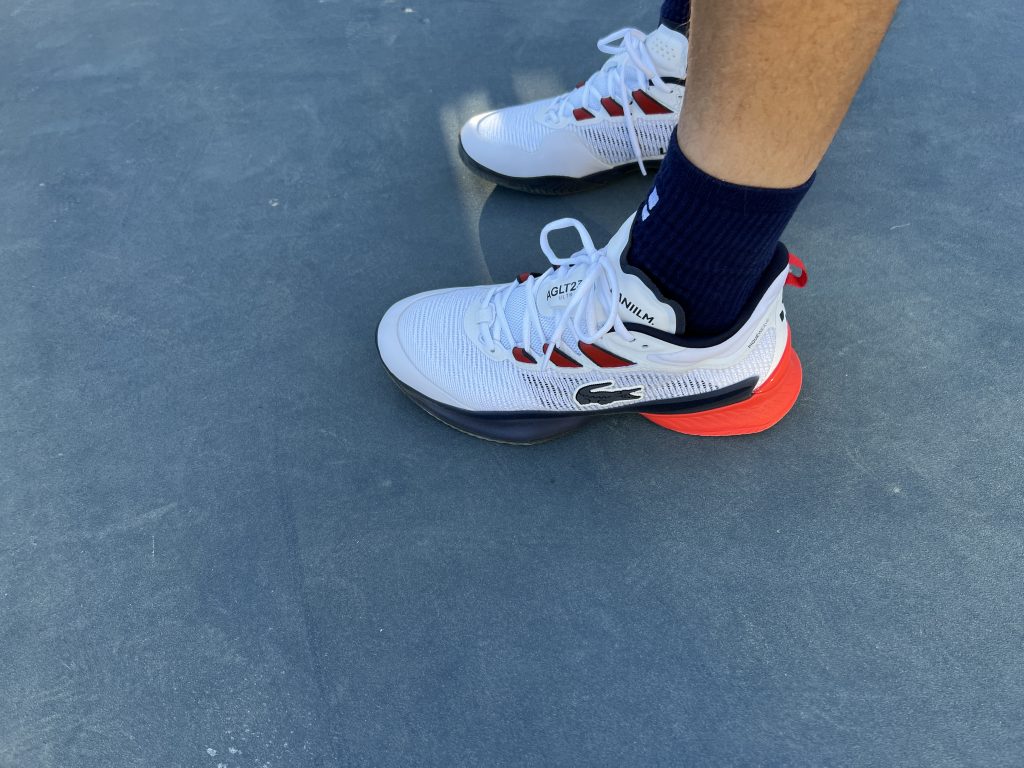 The stability of this shoe is achieved through a combination of the chassis in the midsole, a heel stabilizer, and the cage system integrated in the upper. The lightweight and speedy aspects are accomplished through the woven mesh upper, lightweight foam in the midsole, and the dual midsole construction, which cuts down on mass in the mid-region of the sole. A molded rubber toe guard helps to protect from dragging, while the grip-enhancing rubber compound on the outsole supplies excellent traction and durability on various surfaces.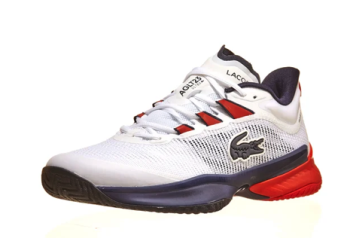 Upper: Lightweight leno weave TPU mesh upper for support, durability, and comfortable fit.
Midsole: Lacoste Super Responsive Foam (LSR) made from Lightweight Pebax ETPU under the forefoot provides comfort and energy return.
Outsole: Modified herringbone pattern with Linegrip rubber compound for multi-directional traction and durability on various court surfaces.
Color: White / Red / Navy
Fit
Length: Slightly short. I ordered a half-size up, and it worked great.
Width: Medium
Arch: Medium
Break-in: None
Weight: 421 grams (US size 10.5)
On the court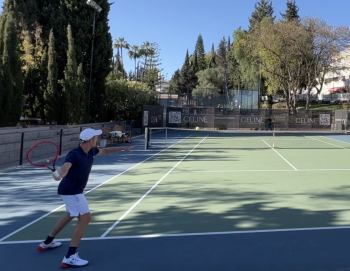 I can see why this shoe has received many great reviews on Tennis Warehouse, for example. There is a lot to like. The shoe feels speedier than expected for the stability and weight range. I feel pretty fast and also protected in them. Since I don't slide on hard courts, I prefer the rock-solid feel that these provide. If you worry about rolling your ankles, this could be an excellent shoe.
The comfort, support, and stability are all top-notch on the Lacoste AG-LT 23. This plays like a premium shoe and is probably my second favorite hardcourt shoe this year after the Babolat Propulse Fury 3, which works the best for my needs, thanks to the excellent cushioning and dampening. I also enjoyed the Nike Vapor Pro 2, but somehow Nike shoes seem to tense up my legs after extended use. There is something about them that doesn't quite fit my feet. This is a bit of a tangent, but my favorite Nike shoe remains the Vapor Tour 9.5, which returned this year.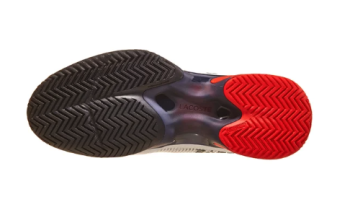 I love the combination of speed and stability they managed to achieve with the Lacoste AG-LT 23. I have two complains. The are a little noisy (screech, screech) while moving. And I do struggle with the large rubber outsole on the heel. Since the heel and toe part feel far away due to the large shank, it can take some getting used to. But most other players don't seem as bothered by that, it is just something to note.
Summary
This Lacoste AG-LT 23 review was an enjoyable one. Most aspects of this shoe are excellent and I am impressed how such a stable shoe can feel fast on the court. I would not get this shoe if you rely heavily on hard court sliding, as the outsole is quite grippy. However, if you are afraid of rolling an ankle and want max stability, it is a great choice. The shoe is very comfortable, but the dampening is not quite as impressive as the Propulse Fury 3. I did struggle a bit to get used to the protruding heel outsole, which feels kind of Adidas Ultraboost-style, and where the shank section is quite long and makes the front foot and the back foot feel like two different zip codes. Some players will be bothered by this, most will not.
Judging by the reviews, people love this shoe, and I can see why. I really enjoyed it too.