The Vapor series progresses. If you like the Nike Vapor Pro, you will love its predecessor. This is my Nike Vapor Pro 2 Review.
Nike Vapor Pro 2 Review
The Vapor series is going strong. Nike now have three models in the line-up: Nike Vapor Pro, Vapor 11, and Vapor 9.5. I have tested both the Vapor Pro 2, which in my mind, is a significant improvement, and the Vapor 11. This focuses on the Nike Vapor Pro 2 Review.
Although I liked it a lot, I struggled with the Nike Vapor Pro a bit. I lacked some cushioning and dampening and felt very close to the court surface. This can be good to some, but with my sensitive knees, I lacked a bit of support and comfort with those shoes. I liked the design and used them at the gym for a year or so, but I wasn't as happy with them on the tennis court. On the new Vapor Pro 2, they have added an Air Zoom unit in the forefoot, which is a game-changer for the Vapor Pro.
Construction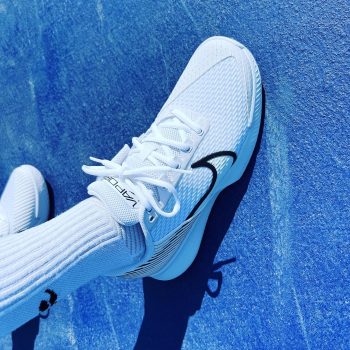 Upper: Stretchy internal sleeve and mesh for two layers of support; breathable. Asymmetrical lacing hugs feet during lateral movements.
Midsole: Air Zoom unit in the forefoot and soft foam midsole for responsive cushioning and a low-to-the-ground feel. A full-length foot frame on the lateral side adds stability.
Outsole: A data-informed herringbone tread pattern for a good balance of grip and give. Rubber has been removed from low-wear areas to reduce weight.
Fit Details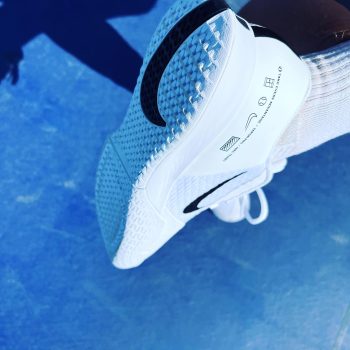 Length: True to size
Width: Snug Medium
Arch: Medium
Break-in: Slight
Weight: 405 grams (size 10.5 US)
How do they play?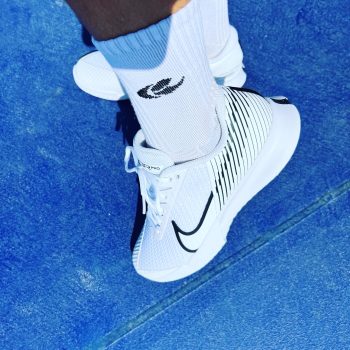 In my opinion, these are a significant improvement from the first Vapor Pros. The cushioning, dampening and comfort is much better. The previous ones felt a bit hard on my feet, but these are softer and I have so far had no complains from my knees.
For my feet, the heel feels not quite snug enough for max stability. That would be my only peeve with these shoes. Otherwise, they are the best Vapors I have tried since the 9.5, but I have not used the 9.5 in many years, so hard to compare. They also look great in my opinion.
The Nike Vapor Pro 2 feels like a real winner to me, but check other reviews, because our feet are all different.
You can purchase them or other shoes or tennis gear from my friends at Tennis Warehouse, Tennis Warehouse Europe, and Tennis Only.