The Wilson Kaos Mirage is a fast, light, and comfortable shoe that looks sleek and fresh. Here is my Wilson Kaos Mirage Review.
The Wilson Kaos Mirage doesn't look like any other tennis shoe. It's really low to the ground and almost resembles a football shoe in its profile. The fit is glove-like and snug and built to work with the natural movement of your feet. Although I enjoyed doing this Wilson Kaos Mirage review, I tend to prefer a more dampened and sturdy shoe due to my knee issues. But if you're in the market for a shoe that is light and fast, the Kaos Mirage should be on your list.
Construction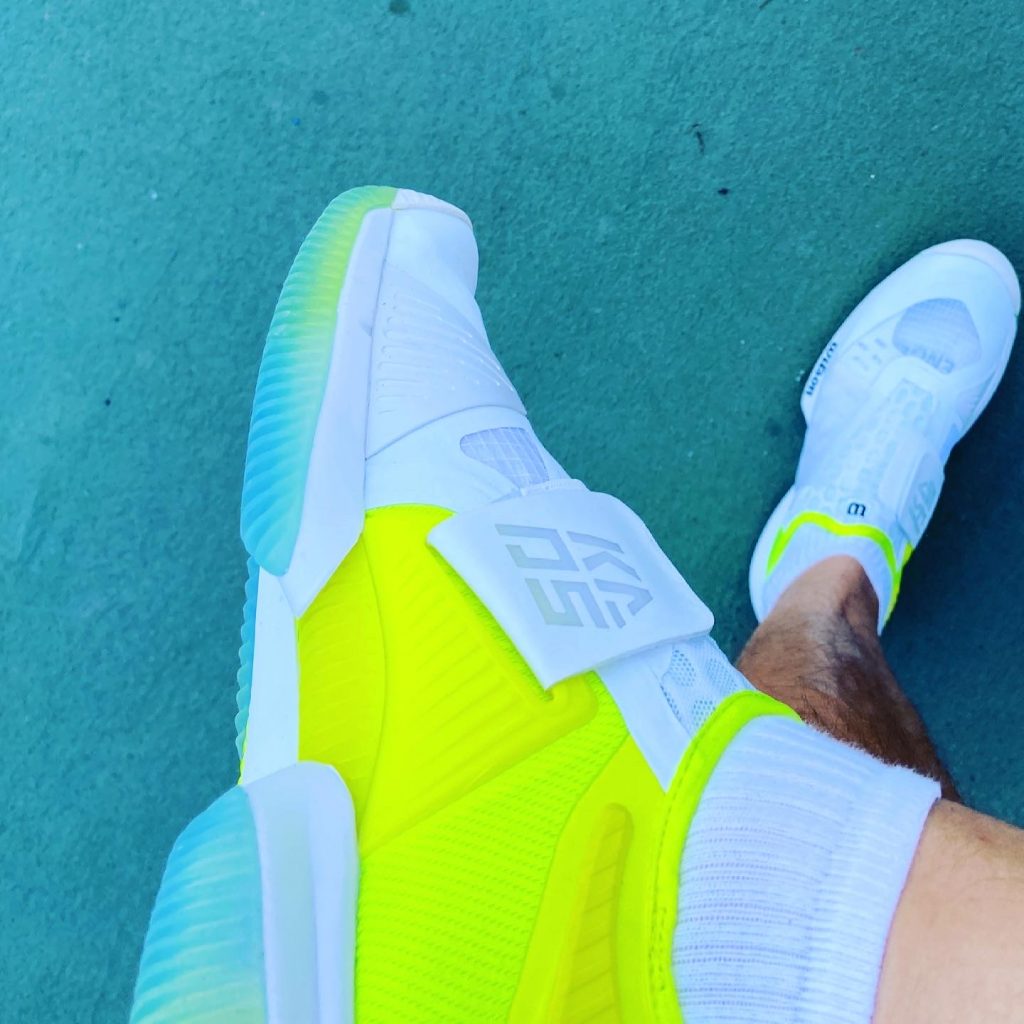 These are key parts of the Wilson Kaos Mirage as quoted by Tennis Warehouse.
Upper: Lightweight materials offer step-in comfort and snug support. Flexible and breathable.
Midsole: Truemotion Chassis provides flexible arch support and lateral stability.
Outsole: Duralast rubber outsole in a tread pattern offering traction on any surface.
Colour: White / Yellow
I would say this shoe has a pretty narrow fit, so if you have wide feet, there are other shoes that will suit you better.
The traction with the Duralast rubber outsole is very good and I never felt like I would slip or didn't have grip with these shoes. The comfort was high when it comes to the fit of the shoe, but it felt a little too light for my need. The lighter the shoe, the less dampening it will likely have, so you can expect a shoe like this to offer good cushioning. Since I play mostly on hard courts and I have aging and aching knees, the shoe is not made for me. But fit and healthy players that want to feel fast on the short should give the Wilson Kaos Mirage a try.
I haven't used it enough to sense any durability issues, but I will update this shoe review if I notice that the lifespan of the shoe is long or short. I generally break shoes in 5-6 months since the hard courts in Malta have a cement-like surface that is gritty like sandpaper. You get a decent grip, but your shoes tend to break quickly.
Pros and Cons
There are some obvious pros and cons with this shoe.
+ Light and fast
+ Snug fit
+ Excellent traction
– Lack cushioning
– Narrow fit
The looks are subjective but I think they have a fresh and summery look that I personally enjoy. Based on the response on my Instagram, it's a bit of hate/love with these shoes.
If you want to purchase the Kaos Mirage Shoes, check them out on Tennis Warehouse, Tennis Warehouse Europe, Tennis Only and Wilson.com. Any purchase through these links will send a small commission to Tennisnerd, for which I'm eternally grateful.