I've gotten a lot of questions about the shoes I've been playing in lately. Here is my Yonex FusionRev 4 Tennis Shoe Review.
Yonex FusionRev 4 tennis shoe review
I rarely get questions about the shoes I wear to the court, but these have gotten some attention. The Yonex FusionRev 4 is a pretty funky-looking shoe. It's the shoes I used for my latest ITF Masters tournament (watch the video here), and they have been pretty kind on my knees, which is the most important part for me. They also feel quite light and fast with a low-to-the-ground feel. I think it's a well-balanced shoe, light but with above-average stability for the category.
The fit is snug, and the shoes are easy to get into. Thanks to the unique tread pattern, you feel stable as you slide toward the ball on a clay court. The shoes had no break-in period and I would say the length and sizing are true.
In short, it's a very good clay-court shoe, and I've been using it confidently and comfortably for five weeks of clay-court tennis, and it looks to hold up well in terms of durability. It lands in the middle of a speed-focused and a comfort/stability-focused shoe, so I think it will have a wide appeal.
Not everyone will enjoy the slightly different look, but it performs well on the court!
Specifications
Technical info from Tennis Warehouse Europe. The shoe weighs 414 grams in 10.5 US size.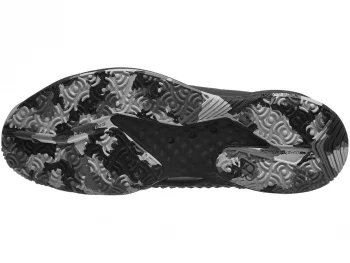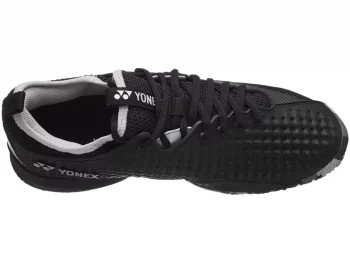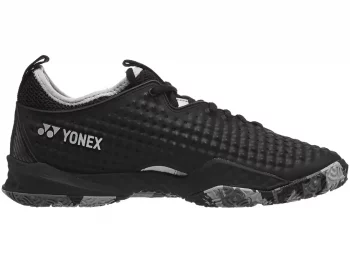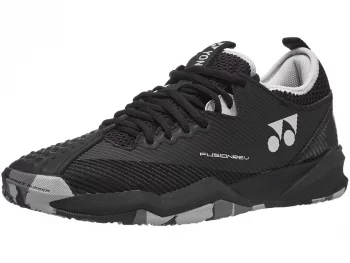 Upper: Durable Skin Light PU material wraps around a Double Russell Mesh layer for comfort, support, and breathability. Extra toe and medial side protection protect against dragging and hard court sliding. Inner Bootie Construction wraps the foot with elastic material for a soft, comfortable fit.
Midsole: Power Cushion Plus technology reduces foot fatigue and provides even more energy. Power Carbon mounted on the midfoot to maximize stability while keeping weight down.
Outsole: Endurance Rubber compound in Yonex's unique design specifically for clay court use. Round Sole R7 helps with the natural heel-to-toe transition.
Colour: Black / Grey (camo print outsole)
Check out the Yonex Fusionrev 4 at Tennis Warehouse.