I've been testing the new Solinco Hyper-G in my Prince TeXtreme Tour 95 for a few weeks and wanted to write a few thoughts down since a lot of people are curious about this co-poly string.
Like most of you know, I test a lot strings and racquets, partly because it's fun, partly because I'd like any edge I can get in my game. I've had some wrist problems in the past through pairing stiff racquets with stiff frames so I'm always on the lookout for something that's arm-friendly but still provides good control and durability. Spin I'm not as fussy about, although that's an important factor to a lot of players.
The Solinco Hyper-G is most easily recognized by its feisty green color. It has a square shape and four edges, which is similar to Solinco's iconic Tour Bite string (I'm a big fan of Tour Bite, especially Tour Bite Soft). They say it was created for a ATP player and although they rarely mention his name, I'm pretty sure it was Donald Young.
Control
The number 1 string feature for most advanced players is control. However, a lot of strings give you control but then give you arm-pain or are underpowered. I think Solinco has found a happy medium in their Hyper-G string. You're able to hit out without the typical harshness of other co-poly's. I, for example, am not a fan of the feel of Luxilon Big Banger and really feel the Hyper-G is much better for the arm despite that according to the TW lab the Hyper-G has a higher stiffness rating.
Comfort
I touch upon this above. My opinion is that the Solinco Hyper-G really has found a beautiful middle-ground in between control and comfort. I've used this string for many hours and have yet to feel any arm pain. I string my Prince TeXtreme's at 51 lbs (23 kg) however and that's a pretty soft racquet. If you're playing with a Pure Aero or another, stiffer, setup, I would suggest buying a set and testing it out before you commit to this string (you should always start with a set, by the way). It might be too stiff for that kind of frame. I compared the Solinco Hyper-G to another go-to string of mine, the Völkl Cyclone 17 and despite that it's rated as "stiffer", the Hyper-G is more comfortable although I think they're close when it comes to level of control and spin.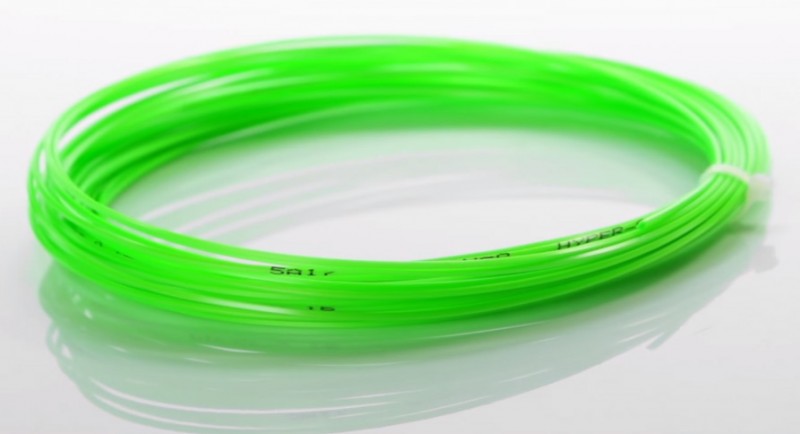 Spin
Solinco Hyper-G is not a spin string. It's developed for ATP players so it gives you back what you give the ball, which is a feature I like. It does provide good spin, but if that's the main thing you're looking for I would rather go with a Solinco Tour Bite or a Diadem Solstice Pro.
Durability
Comparing it to other co-polys, the Solinco Hyper-G gives you a lot of play time for your buck. You'll not break this string and I have 16 hours in my Prince and it still feels good. Depending on how much you play, you might get 3-4 weeks or more out of this string.  Comparable, in my opinon, to Völkl Cyclone, which I feel ages almost like a good wine and gets better after five hours.
Summary
Solinco Hyper-G is a great string if control coupled with comfort is what you're looking for. It gives you what you put in to your shots, so if you want extra power or spin – I would look at Völkl Cyclone Tour or Solinco Tour Bite (Soft) for example. But if you're shopping for a string that will be a loyal companion in tournament play and heavy hitting sessions – Solinco Hyper-G is one of the best out there.