Today we have a guest review from Stefan Kornitzky, a fellow tennis nerd from Germany. He has written a Babolat RPM Team Review.
Babolat RPM Team Review
I have been using the black Babolat RPM TEAM string (link to check it out at Tennis Warehouse Europe) in my 2021 Babolat Pure Drive for quite a while now. In addition to black color, the string is also available in blue and pink and in 1.25 or 1.30 mm – diameters. However, I only tested and played the black 1.25 mm version.
The Setup
I have been using the Babolat Pure Drive rackets (100 sq. inch, 300 g) since I started playing tennis 18 years ago. I use the newest racket version in its black and blue shades and had it customized to 310 g, 31.9 cm balance and 297 swing weight (unstrung). I string the RPM TEAM using a Gamma X-ELS machine, usually at 24/23 kg. My playing style is very aggressive, with lots of topspin, fast swings, and a single-handed backhand. I am rated 3.5 in the German tennis performance ranking (so-called "Leistungsklasse"), which is quite ok, I guess.
The String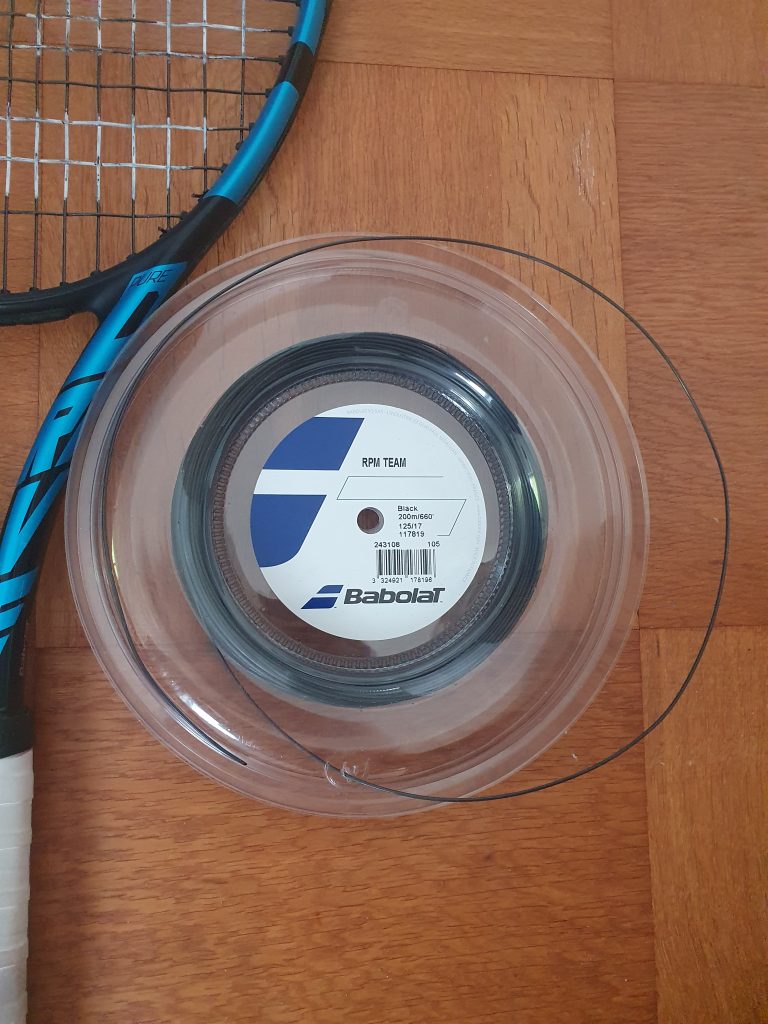 Due to Nadal's success, Babolat's RPM (short for "rotations per minute," a.k.a. SPIN) – string line is quite well known. However, most of the time, people talk about RPM Blast, RPM Rough or RPM HURRICANE when mentioning Babolat's monofilament strings. As I am stringing my rackets, I tried out all these options but stuck with the less often mentioned RPM TEAM for quite some time now. Why?
First, I like the black color because it looks great with the Pure Drive and a white logo stenciled onto the string bed. But the look, of course, would be the same with e.g. black RPM BLAST. Second, and quite obviously I like the way the string plays. Babolat endorses the string as being eight-sided, more flexible and more comfortable as compared to other poly strings because of enclosed micro-air-bubbles. Additionally, the company markets it as durable. When comparing it to other eight-sided strings like the Gamma Ocho, you almost do not notice the shape. Threading RPM TEAM through your fingers gives you the impression and feeling of a round string, making it easy to string and weave. So, in my opinion, RPM TEAM's octagonal shape is not that pronounced and certainly less pronounced than GAMMA OCHO's.
Playing
When playing with a newly-strung full bed of RPM TEAM I basically like everything about it. I get a lot of acceleration and spin on each ball. You can feel the somewhat softer material, and, in my estimation, this makes the string more arm-friendly, more explosive and at the same time gives you good feedback from the ball.
As the Pure Drive is known for being quite stiff, the more elastic and softer string fits the setup like a treat. Yet, despite being a bit softer than RPM BLAST, RPM TEAM does not lean into the RPM SOFT-like direction of being mushy. Thus, I do not miss control when hitting heavy. The sound, which in my opinion differs between and matters quite a lot when testing different strings, is also nice (at least to my ears ????). The playability is great for several hours of play until you feel the tension drop and the string starts to move across the string bed.
I can also confirm Babolat's characterization of RPM TEAM being durable. Usually, I break strings regularly due to heavy spin. However, I can use RPM TEAM in 1.25 mm-diameter significantly longer as compared to e.g. RPM BLAST in 1.20 mm- or RPM SOFT in 1.25mm-diameters until the string breaks. Usually, you observe the string wearing thin at the intersection of mains and crosses in the sweet spot for some time until the string finally snaps.
Downsides
I'd like to say: None in my setup. The only slight "disadvantage" (only for me due to stringing on my own) is the durability. I – believe it or not – like strings to break quite soon, because then I can use a freshly-strung racket again. Thus, I would love it if Babolat offered RPM TEAM in a thinner gauge. However, 1.25 mm is the lowest available.
Summary
Babolat's RPM-range is quite well known to tennis enthusiasts around the world. In my opinion, RPM TEAM is probably the most underrated and under-used string of the RPM line-up. I like it being a bit softer and more explosive than other monofilaments (like RPM BLAST) and would recommend RPM TEAM for stiffer frames and players with fast swings looking for a lot of speed and spin. The price tag at about 110 Euro for a 200 m-reel is also reasonable.
Thanks Stefan for this excellent review! /TN