Lynx Touch is a new string from HEAD that arrives in mid-January 2022. I talked to the man behind it, Dennis Fabian, about the string and lots more!
This is the second time Dennis joins the Tennisnerd podcast. Last time we talked about Lynx Tour and a bunch of other topics and the same happened this time. I guess this is natural when two tennis nerds talk about things that interest them. The main purpose of our talk was HEAD Lynx Touch, but we also covered topics such as: "Do strings go dead?", "Why you should re-string multi/gut/poly hybrids", "How the color affects the tackiness of the overgrip", "What is the most important gear according to Dennis" and much, much more.
Dennis has been in the industry a long time and is currently the Global Business Manager for HEAD when it comes to strings and accessories and has been behind several of HEAD's bestselling strings.
What is refreshing when you're talking to Dennis is that he doesn't see everything from HEAD's point-of-view, but with a genuine passion and interest for the sport and the industry. That makes the conversation flow easily, but it was a while since I studied journalism (university) and I have a tendency to side-track 🙂
What is Lynx Touch?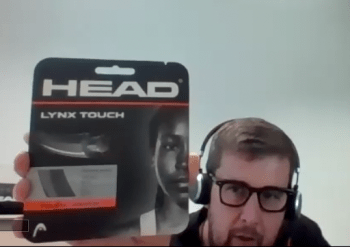 Lynx Touch is a new softer poly string made from two polyester cores. A translucent one on top and a black one at the core. It's a unique string in the way it looks and it's supposed to give you the feel of a multi/poly hybrid without the string movement and the difference in tension loss of the two strings. An interesting idea.
I have only played Lynx Touch briefly, so I need to invest a bit more time for a full review to come later. Until then, I hope you're happy to listen to me and Dennis talk about the new string and more.
If you have ideas for guests for upcoming podcasts, please comment below!
Lynx Touch will be available at my affiliates, Tennis Warehouse, Tennis Warehouse Europe and Tennis Only in January.