Thanks for all the nice feedback on the podcast! This time I sat down with Juan from Restring, the company that produced the Zero string.
Podcast with Juan from Restring
Juan is the co-founder of Restring, together with his childhood friend Nick. He grew up in Japan and is an excellent tennis player, but he decided to have a normal career instead of becoming a tennis pro. He still plays at a high level, which is why he worked as a hitting partner during the recent Citi Open and got to hit with players like Frances Tiafoe.
I have reviewed the Restring Zero string here, if you are curious about how it plays. I find it to be an excellent string and you can get 10% off your purchase with the code TENNISNERD10 or by using this link.
There will be a video version of the podcast at 9 pm CET on the 31st of Aug (today) but you can already listen to the audio version on Spotify, iTunes and in the embedded player below. Juan is such a positive guy with good energy and I really enjoyed talking to him on the pod.
Below, you can check out the time stamps for the episode if you want to listen to a specific portion.
Podcast Timestamps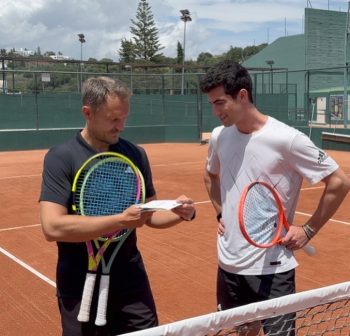 00:00 Intro
01:12 Hitting partner Citi Open
14:56 Instagram and @tennisfitness
17:25 College years
21:50 Starting Restring
29:00 How does your day look like?
34:55 Do you watch any tennis? And how can we make the viewing experience better
47:00 US Open predictions
55:25 Juan's tennis career and mental tennis
1:04:31 Developing Restring Zero
1:08:28 Marketing challenges of being a small brand and tennis in general
1:14:39 Tennis in DC and Marbella
1:20:15 Where do you see Restring in five years?
1:23:01 The beauty of Japan
1:30:47 Juan's mindset
Do you have ideas for guests you want to see and listen to in the future on the Tennisnerd podcast? Let me know in the comments section below.