I have previously written about Medvedev's new string. Now you can try Tecnifibre Razor Soft for yourself. Review to come!
Tecnifibre Razor Soft
Daniil Medvedev used Tecnifibre Razor Code White for a long time but wanted more power and pocketing from the string. The idea behind Tecnifibre Razor Soft is to give you a little more trampolining in the string bed without diminishing control. Meaning a little livelier response from the string bed.
Razor Soft is constructed with the same material compound as in the original Razor Code, but it has an added flexible polyurethane additive at its core to give it better pocketing and feel. I am keen to see what the lab scores say in terms of stiffness for this string. As you can see below, if we compare regular Razor Code (the white is in my estimation a bit softer) to the flagship string Luxilon Alu Power, you can see that the Tecnifibre string is stiffer and doesn't drop tension quite as fast.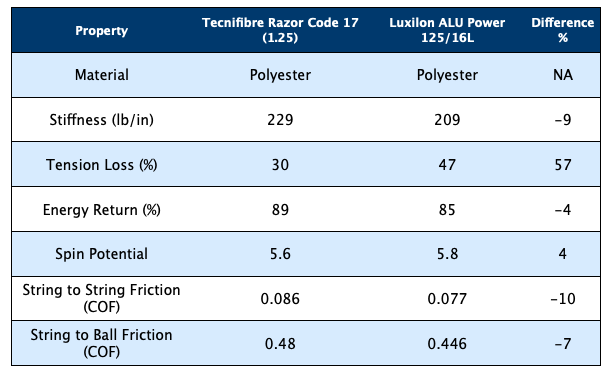 I have a few test shots of Razor Soft waiting for me at the office and will be excited to start testing once I am back in Spain.
Razor Soft specs
You can buy Tecnifibre Razor Soft at Tennis Warehouse Europe. It's not yet available at Tennis Warehouse.
Length: 40ft/12.2m
Composition: Co-polyester monofilament
Colour: Black
Gauges: 1.20, 1.25 and 1.30
Does this help Medvedev play better?
This is obviously an impossible question to answer, but judging by his recent results (four tournament wins and one final in five tournaments!), he is feeling good on the tennis court right now. He is not a huge fan of clay court tennis, so it is doubtful that he can keep up his momentum during the clay court season, but once back on hard courts again he will definitely compete for the world number one ranking spot.
The string seems to have given him a little easier power and he seems confident in his masterful ability to manipulate and control the ball. So for now, Razor Soft is working out well for Daniil Medvedev.
Have you tried Razor Soft? Let me know your thoughts in the comments.