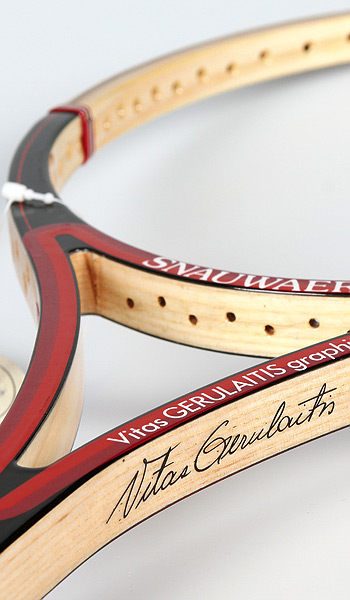 New tennis technology has really made it easier to play tennis. You can get more power and accuracy today without the technique, than back in the days of wooden racquets and graphite tennis racquets.
A few weeks ago I was invited to a dress-up party and decided to go as Bjorn Borg. I found the perfect red Fila jacket at an online sports store, but I didn't have the racquet to match. Luckily one of my colleagues had an old wooden racquet and a Wilson graphite racquet to lend me.
I used the wooden one for the party but tried to hit with both and I had a lot of fun trying the different racquets. I actually hit better than I thought, even with the miniature wooden one and I realized that some people might like that traditional feel.
So if you're into vintage tennis racquets, like graphite racquets or wooden racquets you can check out The Bosworth Collection. One of the beauties in the collection is the Bosworth Slazenger Panther Pro Ceramic that was used by Jimmy Connors in 1987. I also really like the Bosworth Snauwaert Vitas Gerulaitis wooden model with the graphite overlay.
It's also nice owning a piece of tennis history, isn't it?