Wimbledon 2022 is underway! It's therefore fitting to look at some of Wimbledon's best moments through history.
We all have memories of iconic events in tennis history, but some of these are difficult to argue. Here are some of Wimbledon's Best Moments on the men's side. Please also share yours! There are very personal moments for each player at this prestigious tournament. For ex-professional Andre Sa, one such moment was when he faced home favorite Tim Henman in the 2002 Wimbledon quarter-finals. You can read what he had to say about it here.
The Best Wimbledon Final in History?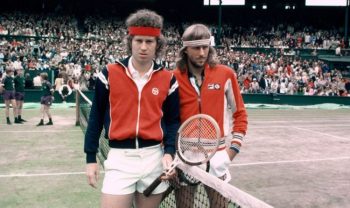 This category has a few contenders, but this one is perhaps the most famous. It happened in 1980 when long-time rivals  Bjorn Borg and John McEnroe met in a classic final. Borg had seven championship points but McEnroe saved each one and won a 22-minute tie-break by 18 points to 16! The marathon fourth set tie-break is perhaps the moment people remember the most vividly.
Undoubtedly, the 21-year-old American had the momentum now? But not so fast. "Iceman" Borg found a way to take the win in a long fifth set with his trademark backhand passing shot. 1-6 7-5 6-3 6-7 8-6 was the final score. This was Borg's fifth and final Wimbledon title.
Boom Boom Becker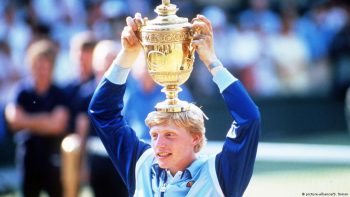 Boris Becker became the youngest champion in the history of Wimbledon in 1985. He was 17 years old when he came through some tough matches against Nystrom, Mayotte, Leconte and Jarryd before defeating Curren in the final 6-3 6-7 7-6 6-4.
Becker managed to reach six Wimbledon finals and won half of them. He had several tough finals against his main rival at the time, Stefan Edberg.
Sampras breaks records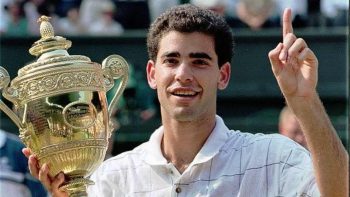 Pete Sampras won 14 grand slam titles in his career, leading the grand slam race. Little did we know back then that three players would be able to overtake him and with some margin: Federer, Nadal, and Djokovic.
In 2000, Sampras won his 7th title and 13th grand slam, breaking another record. In 2022, Djokovic aims to win his 7th Wimbledon title, tying Sampras.
Ivanisevic's Wild Card Dream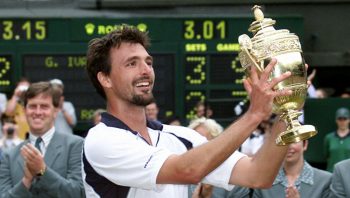 Three lost finals can easily put an end to your inner dream. But not for Goran Ivanisevic in what is a classic among these Wimbledon's Best Moments. In 2001, despite being ranked 125, he got a wild card for the championships he treasured so much. Like in a movie, he managed to reach the final. Would it be a fourth disappointment or a fairytale victory?
This is one of those matches you have to watch because Ivanisevic was so nervous when serving for the title that he could hardly get the serve into the box. Yet somehow, he found it again and won 6-3 3-6 6-3 6 2-6 9-7 against Patrick Rafter in the final.
Third time Nadal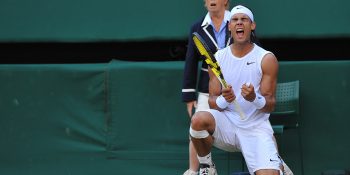 We all know that Rafa Nadal never gives up. But after losses to Federer in the 2006 and 2007 Wimbledon finals, you would not have blamed if he did. Still, 2008 was a magical year where he destroyed the opposition and entered 2008 final with a 23-match winning streak.
The confidence got him to lead the final two sets to love against a shell-shocked Federer. But after two magical tie-breaks, where the tennis was as close to "godly" as you can get, the Swiss managed to reach the fifth set.
But Nadal wouldn't let go. Despite rain interruptions and losing the big lead he had made, he found a way to get it done. In the end, he won 6-4 6-4 6-7 6-7 9-7.
Murray brings it home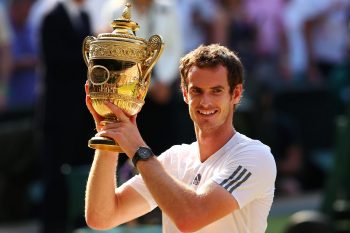 The brits were desperate to have a local winner. After all, they had waited 77 years. But in 2013, Andy Murray made it happen. He had captured a grand slam and an Olympic gold medal the year before, but the iconic championship title still eluded him.
The final against rival Novak Djokovic was surprisingly one-sided and the Scot managed to win in straight sets. This made Murray the first British male player to capture the title since Fred Perry in 1936!
Federer 8
That Federer loves playing at Wimbledon is no secret. But after a severe knee injury in 2016, most people were not sure they would see him enter another Wimbledon final.
But after winning the Australian Open and showing tennis fans worldwide that he was back in business, Federer found his best tennis at the Championships.
He won the title, hardly breaking a sweat, defeating an injured Marin Cilic in the final 6-3 6-1 6-4. This was Federer's record-breaking 8th Wimbledon title and he didn't drop a set on the way.
The Longest One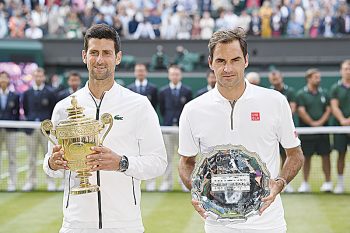 Most Federer fans are unhappy including this one among Wimbledon's Best Moments, but it needs to be in here. After winning in 2017, Federer was not done going for more Wimbledon titles. In 2019, he defeated his long-time rival Rafael Nadal in the semi-final to set up another encounter with Novak Djokovic for the title.
Djokovic had his sights on amassing more grand slam trophies and closing the gap in the race between Federer, Nadal and himself. The most famous moment in this match is when Federer served for the match at 8-7 40-15. This is where we see the mental mastery of Novak Djokovic on full display. Somehow he saved these two match points to bring out a 12-12 final-set tie-break. It was the first time a final set tie-break was in the rules. Djokovic wasted no time making history and took the title 7-6 1-6 7-6 4-6 13-12 after four hours and 57 minutes.
What is your best Wimbledon moment?
Do you agree that these are some of the Best Moments in the male history of Wimbledon? Which ones would you rate highly for the Ladies' Singles Championship?