Tennis is a high skilled sport that takes commitment and determination to succeed. Similarly, to poker, tennis requires the right stamina, mental attitude, and a level of technical skill.
It is no surprise that professional tennis players that have now retired their racket are turning to poker for a sense of competitiveness and thrill. There are a number of ex-tennis players now immersing themselves in the world of poker.
In fact, there are some top online poker players that started out as semi-pro or professional tennis players.
Some have turned to poker after suffering career-ending tennis injuries, while others have always enjoyed the game and have found more time to play competitively since retiring.
Here are just a few tennis stars that indulge in this highly popular card game:
Rafael Nadal
While Rafael Nadal is still very much an active tennis professional, the player is a big fan of poker. The Spanish professional has previously been the face of PokerStars and has expressed his desire to go all-in with the card game once he finally retires from tennis.
Boris Becker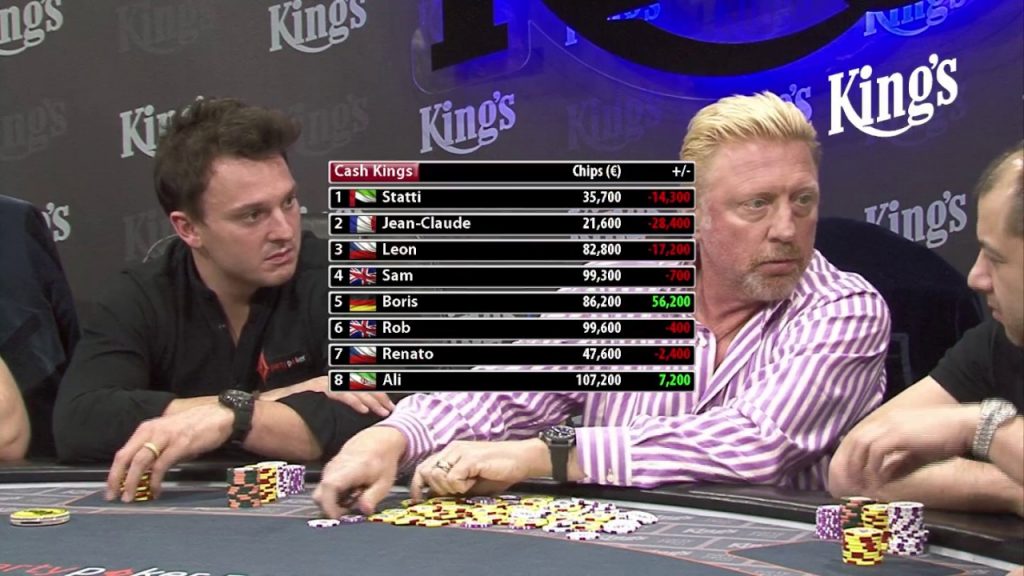 Germany's Boris Becker is a former tennis professional and three-time Wimbledon champion winner. He has also achieved six Grand Slam wins, a US Open title, and two Australian Open titles during his tennis career.
Becker has since turned his attention to poker and has won at least $111,000 dollars playing the game competitively so far. In 2009, the star took home winnings of over $40,000 after coming 40th place in the Five Star World Poker Classic.
The Las Vegas-based tournament had a huge entry fee of $25,000. This illustrates how Becker isn't afraid to take risks both on and off the court. His competitive nature and confidence have served him well in both pursuits.
Patrick De Koster
Dutch former tennis player, Patrick De Koster is one of the highest earners on the list. Following an injury, De Koster ended his career in tennis and took up poker.
He has amassed over $280,000 in poker winnings over the years. In 2012, the player traveled to Marbella in Spain to participate in the WPT National Series Main Event.
He gained victory over English poker pro Pete Linton and took home prize winnings of over $196,652. Two years previously he had taken part in the World Series of Poker and left with $40,000 after coming in 247th place.
Not bad for someone who suffered a sudden, unexpected end to his first career in tennis!
Yevgeny Kafelnikov
Tennis star Yevgeny Kafelnikov was the first Russian player to achieve a world number one title. Now a member of the International Tennis Hall of Fame, Kafelnikov has two Grand Slam singles titles to his name, alongside French Open and Australian Open titles, and a gold medal at the 2000 Olympics in Australia.
This professional career in tennis bought him a fortune of over $20 million. His subsequent career in poker has also brought him great success. In total, he has won around $193,000 from live poker games over the years.
In 2005, he finished in fifth place in the World Series of Poker in the Seven Card Stud event. This is a huge achievement and one that inspired him to continue playing and entering in professional tournaments.
Patrik Antonius
Patrik Antonius was a rising tennis star in Finland during his teenage years. At the age of 18, he discovered the game of poker.
Similarly, to Patrick De Koster, Patrik Antonius suffered a devastating injury to his back early in his tennis career and was subsequently forced to give up his passion. After playing poker casually with friends, he soon ventured online to play in high stakes games.
Through his new hobby, the player turned his fortunes around playing poker and has increased his fortune to around $12 million from poker tournaments and other activities. This has earned him a place on Finland's All-Time Money List.
Poker has enabled him to stay in the limelight since his retirement from tennis. He has even appeared in top poker-related shows, including Triton and High Stakes Poker.
He is well known in the poker community, having once won the biggest pot in the history of online poker.
Gus Hansen
Gas Hansen is someone who has experienced many highs and lows during his poker playing career.
Originally from Denmark, Hansen was a youth tennis champion with a promising career in the sport ahead of him. However, he soon turned his attention to backgammon and then onto poker and doesn't seem to have done too badly at all.
Hansen has won three World Poker Tour titles, one World Series of Poker bracelet, and the Poker Superstars Invitational tournament.
Despite these great successes, he has always struggled to manage his money and has been known to lose millions of dollars. In 2015, he lost over $20 million on Full Tilt Poker.
The player also owns his own online poker website and several other business ventures that help him to fund his passion to play the game.
Tennis and Poker are both games that require high levels of skill and technique. These ex-players have all found that their experiences in the tennis world have helped them to succeed at poker on a professional level.