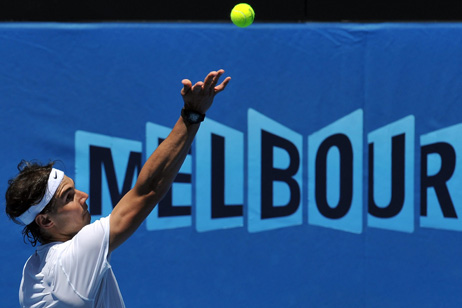 It has begun! For all us tennis fans the wait from the ATP World Tour Finals to the first slam of the year is excruciating, but at last we don't need to wait no more. Here's my brief summary of an exciting first day of Australian Open 2012.
Australian youngster Bernard Tomic managed to come back from two sets down to beat Verdasco in five! Seems like Tomic is destined for great things and that is time to start is now. Verdasco, on the other hand, is far from the form he had a year or two ago.
Federer had a tough set against Kudryavtsev from Russia, in the end winning it 7-5, but then it was smooth sailing 6-2 6-2.
Del Potro lost first set against Mannarino from France, but then won three in a row. Delpo's form is shaky so I would expect him to do anything big at this year's Australian Open.
Nadal crushed Kuznetsov in three easy sets and looked to be firing hard on both wings. Looks like the Spaniard is ready to finish points quickly in 2012.
Super-entertaining Ukrainian Dolgopolov – who I have big hopes for in 2012 – looked to be completely off track in the first two sets against Greg Jones (Greg who?) but then only gave the local player 4 games in the last three sets. Dolgopolov is patchy to say the least. Let's hope he hits a purple one this year.
The rest: Berdych beat Ramos, Nieminen forfeited against Nalbandian, Wavrinka crushed Paire, Baghdatis destroyed Becker, Fish beat Muller, Isner beat Mitchell, Riba beat Monates in a tough one, Rochus crushed Phau, Kohlschreiber beat Monaco in five, Anderson beat Nielsen, Haas beat Kudla, Dimitrov beat Chardy in five, Sergei Stakhovsky beat Marchenko, Kavcic beat Ward, Berlocq beat Galung, Young beat Gojowczyk in five, Falla beat Fognini (no shit?), Lopez beat Mayer, Karlovic beat Melzer (what's up Jurgen??), Lacko beat Ljubicic in five, Querrey beat Schepper, Cipolla beat Davydenko (when will the Russian be back on track again), Kamke beat Hanescu, and Serra beat Darcis.
This at least gives you an idea how everything turned out on day 1. Tomorrow we have Djoker and Murray in action!