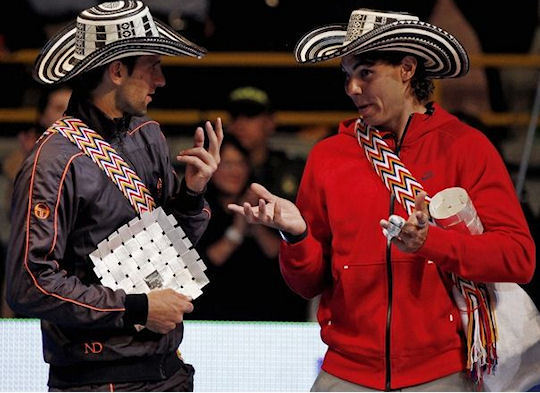 After two grueling 4+ hour semi-finals we have reached a repeat third Grand Slam final between Djokovic and Nadal. It will be a tough one physically for both, especially after really exerting themselves in the semis, but as fit as these guys are both physically and mentally, they will show up pumped and ready to go.
It's a harder pill to swallow for Federer and Murray and especially the Scot who had two break points at 15-40 and 5-5 in the fifth set against Djokovic after fighting back from 2-5. In the end Djokovic showed his true lion heart and how big his confidence is in these situations, saved all the break points and managed to break for the match in the next game, winning it 3-6 6-3 6-7 6-1 7-5.
Federer also played really well in his match and got out of the tracks fast and raced to 3-0 lead before Nadal broke back. Still Federer managed to edge out the first set 7-6. But it was quite evident that Nadal found his groove in the 2nd set, which he won 6-2. The third set turned into another close tie-breaker and if Federer would have won it, he would have had a great chance, but Nadal again proved stronger on the big points and got it 7-5. It was always going to be a tall task for the Swiss maestro to get back from two sets to one against Rafa and the Spaniard proved why he's so successful against Federer, raising his game immensely to take the fourth set and the match 6-7 6-2 7-6 6-4.
Federer and Murray shouldn't be too disappointed by it, they played a really great tournament both of them, although it's easier to feel more sorry for Murray who's always so close, but still lacks a Grand Slam trophy. Hopefully he can prove his worth in this year's Wimbledon. He's definitely ready for a Grand Slam title and why not give him the biggest and brightest one right away?
So the final is another Djokovic vs Nadal and right now I can't see how Nadal can reverse the trend of six straight losses. Djokovic's down-the-line backhand is lethal against Nadal and it has bothered him no end recently. The Spaniard would need a new game plan to counter it and possibly he could find that extra gear as thirsty for revenge as he must be.
My last word on the subject is Djokovic though – what a transformation from the super-talented Djoker who seemed to take tennis to casually, to the guy who might come to dominate the sport for a few years. A worthy number one. Despite the silly hat.