It's soon time for the first grand slam of the year, the Australian Open. Murray and Nishikori are out due to injury, but Djokovic and Wawrinka is back in business after a long injury timeout.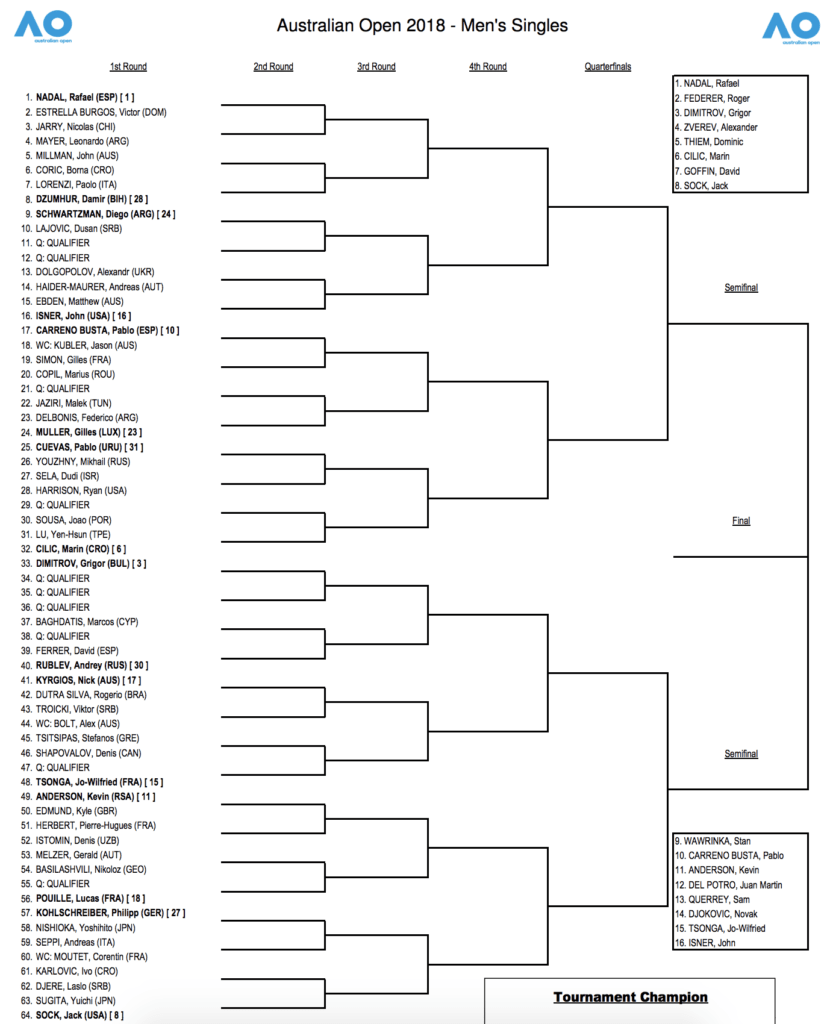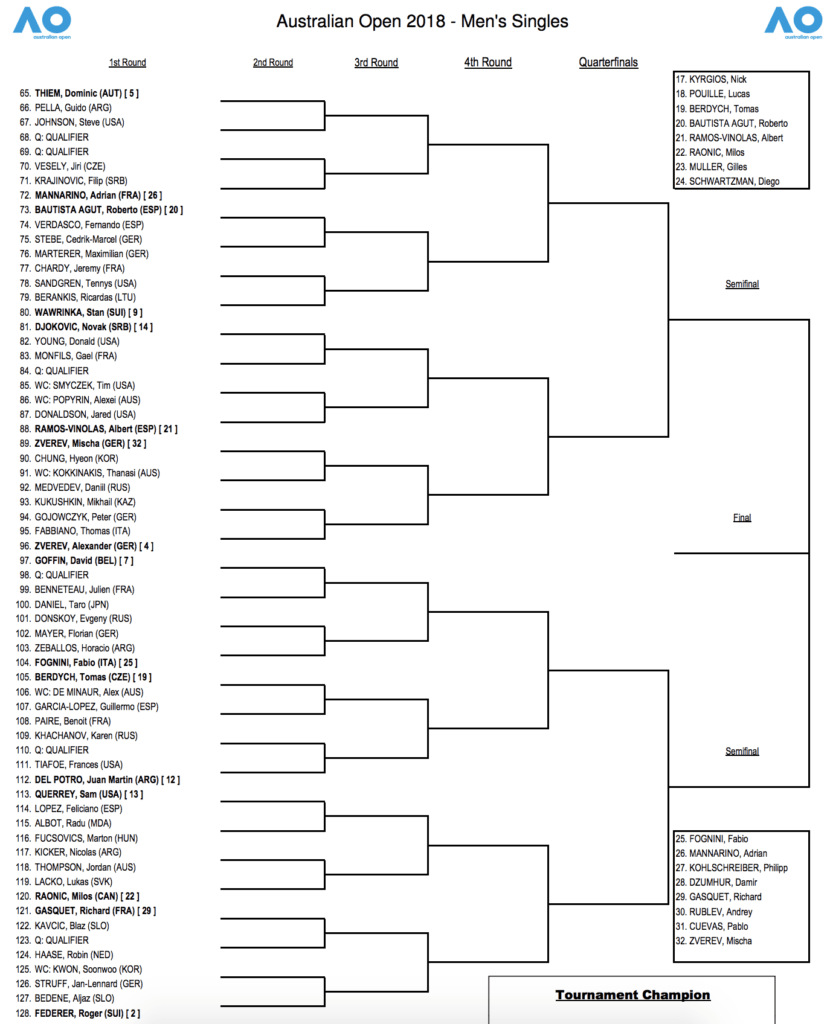 So what do you think of the draw? Can Federer repeat his victory from last year or will it be time for one of young "guns" to break through and clinch their first big title? Dimitrov has looked like he's in good shape and his confidence is soaring after the win in the ATP World Tour finals. Last year he reached the semi-finals and lost a very tough five-setter against Rafa. I think he has a solid chance here.
Del Potro is deservedly back in top ten after playing really solid the last few months of 2017 and starting with a likely victory in Auckland (beat Ferrer today to qualify for the final). His wrist looks better and he's starting to hit the backhand more confidently due to that. This will make him supremely dangerous with is attacking 1-2 tennis.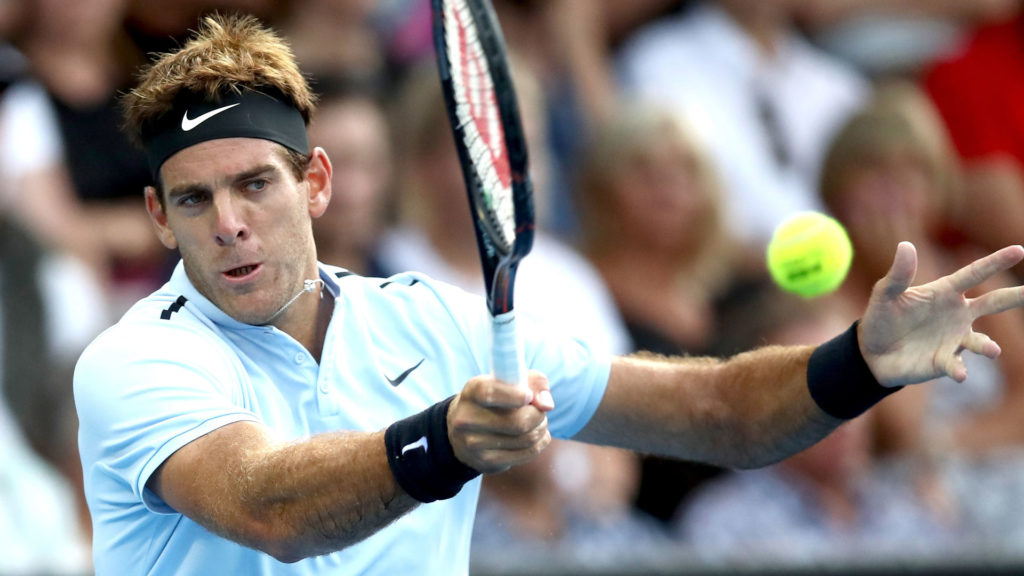 Nadal has had some question marks around his famous knee, but he has looked fit during the warm-up tournaments so if he gets a few matches under his belt he will clearly be a top favorite to win the title. But there is also a risk that he's not a hundred percent and then he might likely leave the tournament early.
Djokovic is back and looks happy to be on court. Is it enough to win yet another Australian Open title? Well, it feels like it's a little too soon and I have a feeling that he might not believe that he can win this himself either. But look what happened to Federer last year. From nowhere he came and won his 18th slam. Maybe Djokovic is inspired enough to take it all the way?
Wawrinka has not played any warm-up tournaments and it's hard to have any idea about his physical shape as well as his tennis playing form. He usually plays well "down under", but this time I think it's too much tennis too soon.
Goffin is one of my favorite players of the "new wave". He beat Federer in the ATP Tour Finals and reached the finals. He doesn't look like he has any big weapons, but his speed is a super power as well as his ability to read the game. He is definitely a dark horse this year.
Kyrgios won a warm-up tournament seemingly without breaking a sweat. When he's on, he's ON. But winning so many five set matches? Is he mentally and physically ready for that? I like watching him play and the pure fire power can be intoxicating and I think he will win at least one slam in his career, but it's probably not Australian Open 2018.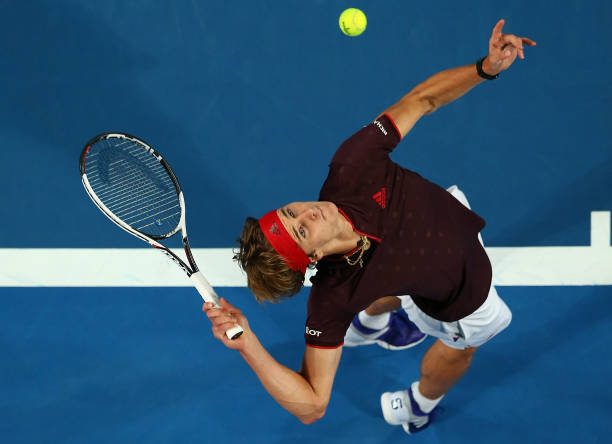 Zverev is the one everyone's talking about to take over from Federer. He's a very talented and capable player but I quite frankly find him a bit boring to watch. Maybe this will change, but he's also showed a bit of mental weakness in matches of late which might mean he's a little bit tired after playing a lot and having a lot of pressure and expectation on his young shoulders. There's no doubt that Zverev will win many titles, but it's too soon for a grand slam in my view.
Thiem has not been impressive since the clay court season 2017 and there's nothing saying that he will break this trend during the Australian Open. Is it his long swing technique that takes both time and energy? Does he need to play more aggressively? Is he due for a change of coach? Right now I have a hard time seeing a glorious 2018 for the young Austrian. I hope I'm wrong.
What are your opinions about the Australian Open 2018 Draw? Please comment below!