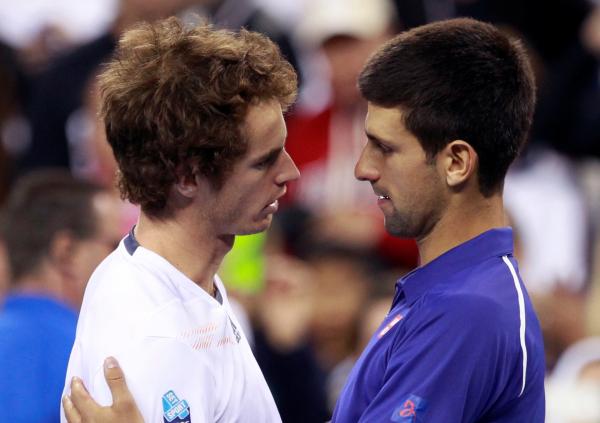 Give me your best caption in the comments. Here's an example:
"I know Andy, but I'm married now."
There aren't many sports events you anticipate more than a grand slam final, yet I, a true tennis nerd (you knew this already), felt that the Australian Open final between Murray and Djokovic would be a bit dull. Two of the best players of all time in a slam final and I'm bored?
Okay, let me explain. Djokovic and Murray had played two slam finals before the 2015 Australian Open final and the head-to-head read 2-2. All ready for an intriguing match-up, right? Should be far more exciting than for example a remarkably lopsided Federer Nadal rivalry you would think.
But for me, it's not always the competitiveness of tennis that draws me to it, but also the beauty of the game – two players dancing around, playing a weird game of geometry and aerodynamics with a racquet and a fuzzy yellow ball. There is elegance to it with the right match-up and players, but with Murray and Djokovic you get terrific groundstrokes and astonishing physique, but not much more in terms of variation.
This is also what I feel happened in Melbourne. Neither player wanted to take risks or change-up their games and it showed. It was competent and draining baseline rally after baseline rally. You either dropped your jaw because you were impressed by their amazing stamina and unwillingness for unforced errors, but also because, and shame on me for writing this – you got a bit bored.
And I'm not one of those guys who longingly think back to the days when you were compelled to rush to the net to finish the point no matter what, almost like the baseline was on fire and would burn your feet. That wasn't great either. What I love about tennis is variation. Different spins, different tactics, going for winners, playing defence, sharp serve&volley versus clever passing shots and returns. I'm looking for contrasts in player styles, drama during the match, change-ups in tactics, the inhuman elements of true athletes but also the very human element of sports psychology.
Of course Murray and Djokovic are demon players, but I feel that this final and a few of them before that suffered from passivity and fear of taking risks and that made for quite a boring, albeit competitive and competent, match.
I wasn't surprised that Djokovic ended up the winner and I wasn't surprised that Murray had something to say about world number one's slightly peculiar behaviour after the second set. On the other hand, I find Murray's reaction to Djokovic's injury or tiredness disastrous. At one set all and 2-0 in games in Murray's favour , I thought it would be competitive until the end, but when Djokovic came back from walking around like he had cramps, Murray had no reply. The final two sets ended 6-3 and 6-0, which was kind of embarrassing for the Scot. He shouldn't have let the Serb get that deep inside his head. You could read a bit more about this situation here and at tennis.com
Anyway, these are my 50 cents on the first slam of the year. Djokovic looks strong and he's my favourite for the French Open, even with a healthy Nadal to compete with. But first…more tennis.