Staging a major in a country with a strict Covid policy was never going to be easy. But the Australian Open quarantine just got worse.
How did the Australian Open quarantine just get worse? There have been reports of Covid-positive passengers on several of the chartered flights to Melbourne. The players who have been on the flight will now need to stay in their hotel room for 14 days without practice. It doesn't matter if they test positive or not.
This is how tennis.com reported on it: On Saturday at 11 a.m. in Melbourne, tennis players and personnel who entered Australia on flight QR7493 from LAX were notified that two unidentified people returned positive COVID-19 PCR tests upon their arrival. As a result, preparations for the Australian summer swing have taken a major hit for those competitors on board, as everyone from that flight will now be required to stay inside for the entirety of the quarantine period.
And there was an update:
On Saturday evening in Melbourne, the Australian Open released a statement confirming that a second charter flight, this one EY8004 from Abu Dhabi, included a passenger who returned a positive COVID-19 PCR test. Of the 64 passengers on this flight, 23 were players.
Like the charter flight reported on below, all passengers on board must now isolate themselves in their hotel rooms for 14 days, and will not be able to practice prior to the Melbourne swing of tournaments.
Players take to social media
Some players have already been posting about the situation on social media. But first, this tweet from the official Australian Open Twitter account:
#AusOpen update… pic.twitter.com/p6IAXLz5zk

— #AusOpen (@AustralianOpen) January 16, 2021
And then there are some interesting reactions from the players
Been trying to change the room for a 2 hours already ! And no one came to help due to quarantine situation????? pic.twitter.com/LAowgWqw58

— Yulia Putintseva (@PutintsevaYulia) January 16, 2021
People complaining we are entitled. I have no issues to stay 14 days in the room watching netflix. Believe me this is a dream come true, holiday even. What we cant do is COMPETE after we have stayed 14 days on a couch. This is the issue,not the quarantine rule.

— Sorana Cirstea (@sorana_cirstea) January 16, 2021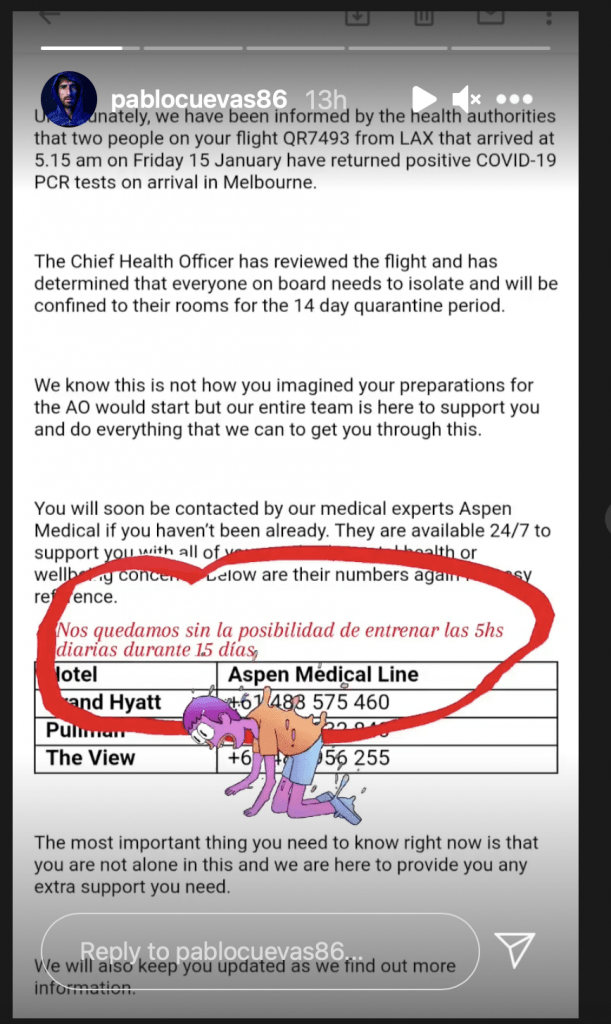 What do you think of this Australian Open quarantine situation? I am really keen to watch tennis, but considering all this it probably would have been better if they had postponed the event…
But hey, I'm an optimist, so let's leave on a more positive note. Covid can take a lot of things away from us, but never our sense of humor!
Players complaining about their lunches and then there's Benoit… pic.twitter.com/G25p7AvBYu

— monse ? Buenos días ? (@coachdal) January 16, 2021