For you who didn't think this guy was the "real deal", he just made another statement. Carlos Alcaraz wins Miami Masters.
Carlos Alcaraz wins the Miami Masters after beating Casper Ruud 7-5 6-4 in the final. This means he is the youngest Miami champion in the tournament's 37-year-old history and will become #11 in the world at the age of 18!
"I have no words to describe how I feel right now," Alcaraz said after the one hour, 52-minute match. "It's so special to win my first Masters 1000 here in Miami. I have an unbelievable team with me and family… I'm so happy with the win and my team."
I think he knows as well as we do, that this is only "the first" big title.
He is not the youngest player to win a Masters 1000 title. Both Michael Chang and Rafa Nadal were younger.
What's next?
I have talked about Alcaraz for quite a while. It's impossible as a tennis fan (and a tennis nerd) not too. His game has seemingly zero flaws. He hits hard, can produce winners on both wings, moves exceptionally well, has a weapon of a serve that keeps getting better, is mentally tough and can hit drop shot winners all day.
It's hard to imagine a tennis future where Alcaraz does not become world number one at some point. And if he keeps playing like he did in Miami, this will happen fairly soon.
What's interesting is that the crowd also loves him. He has an infectious belief in his own game and just seems like a good kid with his head screwed on properly.
The talent is there in spades, but a lot of credit has to be given to Juan Carlos Ferrero who has coached him since he was 15. This is an interview Ferrero did with the ATP Tour about coaching Alcaraz a while back.
Alcaraz racquet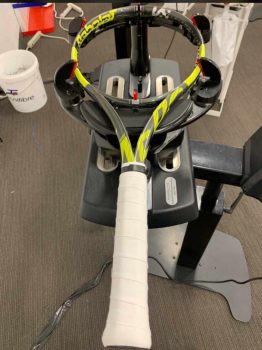 Alcaraz uses a Pure Aero VS. It's the latest edition, but I don't know if it is customized somewhat to suit his game and the pro level better. If I could guess, I would say around 330g strung, 33 cm balance and 340 SW. That's complete speculation though based on his swing and style.
It's strung with Babolat RPM Blast 1.30 gauge. He tends to string it at 55 lbs for the mains and 51 lbs for the crosses. Why lower in the crosses? It's supposed to increase string movement and spin potential.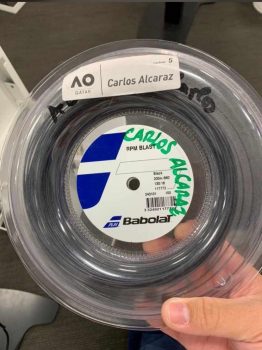 You can buy the Pure Aero VS or RPM Blast strings at Tennis Warehouse or Tennis Warehouse Europe.
How far do you think Alcaraz can go?