It was a spectacular first week of ATP tennis. Three tournaments on the ATP 250 level, with pretty much all top players being engaged (Federer, Gasquet, Sock, Kyrgios and a few more took part in the Hopman Cup). Both Brisbane and Doha delivered on the top tennis action with lots of great clashes early on.
The draw looked quite open for a Djokovic vs Murray final, but Djokovic had to kill off five match points against Verdasco in the semi-final before getting there. The Djokovic vs Murray match was, like most of their matches, a titanic struggle and they both seemed keen on starting the year with a title. Murray was also defending quite a win streak (28 matches!) since the end of last year. In this match however, the Scot had to do the catching up and after some miraculous resistance he managed to get back and win the second set.
But like so many times between these two players, Djokovic proved to be the toughest player and he prevailed in the final set. The final scoreline: 6-3, 5-7, 6-4 in Djokovic's favour.
Before the season there has been some speculation around how hungry Djokovic is for more titles and tennis glory. In the match against Murray he looked keen to prove the doubters wrong and he had some moments that showed how badly he wants to become world number one again.
In a moment of frustration he slapped a ball into the stands which hit a spectator on the arm (for which he was given a warning). Then, a few minutes later, he slammed his racquet into the court which netted him a second warning and a point penalty. This must be the signs of a guy who wants to get back to his winning ways, right?
Murray did definitely have his chances in the match. After he broke back and won the second set, he looked to be the favourite in the third. And at times he was close to a break, but when Djokovic relaxes and realizes he might lose, he plays with more abandon and as Federer (remember that US Open final?) and many other players know, that's when he's at his most dangerous.
And Djokovic came back in style and won the third set and the match, and his first title of the year. Does this mean that Djokovic is back to rule the tour again? Hard to say. Despite the loss, Murray looks to have found a new level of confidence and I think they will stay toe-to-toe for a large part of the year. Who comes out on top remains to be seen, but if Murray can win his first Australian Open in a couple of weeks, I think this will be some kind of defining moment for the season.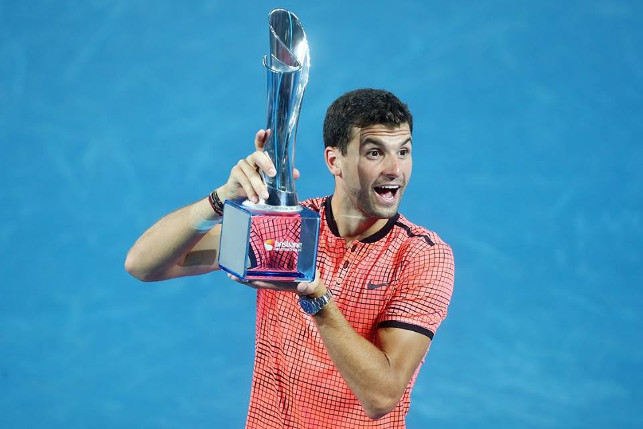 The man of the tournament in Brisbane was
Grigor Dimitrov.
He played amazing tennis throughout and beat Thiem, Raonic and then Nishikori in the final. It was a good sign for the ATP Tour as they need a player with Dimitrov's style and grace on court to mix things up. After two so-so years it seems like Dimitrov is back to fight for titles again and that's great news.
Kudos also to Nishikori for playing really well in Brisbane and being able to beat Stan the Man Wawrinka in the semi-finals. However he had to take an injury timeout for hip pain and for you who has followed Nishikori knows that he's suffered from a fair bit of injuries and not a tournament seems to pass by without him taking an injury timeout. Let's hope he's a hundred percent fit for Australian Open, but with this kind of injury concerns, I doubt it.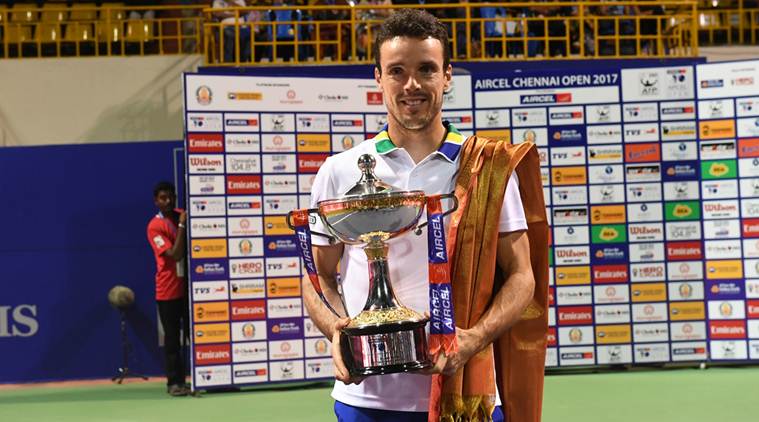 Chennai never has close to the player strength of Doha and Brisbane, but it gives the chance to some of the "lower ranked players" on the tour to start the year off on a positive note. This time solid Spaniard Roberto Bautista Agut took that chance and beat 20-year-old Russian and #NextGenATP player Daniil Medvedev in the final 6-3 6-4.
It's nice to see the up-and-coming players becoming more and more a threat on tour. Medvedev showed some great promise and I'm sure he'll move up the rankings from his current spot at #65 this year.