It's not coming as a huge surprise to most of us, but Djokovic will be resting for the rest of 2017 due to an elbow injury. He's pretty much doing exactly what Federer did last year – taking an important time-out.
Djokovic has had a tough season filled with speculations around the health of his marriage, the health of his elbow and the health of his desire to perform on the tennis court. When you're going through personal turmoil it is usually tough to do your best in your career and that's what we've seen with tennis players over and over again. In the end, the elbow got him sidelined, but I think it's a sane decision to take a time-out also to regroup and recharge his energy. He hasn't looked close to the same dominant form he held for several years and needs to reignite his passion for the game and for achieving the results that he's capable of. Just look what a long rest did for Nadal and Federer one year later!
So with Djokovic out, it looks pretty good for Federer entering US Open. Confidence should be soaring, he has had some time to rest and he's looked sharp all season. However, on the US hard courts there are a lot of players that could hurt him and surely some fatigue must set in after the fantastic season he's had so far. What can Andy Murray do for example? His injury issues might be in the way of top performance. Other hard-hitters can also be dangerous of course – Del Potro, Nishikori, Wawrinka and Raonic, but Federer should be the clear favourite going into the tournament.
Bernard Tomic's controversial interview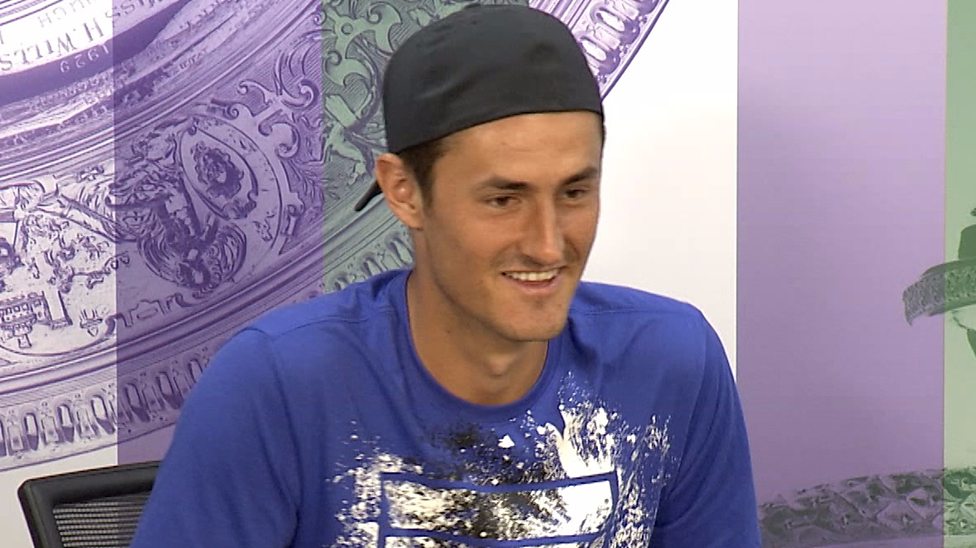 If you haven't seen it, I urge you to watch Bernard Tomic's interview on Sunday Night where he says: "He never loved tennis". This comes of the heels of his post-match interview in Wimbledon where he said he was too bored to perform. This lead to him losing his sponsorship from HEAD (read my article on that situation here).
In the interview Tomic says he's built his career on 50 percent effort and to this I say: NO WAY! You can't be a professional in any sport with a half-assed effort. He for sure worked hard to get where he is today, he might not have done it all the way willingly, but for sure he has worked hard. I think even a guy who doesn't care about tennis (as Tomic himself says), wants to explain losses away.
No matter how much Tomic is bullshitting or trying to steer up controversy because he's bored – it is a weird situation to have a rich professional athlete complaining about his career choice. He's young and might talk different in five years from now, but it would be interesting to hear what you readers think about the interview and some of Tomic's comments.
Should we feel pity for him, being trapped in a career he doesn't a 100% enjoy? (Well, not a lot of people are blessed enough to work with what they love doing). Should we see it as a young lost man who's trying to get a sense of himself or should we just see him as a spoiled brat that should probably put his racquet on the shelf until he actually cares enough about winning?
Feel free to pitch in down in the comments field below.