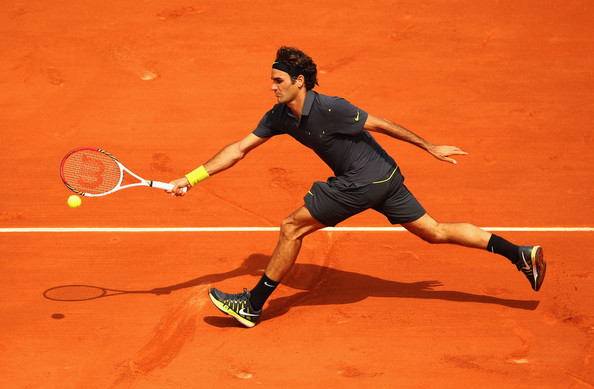 6-4 7-5 6-3. For a Federer fan it was pure pain. The maestro who we all were waiting for, the one who had managed to put a dent in Djokovic's amazing 2011 season last year and who holds pretty much every record in the world of tennis, didn't show up. Sure, he was there, he pulled his hair to the side, he spun his racket when receiving, he took the usual casual strides around the court, but the real Roger Federer wasn't there.
It happens sometimes with Federer. He doesn't have rhythm, he doesn't have heart, he doesn't even look to be trying. We are waiting for a scream of anguish, an outbrust, anything to see that he's feeling something.But instead he's just fizzed-out like a flat soft drink. For a Federer fan, this hurts to see.
Djokovic on the other hand was there, he held his ground, kept everything in court, didn't make mistakes and returned wonderfully. He put the pressure on Federer and Federer caved in three straight sets, despite being up a break in both the first and the second set.
There's no discussion that Djokovic was worthy of the win, as soon as he broke back in those two sets, he took commando and Federer played far too many unforced errors to beat a player with Djokovic's confidence. To be fair, Federer didn't look great for most of the tournament. He was tested against Goffin, on the brink against Del Potro and "even" gave a set to Mahut.
Doesn't he see himself winning the French Open anymore or was it just a bad day at the office? Let's hope for the latter. We can be sure that he will work hard on the grass, where both Wimbledon and the Olympic Games are coming up on Federer's favorite surface.
I think we will find out there is "plenty of champion" still in him.
***
In the other semi-final Nadal didn't give Ferrer a chance. Not one. Ferrer tried to paint the lines and missed and Nadal only gave him five games in a 6-2 6-2 6-1 carnage. When Nadal is hitting his forehand this well and is looking so fit and inspired, it's hard to see even Djokovic beating him and that's why he's my favorite for tomorrow's final.
But then again, Novak Djokovic seems unable to lose.