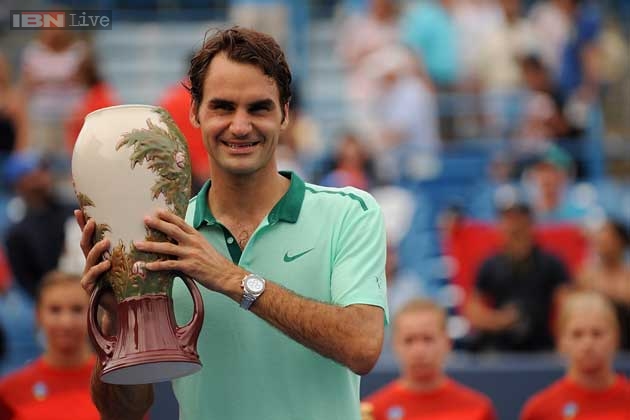 People always want to write off Federer as a has-been and after his miserable 2013 it was easy to do. But things come and go in tennis, as does Federer's form. In 2013 he was hampered by back-issues, he started playing with a new racquet and he could find that well-needed rhythm. In 2014 he's definitely back to his good old ways and he's currently on a stunning streak. Win in Halle, Wimbledon final (lost five sets to Djokovic), Roger's Cup final (lost in straight sets to Tsonga) and win in Cincinnati (won in three against Ferrer). If you think a guy with that kind of record is in a bad place in the tennis world, you must be crazy.
The question on most tennis fans minds are: Can he win US Open?
Looking at recent results he's the favourite, but over five sets it's still a tough task. Djokovic will be inspired (probably?) to come back from his miserable form since Wimbledon. Maybe his wife's pregnancy is on is mind, maybe the Wimbledon win relaxed him a bit too much, no matter what's on his mind besides winning tennis matches – he has a lot of work to do.
Murray then? Well, can't see a lot of good things happening for Murray in 2014. He's had a tough year with injuries and I think he still lacks the confidence to be a full threat to win his second US Open.
Will Nadal even play? Nobody knows as of now, but I have a hard time seeing him win a hard court slam after being injured and not playing since Wimbledon. It's too much to ask even for the all-time greatest fighter of the sport.
We also have the usual suspects to consider: Berdych, Tsonga, Raonic, Ferrer, Dimitrov – I'm probably forgetting someone. Can anyone of them win their first slam?
Tsonga is the one who has impressed the most with his win at Rogers Cup, but that could have been a one-off. He seems too erratic to be destined for Slam greatness.
Raonic is playing really well, but when it comes to beating top guys a few matches in a row over 5 sets, it's a hard pick to make.
Berdych? Nah. He's there to stir things up at times, but not to make it to the final stage.
Ferrer is in great form and outplayed Federer at times in Cincinnati, but winning a slam? It simply seems beyond his grinding master powers.
Dimitrov – well, it doesn't feel like he's there yet. Semi-finals? Yes, maybe. But it's a way too slippery road for "Bambi Federer" if he's going to go all the way.
So I see two guys capable of winning it: Djokovic or Federer.
Re-run of Wimbledon finals maybe but with a different winner? Would be nice.