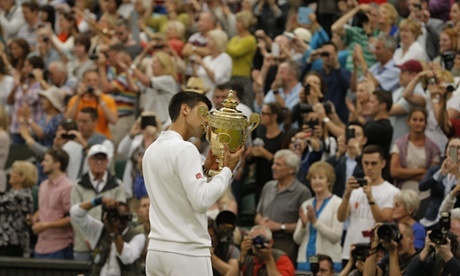 It's hard for a Federer fan not to feel anything but empty after the a final that never really felt…good and that ended 6-7 7-6 6-4 6-3.
Djokovic was his usual wall and impressively quick on his feet, but Federer wasn't close to the performance he mustered against Murray. His first serve was off, he shanked shots, his movement looked tight. It looked more like he had a slam to lose than a slam to win and Djokovic capitalized and took home his third Wimbledon crown.
Federer said afterwards that he was still hungry and motivated to keep playing and that "Matches like these help." This is good news obviously, although weak consolation after consecutive Wimbledon losses to Djokovic. But we have to remember that just getting to the final is a treat in this part of Federer's career. We can and should feel that, he cannot.
Let's hope he can finish the year strong with a decent showing in the American hard court tournaments and US Open. I don't see him as a contender for the grand slam title, but I don't doubt him ending the year number two in the world.
Who number one is…that's quite clear by now. Kudos to Djokovic for winning his ninth slam and pretty much dominating tennis this season.