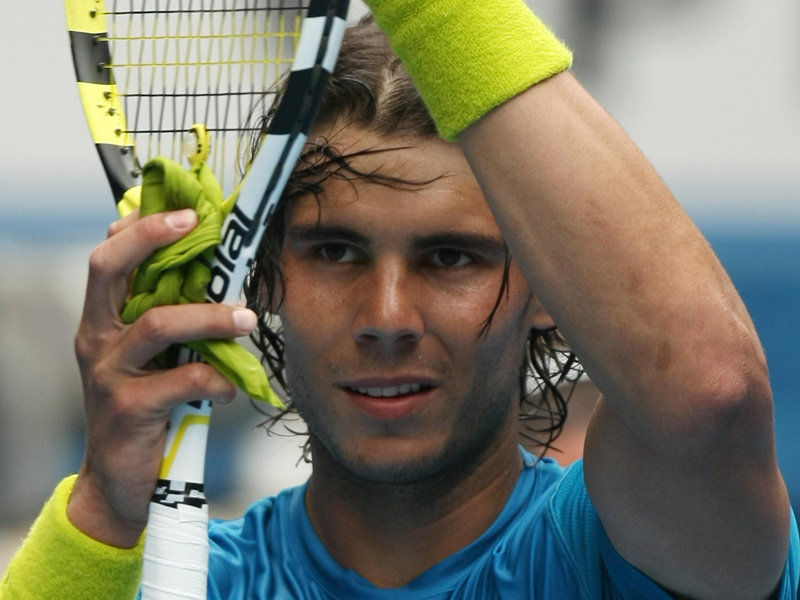 People were talking, writing, twittering and commenting on Rafa's lack of confidence in his matches. Balls were landing short, he was making unforced errors, and he looked completely out of sorts.
But not yesterday against Robin Soderling, yesterday we saw the real Rafa, hitting winners of his backfoot, doing bicep pirouettes and forehand winners down the line. He looked super-focused and for the first time this tournament really motivated to play his best. Maybe he got tired of the talk about his lack of form (party spurred on by his own comments), maybe he just dislikes Soderling and wanted to give him another lesson, or maybe he just find it in time for the final three matches. Whatever the reason of his great performance, it was nice to see, because to stop Djokovic this year it will require Nadal being on top of his game.
The second quarterfinal was also a three set affair, although Chela was serving for the first set and did make the first two sets really competitive. Murray is simply too good for Chela on any surface and might feel that he was thrown a nice lifeline after the crazy match against Troicki and decided to go for it.
Now we have the four top players in the world gearing up for the semi-finals tomorrow. Djokovic and Nadal are of course favorites to reach the final, but then again both Murray and Federer have the tools to stop them. If Nadal is a little off his game, Murray can really swing freely and benefit from having nothing to lose and the same goes for Federer. It must be nice for the Swiss not having to be the favorite and he should be able to take to the court relaxed and ready to play and fight hard.
So Friday is sure to be a tennis feast.