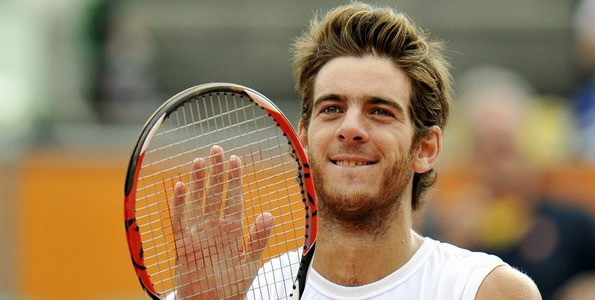 It was the first "real" day of Roland Garros and both Federer, Djokovic and dark horse Del Potro were in action and they all managed to get through their rounds although Del Potro had to concede a set against serve-demon Ivo Karlovic.
Djokovic looked light on his feat as usual, not dropping more than 6 games against Dutchman Thiemo De Bakker. It must be really tough to feel comfortable against Djokovic these days. Whatever you throw at him comes back with interest.
Federer looked casual and relaxed against Lopez who he had huge problems with in Madrid (down 2-5 in the final set tiebreak) and won 6-3 6-4 7-6.
The big upset of the day was Thomas Berdych who was up two sets to zero against qualifier #140 Stephane Robert and then went flat, lost two sets after some gutsy play from the Frenchman and then ended up losing 7-9 in the fifth. The talented Czech has a huge game, but consistency is still an issue.
Gasquet always struggled with consistency, but seems to have found it of late, making it look easy against another Czech and beating Radek Stepanek 7-5 6-3 6-0.
It was really nice to see Tommy Haas back after a long injury time-out but sadly he didn't get more than a set against Marsel Ilhan. But still good to have you back, Tommy!
Tomorrow we have the interesting encounter between John Isner and defending champ Rafael Nadal. Nadal will be hungry to show why he's the top dog on clay so my guess is that he will trash Jisner in straighs. But who knows, the big man could win a tiebreak set.