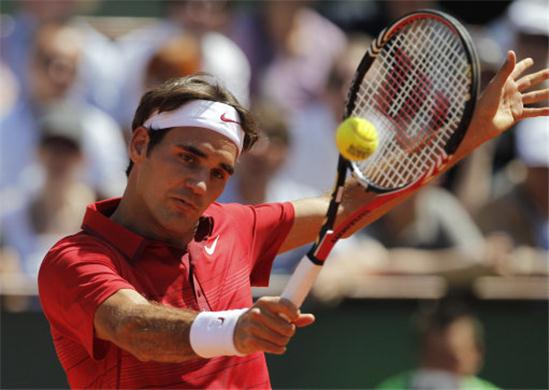 It was a slightly strange day at Roland Garros. It started in a pretty normal fashion though with the Fed Expess rolling through Tipsarevic in routine style, 6-1 6-4 6-3 and sending a small warning to Djokovic and Nadal that he's in Grand slam mood.
Clay court demon David Ferrer is another threat. He destroyed a tired Stakhovsky 6-1 6-1 6-3 and if I remember correctly has yet to lose serve. He can surely mix it up against both Federer and Djokovic although Nadal should have him pretty much figured out by now.
The French hopes Gasquet and Tsonga looked to be ready for a great day when they were both leading their opponents by two sets. Gasquet held true to his promise and looked super inspired as he beat Bellucci in four, but Tsonga came two points short of routing Swiss Wavrinka. Wavrinka came back from the brink in great style and ended up booking himself a place against countryman Federer in the fourth round (an opponent he has huge problems with). For Tsonga it's back to the drawing board, if he's fit for a longer stretch he can be a threat to anyone, but injuries have been plaguing him throughout his career.
Ah, almost forgot Monfils who won in three comfortable sets against Belgian Darcis.
The headline match today was weirdly schedule to go as number four, which resulted in it being too late to finish. While the Wavrinka and Tsonga marathon roared on Philip Chartrier, they moved the Del Potro vs Djokovic match to S. Lenglen, this in turn led to disgruntled spectators standing in line outside the court, wanting to get in, but being refused because they had a ticket to the "wrong" court. This in turn created close to a riot, but you have to side with the spectators who had paid to see Djokovic vs Del Potro.
The match itself started in a great way for Djokovic who immediately got up to 3-1 in the first set and never looked back, taking it 6-3 in the end. But then Del Potro looked a little less nervous and fought back to win the second set 6-3 leveling the match at a set apiece which was the score when the match was postponed.
It will be interesting to see the hopefully final three sets of this drama tomorrow. Something tells me the Djoker will be focused enough to end it in two though.
On the woman's side the draw is more open than ever because Wozniacki today lost against a wildly swinging and inspired Hantuchova. Eminent tennis writer Steve Tignor at tennis.com wrote in a post that it was obvious that Hantuchova's shots were superior, but that tennis is so much more than just fancy shots. Remember that, dear tennis players, tennis is a lot more than technique and hitting nice winners, it's about knowing how to beat your opponent, something Wozniacki does very well usually.