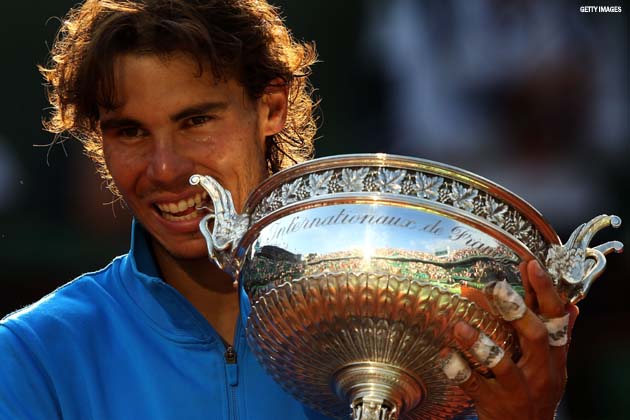 It was excruciating at times for Federer fans such as myself, but in the end you just had to give it to Nadal who was too good on the most important points and at times played his very best clay court tennis in his 7-5 7-6 5-7 6-1 victory.
But it was Federer who took the lead early, first at 3-0, then with set points at 5-2, serving for the set at 5-3, before Nadal won seven straight games to lead 7-5 2-0. Nadal was tentative in the beginning and made a few rare unforced errors while on the other hand Federer looked razor sharp. You couldn't help but think that Federer really needed that first set to make the match competitive, so when Rafa clawed himself back and took the set I was close to turning the TV off.
But Federer fought back despite being down a set and a break AND break points. He managed to steer the second set into a tie break. If he could level the match at one set apiece, the match could  be very close indeed. But in the tiebreak Federer got impatient and started swinging too hard at balls that he should have placed with spin and Nadal took advantage and won the tiebreak 7-2. Being down two sets against Rafael Nadal in a Roland Garros final is basically an impossible feat, but Federer managed to capitalize on some Rafa nerves to take the third set 7–5.
The match was on again. At least we thought so, because in the fourth set Rafa raised his game and Federer looked tired, rattling off one unforced error after another and soon it was Nadal's turn to lay down in the red stuff for the sixth time.
It was a bit of a sad day for a Federer fan. Things looked so promising in the first set, mostly due to Nadal's errors, but anyway, Federer played a confident laid back game, hitting the ball back patiently and not trying to go for broke. But as so many times in the past Nadal started finding his groove and after a while Federer's backhand broke down, he tired a bit and started missing. That the Swiss maestro still managed to turn things around in the match several times was pretty impressive, because the way Nadal was playing along with the kind of record he has, should be enough to make anyone resign, even Federer.
In the end, even after a strong fightback, it wasn't enough. Nadal is simply too good against Federer on clay. Maybe Djokovic would have been an even more even match, with his fantastic backhand, but that's just a speculation.
For now the Rafa fans can rejoice to still have their idol as number one in the world and us Federer fans have to look forward to Halle and Wimbledon and hope that our champ can play well enough to win his 7th Wimbledon title. Judging by his great play in Roland Garros, he can.