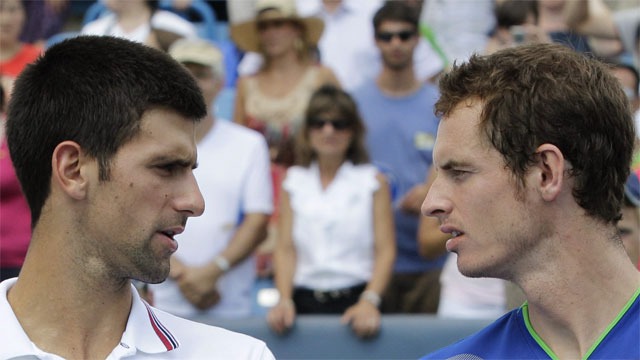 It was going to be three sets. Djokovic had won two sets rather convincingly and had three break points in the third set. He was simply too good for a rather subdued Murray. But the wind picked up, Andy started to pump his fist for every point, and suddenly the super solid Djokovic started to miss. He got agitated too, shouted at the audience, complained about his shoes, and before you knew it, Murray had won the third set. It had become a match.
Murray then broke Djokovic in the fourth set and it was clear who had the momentum. Still, and this is one of Djokovic's great strengths, he managed to regain it quickly and break back. Murray shouted in frustration, something like: "How the hell does this happen?" He couldn't realize how he had given the break back.
Murray was frustrated and Djokovic gathered break points. But Andy dug deep and managed to save a boatload of them. He held for 3-3 in the fourth and the match was suspended due to an incoming storm. The crowd booed, but the organizers felt that they didn't want to risk anything. I think it was a good call. 3-3 in games gave the players at least a little time to get warmed up the next day before we were talking match points or set points.
New day, new (and better) weather, new match. Who would handle the situation the best? Murray handles the wind better, so the improved weather was in Djokovic's favour. But Murray saved so many break points the day before that you felt he would come in to the match feeling he had a pretty good chance.
Djokovic started by holding two service games to love, but Murray held too and while Djokovic looked subdued, Murray was fist-pumping after every won point. And, like it was a movie script, Murray won the fourth set 7-5.
Fifth set between the two best clay-courters of 2015… Murray playing well, Djokovic not quite there, everything setup for drama.
But somehow I felt that Djokovic had that extra gear and like so many times in 2015, he was going to find it. And he did. Breaking Murray straight away and holding all his games easily, breezing away the set 6-1. It was a shame it ended so quickly, but it just goes to show how good he is.
Djokovic is in the final and the only man standing between him and history is Stan the Man Wawrinka. Can he stop the world number one?
I'll let you know in my next post.