Is Rafa ready for his first ATP Finals title? After watching his first-round match against Andrei Rublev, I would say yes!
In my ATP Finals predictions post, I didn't pick Rafael Nadal to win the tournament. He has never been comfortable on indoor courts and his loss to Zverev in the semi-finals of the Paris Masters wasn't a good sign. But the way he dismantled Ruthless Rublev yesterday made me question my prediction. When Rafa is healthy and locks in on a goal (like winning the ATP Finals for the first time), he rarely fails.
Rublev has been spectacular in ATP 250 and 500 tournaments in 2020, but against other top ten players, he hasn't had it as easy. There is another level you need to step up to regularly be able to beat players at the highest level and he isn't quite there yet. Not sure if he needs to add another dimension to his game, because Rafa switched it up with slice, heavy top spin, some net play, and Rublev didn't look at all comfortable. When you put the ball in the strike zone of the Russian, you're toast. But if you can give him a different type of ball and variety, he tends to struggle more.
The match was, like most ATP matches, heavily influences by the serve performance. Rafa served really well and got plenty of free points, while Rublev struggled. Rafa won 6-3 6-4.
It will be interesting to see how he does in his remaining matches at the O2 Arena.
Thiem fought hard to defeat Tsitsipas
Last year, Tsitsipas dominated the field and won the biggest title of his career so far. Thiem also played well in 2019 but lost to Tsitsipas in the final. This time he got his revenge in a hard-fought and well-played match between two brilliant ball-strikers.
Thiem handles Tsitsipas's serve really well and played excellent defense. There were only two breaks in the whole match so the margins were tight. The match ended 7-6(5), 4-6, 6-3 in Thiem's favor, and the foot issue that bothered Thiem in Vienna seems to be sorted.
The standings in the group are: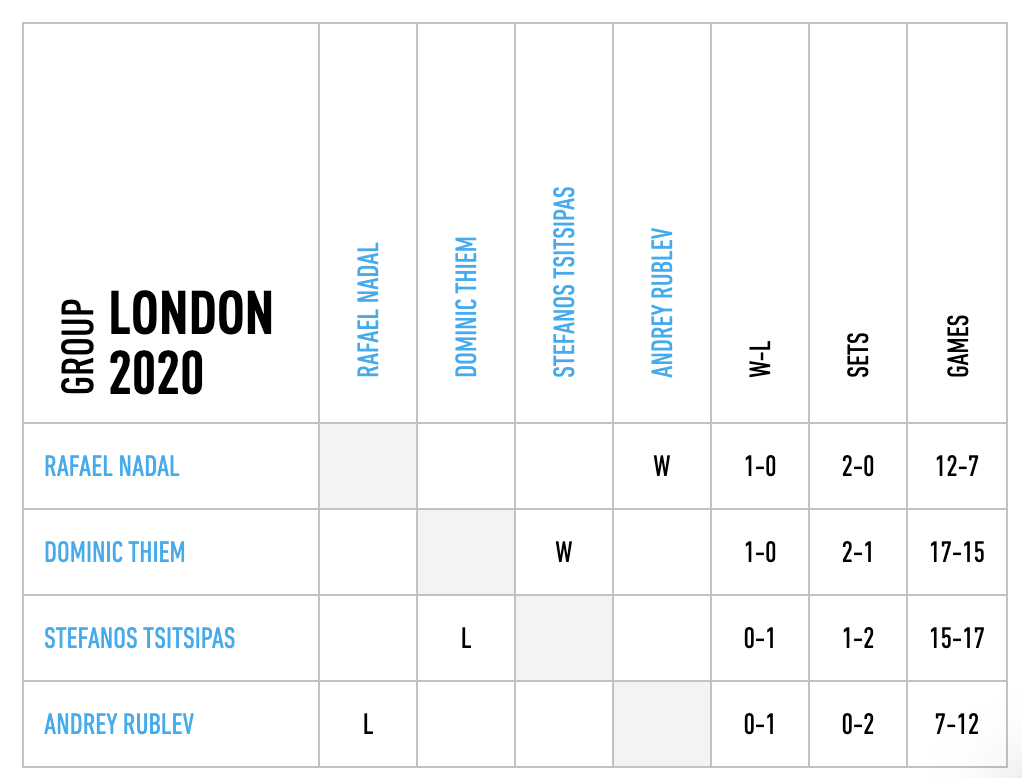 Today we have Djokovic vs Schwartzman and Zverev vs Medvedev. Are you watching? Follow the action on TennisTV or Amazon Prime
.