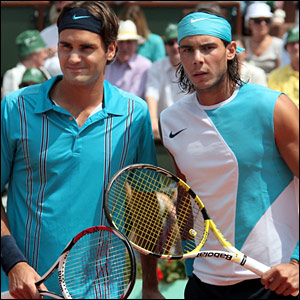 Well, it was the final we all wanted in the end, the first "Fedal" in one year. It was a good match, tight, not one of the best for sure, but entertaining. Federer looks like he has stepped up his game a level or even two since the horrible performances in Rome and Estoril. He can very well be a finalist at Roland Garros that starts on Sunday. But can be he beat Rafa? In my opinion, no.
Rafa didn't play his absolute best yesterday (neither did Roger) but he still manage to get the W by 6-4 7-6. He played better when it mattered the most while Federer is not yet up to his best in those moments. At least he went for his shots, came to the net, and played it tactically correct match. But I simply don't see how him or anyone else will be able to take 3 sets against him. The king of clay is in rule and he is not giving away that throne anytime soon.
Rafa also broke the record of 17 masters previously held by Agassi by adding his 18th shield. He deserves the record and pretty much every other record played out on a clay court. It is impressive, a word that aptly describes Rafa's insatiable hunger to chase down every ball and play every point to its fullest.
What else can be gathered from the Roland Garros pre-action? Let me give you a few bullets.
#Rafa is the king. And he will rule the clay, also in Paris.
#Federer was in another one of his slumps. But as usual he has managed to claw himself back to form just before a Slam. He might lose in the semis this time, but I still feel like we will see him in the final.
#Ferrer is a great figher and in great form and will always be dangerous on clay. Muray got to learn this twice, but I don't see him beat either Federer och Rafa.
#Murray needs to work on his clay court game and his game in general. He plays far too passively to be a threat in Paris.
#Gulbis is transformed into a top player and will be a major threat for anyone on any surface if he can keep his head together. The work with the new coach has done wonders to his game and he is the most improved player of recent times.
#Isner has proven he has enough game to win US Open. Yes, I think he is actually a contender for the title there. The big serve, the big groundies and the touch at the net, is going to be very tough to beat on faster courts.
#Almagro played extremely well in Madrid, and was the only player who managed to take a set of Nadal. If he can just find a way to hold his game together over five sets. He can be a semi-finalist in Roland Garros.
#Soderling came up against Almagro in the second round and lost, but can very well still be a force in France. He seems to have some confidence and concentration issues at the moment though that he needs to iron out. He can beat a top player or two, but I don't see him in the final this year.
#Djokovic. The guy who always seem to come down with something. Viruses, belly-aches, fatigue. Always a threat on any surface, but he needs to get both head and health together. He is a big question mark for RG.